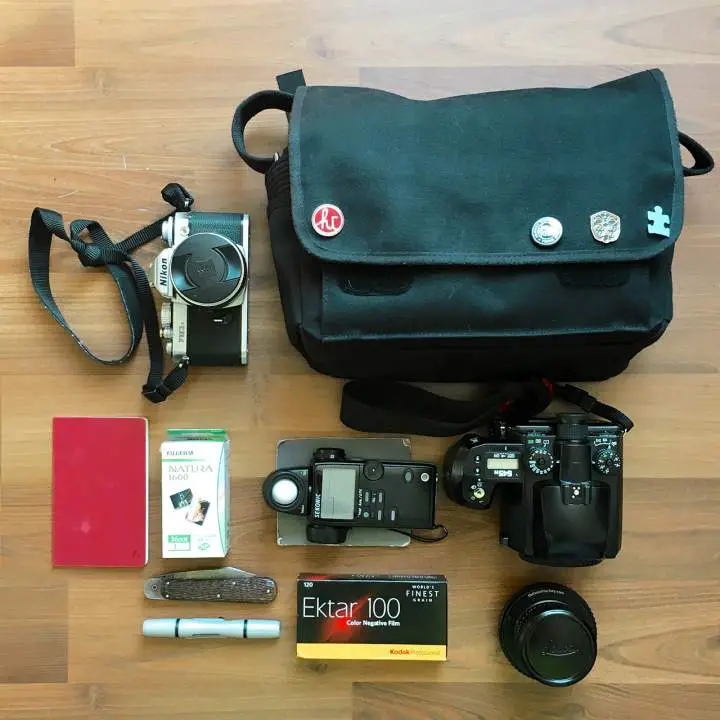 In your bag No: 1452, Ryan Yoro
We have a couple of bags to feature today. Ryan has two different setups that he wants to share with us from the fair shores of Hawaii. Check it out.
Hey Bellamy! @ryanfromhawaii posting my couple setups. 
Here's my recent daily setup.  The bag is a ThinkTank Retrospective 6.  In it is my Nikon FM3A with the Zeiss 50/1.4 zf.2, Pentax 645n with the Summicron 90/2.0 modded by The Bokeh Factory.  Always assisted with the Sekonic light meter, grandpa's knife, notebook (always mean to take notes but forget to take any), brush, Ektar 100 and that oh so sexy (expensive) Natura 1600.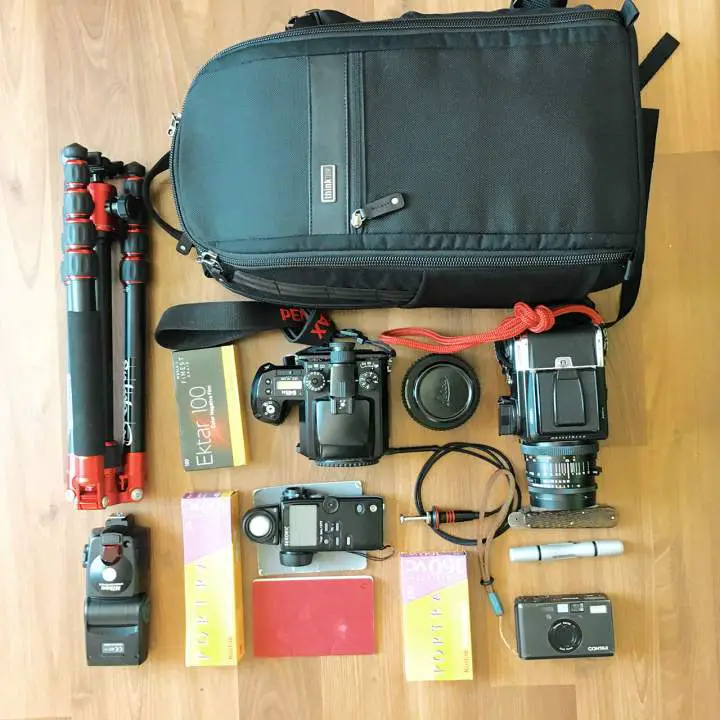 Now here's the kitchen sink…The MF'n setup, get it MF, mother effin? Nevermind bad joke haha.  ThinkTank backpack filled with my babies… that Hassy 503cw, Pentax 645n, the Contax T3, Sekonic light meter, shutter cable, Portra 400VC and 160VC, Ektar, Nikon SB80DX flash, and MeFoto tripod.  That Artisan & Artist silk cord though, smoooove!!! This is what I lug around if I'm planning on doing night shots or sunset stuff mainly.
Mahalo Bellamy!!! Until my next GAS blowup when I show off my Peak Design backpack one day.  Aloha!!!
Ryan
@ryanfromhawaii – Instagram
Thanks for sharing both of your setups with us, Ryan. That is a whole bunch of stuff to carry around, you are stronger than me. 
Keep them coming folks, we need more submissions, so get your bag on Japancamerahunter.com
Send me a high resolution image of the bag. Optimum size is 1500px across. Please ensure there is a bag in the shot, unless you don't use one. The more you can write about yourself the better, make it appealing and tell us a story. Snapshots of your gear with a camera phone and no words will not be featured.
Oh and don't forget your contact details (twitter, flickr, tumbler et al). Send the bag shots here. Please understand that there is a long wait now as there is a backlog of submissions. Not all make the cut, so make sure yours is funny/interesting/quirky. And please make sure the shot is of good quality, as the ones that are not do not go up.
Cheers
Japancamerahunter