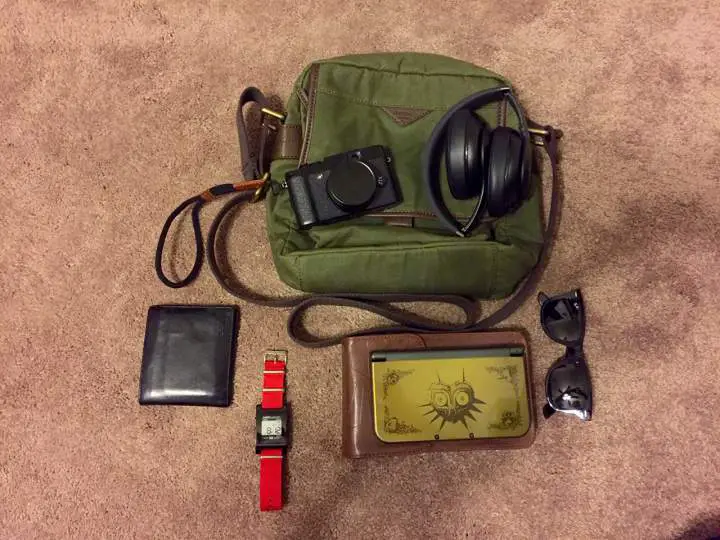 In your bag No: 1294, Travis McGhie
Travis shares with us two configurations of the same bag…double trouble. Talk about a Friday bonus. He uses these to shoot cosplay, which is something I am not really all that familiar with, despite living in Japan. Check it out.
This is my first 'In your bag' submission to Japan Camera Hunter! I am a huge fan of the site and these beautiful camera porn pictures. So, lets' jump straight into it. I live in Arizona, USA an do both street and portrait photography. I rock this awesome Fossil bag and can be found carrying one or both of my cameras depending. I own both the Nikon DF and Fuji x10. I use the Fuji mostly for street photography and the Nikon for paid portrait shoots.
I shoot lots of cosplay. Cosplay is when people dress as their favorite comic book or anime characters and attend conventions together. Cosplay also sometimes means that they act like the character as well. This can make for some interesting photos. I try to create scenes either right out of the show or with similar backdrops/moods. I have found that shooting cosplay photography can actually be easier and more fun than regular portrait photography as costumers often love having their photos taking.
I know a lot of people dis on the DF for being an over priced ripoff camera aimed at hipsters. Well, that may be true, but frankly I don't give a damn. It handles beautifully and produces some beautiful images. It is also a great looking camera, and I get tons of interested on lookers. I would recommend it to anyone looking for a camera with a soul (and who doesn't care about video). They aren't cheap by any means but I think the quality is superb. 
I also take my street shooting very seriously. While it's difficult to be out shooting all day in downtown Phoenix in the summer due to the extreme heat, I spend my times in the fall/winter months during my breaks as work roaming the streets. I often photograph people on the street candidly. I feel as though candid shooting can be the most raw form of street shooting. Capturing emotion and energy on in motion can most of be an incredibly rewarding experience. 
Some other things I carry in my bag are my Ray Ban sunglasses and my Nintendo 3DS xl because I am always street passing! I wear a Pebble Smart Watch and also carry a iPhone 6 (not pictured). I have included two different versions of my bag, one with my Nikon DF and one with it replaced with my Beats headphones. While by far not the most awesome camera bag posted on Japan Camera Hunter, I hope this bag will be a worthy addition to your amazing collection.
— eye35mm
LINKS:
https://www.facebook.com/Eye-35mm-112751542228933/timeline/?ref=hl
Thanks for sharing your bag with us, Travis. I don't have any love for the cynical cash-in that Nikon did with the DF, but there is no denying it is an excellent camera.
Keep them coming folks, we need more submissions, so get your bag on Japancamerahunter.com.
Send me a hi resolution image of the bag. Optimum size is 1500 across. Please ensure there is a bag in the shot, unless you don't use one. The more you can write about yourself the better, make it appealing and tell us a story.
Oh and don't forget your contact details (twitter, flickr, tumbler et al). Send the bag shots here. Please understand that there is a long wait now as there is a backlog of submissions. Not all make the cut, so make sure yours is funny/interesting/quirky. And please make sure the shot is of good quality, as the ones that are not do not go up.
Cheers
Japancamerahunter