In your bag No: 1295, John Lockwood
This is extremely cool. A wedding photographers bag, but with a twist. What is the twist, you may ask? Well, This is a bag from the past, but the recent past. A look inside a professional photographers bag from a time when photography was going through a lot of changes. Check it out.
I thought it would be fun to show your readers what professionals used to carry, circa 2000. I was a wedding and portrait guy for 20 years, from 1990-2010. This was my "bag", a Lightware MF1420. Loaded, it weighs 30 pounds or close to 14 kgs. It has a built-in shell and movable dividers and measures roughly 14″x20″ (which was the maximum allowable size for carry-on luggage at the time by domestic airlines).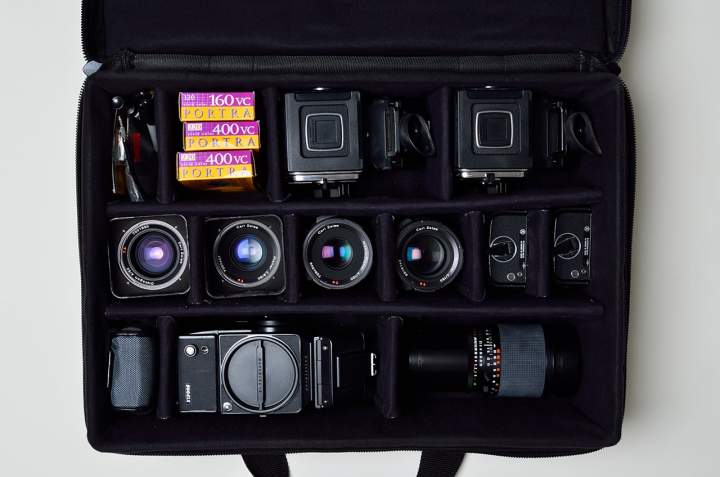 It contains:
2) Hasselblad 503CX Bodies

1) Hasselblad 500ELX Motorized Body (studio)

3) Hasselblad PME Metered Prisms

2) Hasselblad A12 Film Backs

2) Hasselblad A24 Film Backs

Carl Zeiss 40mm CF   Lens

Carl Zeiss 50mm CF   Lens

Carl Zeiss 80mm CF   Lens

Carl Zeiss 120mm CF Lens

Carl Zeiss 150mm CF Lens

Carl Zeiss 250mm CF Lens

Minolta Auto Meter IV F

120 and 220 FILM!
Not pictured are 2) Norman 200C manual flash systems with flash heads and cords. They had three power settings; 50-100-200 Watt Seconds and thanks to the latitude of color negative film, I always got us a useable negative. Although I converted to digital in the Spring of 2000 it took professional photo laboratories years to catch up, so this system was used until 2002.
Thanks for the opportunity to share Bellamy!
John Lockwood
Film's not dead, it just smells funny.
Thanks for sharing your bag with us, John. That is seriously cool. I wish you had shared some links with us too.
Keep them coming folks, we need more submissions, so get your bag on Japancamerahunter.com.
Send me a hi resolution image of the bag. Optimum size is 1500 across. Please ensure there is a bag in the shot, unless you don't use one. The more you can write about yourself the better, make it appealing and tell us a story.
Oh and don't forget your contact details (twitter, flickr, tumbler et al). Send the bag shots here. Please understand that there is a long wait now as there is a backlog of submissions. Not all make the cut, so make sure yours is funny/interesting/quirky. And please make sure the shot is of good quality, as the ones that are not do not go up.
Cheers
Japancamerahunter