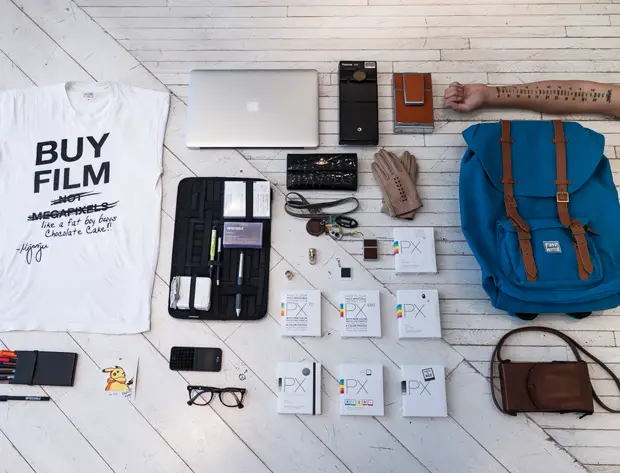 In your bag 463, Mijonju
Mijonju is back! You might remember that he was one of the first bags on the site and one of the most popular too. Well, he has another bag for us. This time though his write up has been put together by Mijonju's friend Eddie (Mijonju is a busy man). Come and see this awesome set up, there are just too many cool things to describe.

Some people know Michel Jones as the professional freelance photographer and retoucher in Tokyo, but most know him by his online handle Mijonju. Run a quick YouTube search for any camera or film dating before a digital sensor and you're bound to run into one of his submissions. When he's not working full time at THE IMPOSSIBLE PROJECT SPACE in Nakameguro Tokyo, Mijonju's pumping out videos for all those camera-loving people out there. Recently he has slowed his pace with uploads which, as he claims, have resulted in upset wives and girlfriends, meaningless money spending, and increased prices of private sales for vintage collectables. As intimidating as his knowledge of the industry may be, the real Michel Jones is actually quite approachable and humble when he meets clients, newcomers, beginners and enthusiasts.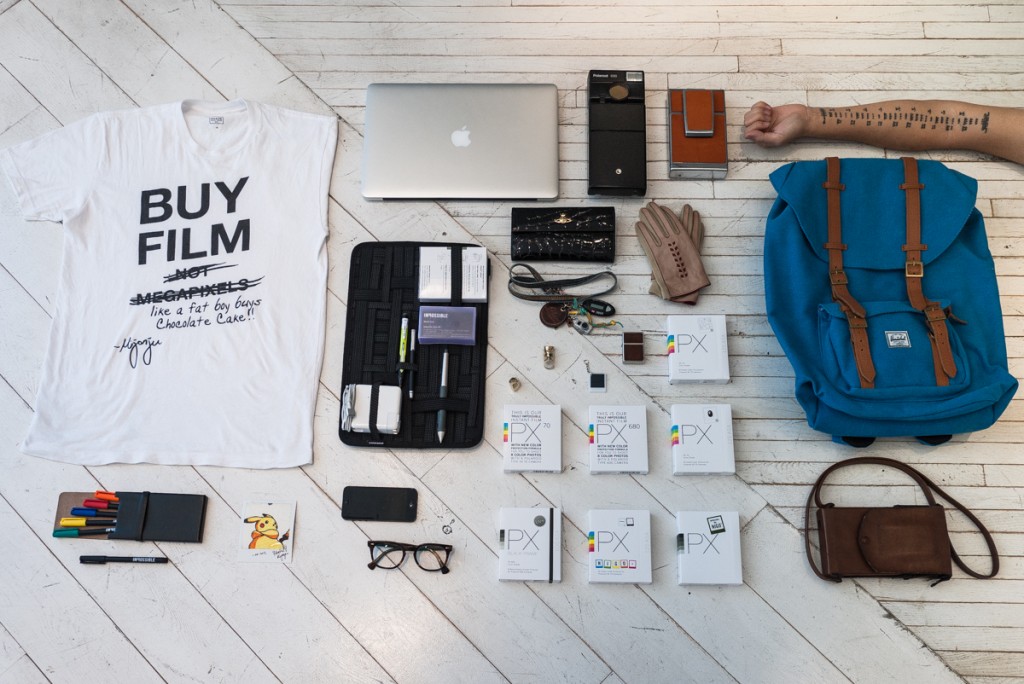 This installment of In Your Bag shows what this Canada-raised camera expert deems vital to his daily routine, and certain objects of precious value. Most photographers these days rely on one extra large memory card for their oversized DSLR, while Michel simply resorts to numerous packs of film for his original Polaroid SX 70 Land Camera. The film, showcased and sold primarily at THE IMPOSSIBLE PROJECT SPACE store and gallery serve as physical samples to inspire the clientele who arrive. The Knuckle Buster ring by Vivienne Westwood serves as a reminder of his first salary at the age of 17 and has become his signature piece. Michel admits that the ring has been with him so long that it has permanently disfigured his pinky finger, but refuses to let it go due to its significance. Other key possessions include original artwork, rare import keychains, a Herschel Supply Co. backpack as luggage and, perhaps the most necessary tool for any true photographer, a distance scale permanently tattooed into his left arm.
To learn more, visit his site at www.youtube.com/user/Mijonju
Thanks to Mijonju and to Eddie Eng for putting this awesome bag shot and write up together. It is great to see my friends bags and it is great to see Mijonju back on the site after such a long sojourn. That tattoo is looking awesome too.
Check out his site and make sure you come and comment.
Keep them coming folks, we need more submissions, so get your bag on Japancamerahunter.com. Send me a hi resolution image of the bag (please make sure it is horizontal) and its contents, with some details about yourself and what you shoot. Oh and don't forget your contact details (twitter, flickr, tumbler et al). Send the bag shots here.
Cheers
Japancamerahunter