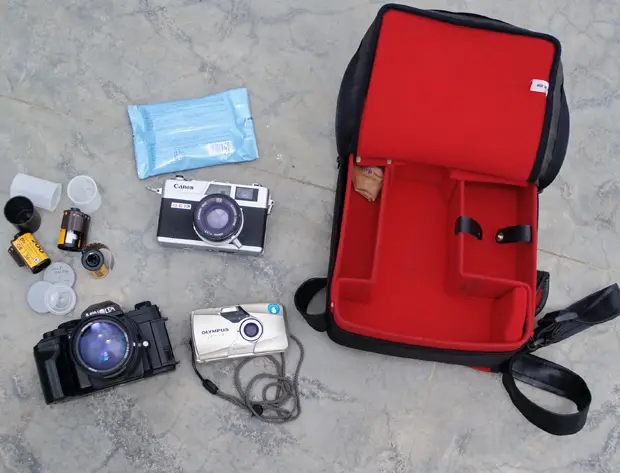 In your bag No: 644, Aziz Siddiqui
Today we have a bag from India, which is not something that we see all that often. I can imagine that the climate there must be pretty punishing on cameras. But Aziz has some and he is going to share them with us. Check it out.

I'm Aziz Siddiqui from Hyderabad, India. I am 25 and work as a Support Analyst at a Big four firm.
I pursue photography as a hobby and collect old film cameras of all types. I can boast of a sizable collection of 52 cameras(a third of them are cheap compacts though).
Besides doing assignments on digital media, I almost exclusively work with film for street photography.
I'm still very much a noob and have a long way to go before my work can hold a candle to the great photographers out there.
What's in my bag:
I took my kit out in the sun to take the picture and is not of the greatest quality.
My favorite of the bunch: Canon Canonet QL17. Despite having some fungus in the front element and a hazy viewfinder, this camera churns out some awesome photos.
Next, the Olympus mju 2.This camera has a cult following and for good reason. It can fit in a coat pocket and is indispensable for those rare moments where you can't reach for your primary camera or there isn't time. I like to use the neck strap on this one and go about town on my motorcycle!
The next one I carry only on planned trips with friends, to shoot portraits and landscapes. A Minolta maxxum 9000 with an AF 135mm 2.8 lens in this case. I have 15 other lenses to can choose from.
The bag is a cheap 'Cobra' I got with another Minolta camera I bought on ebay. Non discreet and just perfect for my gear, I use it more often than my other Lowepro bag which I've reserved for long trips and treks.
I always carry a couple of extra rolls of film in the bag. I rely on cheap Kodak and fuji film- exotic emulsions are way too overpriced in India. I might try them later when I have enough experience.
Lastly,a pack of wet tissues to keep myself clean and dry. Street photography in India can be tough- the climate and the pollution are unforgiving.
That's it. Hope you like my gear. I post most of my photos on Facebook, though I do have a new Tumblr for my street shots here.
Facebook: https://www.facebook.com/azizvertigo
Tumbr: http://streetsofhyderabad.tumblr.com/
Blog: http://azizsiddiqui.blogspot.com
Thanks!
Aziz
Thanks for sharing your bag with us Aziz. India is one of the places I would love to go an shoot. One day perhaps.
Check out the links and make sure you come and comment.
Keep them coming folks, we need more submissions, so get your bag on Japancamerahunter.com. Send me a hi resolution image of the bag (please make sure it is horizontal) and its contents, with some details about yourself and what you shoot. Oh and don't forget your contact details (twitter, flickr, tumbler et al). Send the bag shots here. Please understand that there is a long wait now as there is a backlog of submissions. Not all make the cut, so make sure yours is funny/interesting/quirky. And please make sure the shot is of good quality, as the ones that are not do not go up.
Cheers
Japancamerahunter