IN YOUR BAG 1758 – JAMES HERRINGTON
For this week's "In Your Bag" we have James his M6 and Rolleiflex! Check it out:
I've been a follower of JCH for years and I love taking a peek into the bags of others so now allow me to show my own. Pardon the rush job of lighting and the crap paper backdrop but perhaps it's appropriate for the down and dirty nature of my kit.
Background
I've been shooting for several decades, coming up on half a century. I started with my family's Argus twin lens that shot 620 format. Then I got my own Kodak Instamatic with the 110 cartridge and revolving four-shot flash cube on top.
My first 35mm was a Pentax K1000 bought new in the late '70s and since then I've used all kinds of cameras — Nikon, Hasselblad, Leica, Rolleiflex, various 4x5s, Deardorff 5×7, giant Calumet 8×10, Fuji 6×9, etc.
I've traveled heavy at times — heavy Pelican cases going overseas, large tubes with stands and tripods and some multi-day backcountry ski trips with both a 4×5 Speed Graphic (press cameras fold down nicely) and a Leica.
But what I thought I'd post here is what has turned out to be the essence, the backbone, of my kit for the last decade or so. I suppose I'm known more for my celebrity/music portraiture but I've always shot all kinds of subject matter. I used the same cameras for all genres and particularly never followed the dictum of needing a longer "portrait lens" to do a portrait.
Here is what I've used to shoot too many album covers and editorial jobs to count, some seen here: www.jimherrington.com as well as on much of my 20-year project 'The Climbers' www.theclimbersbook.com.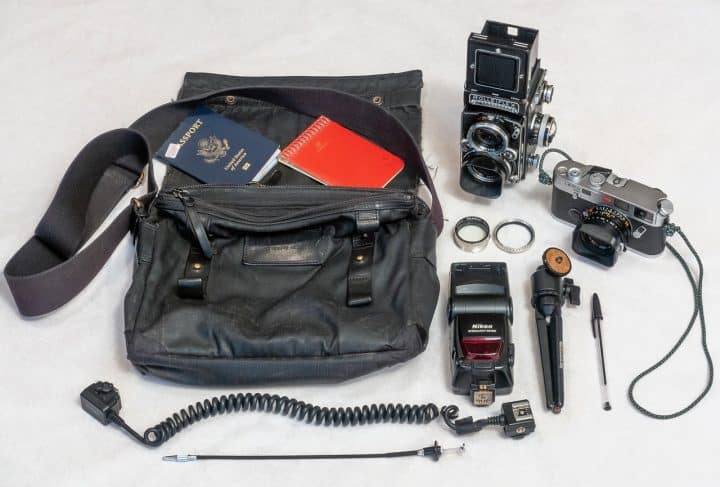 Contents
In the last 10 years I've boiled it down to what fits in a shoulder bag and it works great for what I need and turns out to be quite versatile:
Leica M6 with 35mm 2.8 Summicron, bought new in 1994. (sometimes I'll also bring the 50mm 1.4, but rarely)
1956 Rolleiflex 2.8 E – Model K7E, bought used in late '90s.
Rolleinar 1 close-up lens attachment for the Rolleiflex.
Nikon Speedlight SB-800, although for years I would take cheap old flashes from the "FREE" box at camera stores — light is light.
Flash extension cord.
Bogen mini tripod.
Cable release.
Notepad and Bic pen. Bic pens always work.
The Bag
Bag is made by Property Of but unfortunately they don't make this simple waxed canvas bag anymore, the new ones have too many hooks, clasps and bells. This one has been around the world several times, gaping holes have been patched, it came close to being stolen from me in Barcelona but I retained the bag and someone chews on only one side now… I love this bag but it's in dire need of retirement.
As my travel has become wider and broader over the years I've taken a more minimalist approach to gear… and packing. Instead of getting hung up on "what CAN'T this camera do?" I prefer going with "what can I do with this camera?" I like being a tad bit constrained by a simple kit such as this —  I think it makes me more creative in the ways that I go about getting a picture.
-Jim Herrington
IG: @jimherrington
––––––––––––––––––––––––––––––––––––
Keep them coming folks, we need more submissions, so get your bag on Japancamerahunter.com
Send me a high resolution image of the bag. Optimum size is 1500px across. Please ensure there is a bag in the shot, unless you don't use one. The more you can write about yourself the better, make it appealing and tell us a story. Snapshots of your gear with a camera phone and no words will not be featured.
Oh and don't forget your contact details (Instagram, Twitter, Flickr, Grainery et al). Send the bag shots here. Not all make the cut, so make sure yours is funny/interesting/quirky. And please make sure the shot is of good quality, you are a photographer after all. 
Cheers
– JCH