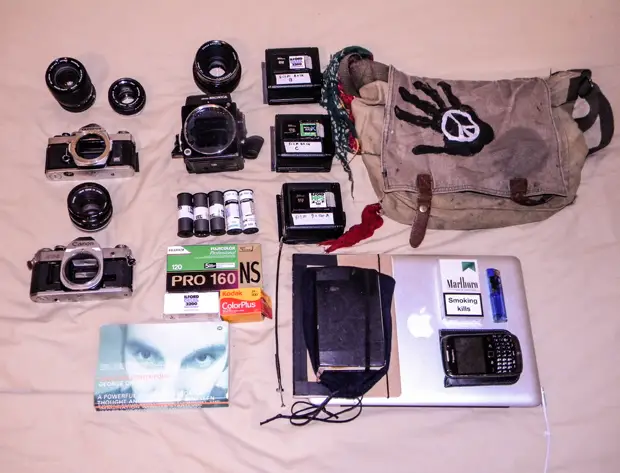 In your bag 280, Miles Metcalfe
JCH has a lovely bag for you today, with a whole array of different cameras on show. Miles is a student with a big passion for film photography. Come and see.

My name is Miles Metcalfe and I am a student currently residing just outside London, England. Im 18 years old and i am hoping to study theatre at university in september and this is my bag.
First off the bag- I got this from a charity shop when it was brand new. I added the painted hand and tassel-thing myself to make it a bit more interesting. I take it just about everywhere with me and although it does not offer any protection to my kit what so ever it does have the advantage of not at all looking like a camera bag which is great because I don't want to stand out in a crowd i prefer to blend in.
Well the first camera on the top left is my Olympus OM-1n which until recently was my primary 35mm camera. I say until recently because a couple of days ago it took a tumble down and escalator when my strap broke. luckily it didn't have a lens attached but lets say that now with its boken mirror/meter/shutter/pentaprism and film door that i think it has taken its last photograph and will now be consigned to the self. I have two lenses to accompany it a Zuiko 50mm F1.8 and a Zuiko Auto-Zoom 35-105mm. Both of these lenses i adore and shall be investing in a new OM so i can continue to use them.
The next camera is bottom left which is my Canon AT-1 with Canon FD 50mm F1.8 This is my workhorse 35mm camera and i use it every where and I also take it with me when I'm shooting my medium format camera as my light meter as i have not yet saved up and bought one but we we will come back to the Bronica. In the AT-1 i usually use Kodak ColourPlus as its really cheap here in the UK as it can be bought in bulk from Poundland (such a steal- all in date and with the best on line price being £3-5 a roll I'm not complaining.) I like shooting allot of street photography every were I go and portrait photography of my friends and just about any one who will let me take their photograph.
My next final and favourite camera is my Bronica SQ-A with 80mm f2.8 lens. along with this I have my 3 120 film backs which i usually keep loaded with some Delta 3200, Fuji Provia 400X, and Fujicolor Pro 400H/ Pro 160NS. I really love shooting with this camera as every is rendered in such amazing detail and quality that i just have never been able to find with digital (well maybe except for the 5D Mark ii that i was able to have on a long term loan from a friend- I Love My Friends) however in a very Vivian Maier kind of way i am rarely able to afford development and scanning so i have boxes of undeveloped 120 film of all breeds but i don't let this deter my shooting.  I also keep a bulb cable handy in my bag as i sometimes prefer using this to the shutter button.
Along with all of this i also have my page a day Moleskin diary which i would be lost in this world as its my place to let out my thoughts and feelings. I also have my notebook which i use for a multitude of purposes but mainly writing letters to friends. Then comes my copy of Nineteen Eighty-Four be George Orwell which is on it 7-8 read and its pages are covered in annotations/observations and definitions i truly love this book. Then i have my daily gubbins- my blackberry, Cigarets and lighter (a bad/nasty habit i know), my Mac Book Pro which only usually comes on excursions to College/Starbucks as its pretty heavy. Then also are two items that are not Pictured but come with me every where are my Koss Porta Pro headphones (I love my Music), keys and wallet.
I think that thats every thing well last but not least my Flickr;
www.flickr.com/milesmetcalfe94
please feel free to comment with critique/advise.
Finally; thank you all for reading and thank you to JCH for hosting your amazing site and posting my bag.
Thanks for sharing your bag with us Miles, it great to see the Bronica in use, it is a very underrated camera.
Check out the links and make sure you come and comment.
Keep them coming folks, we need more submissions, so get your bag on Japancamerahunter.com. Send me a hi resolution image of the bag (please make sure it is horizontal) and its contents, with some details about yourself and what you shoot. Oh and don't forget your contact details (twitter, flickr, tumbler et al). Send the bag shots here.
Cheers
Japancamerahunter