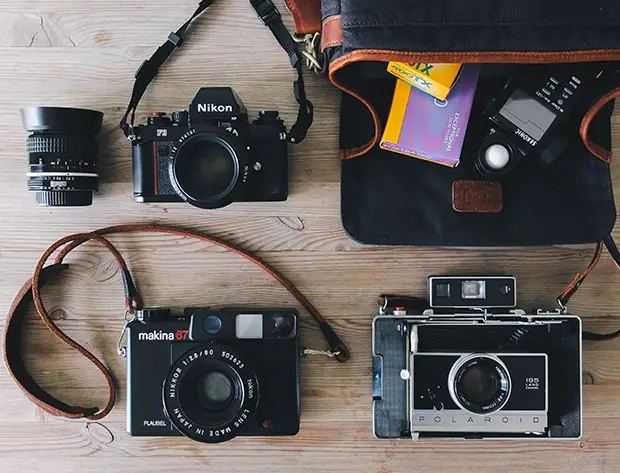 In your bag 893, Steven Xue
Third time's a charm for Steven, as he returns with another great bag for us all. Come and have a look.

Hello! My name is Steven Xue, currently living in Chicago. My bag have on JCH before (#266 and #648), but I thought I'd share what I'm bringing with me on a trip to New Zealand this summer:
Bag: ONA Bowery:
This is a small shoulder bag, but I like how it makes me carry only the essentials. Mostly I carry only one camera/lens combination anyways.
Nikon F3 HP with 50mm f/1.2 and 35mm f/2:
Very rigged and versatile, quick and easy = good for traveling
Plauble Makina 67:
Fantastic medium format rangefinder I acquired earlier this year thanks to Bellamy. Bring this guy along because of its size and image quality. (Also, 35mm really won't do justice of the New Zealand landscapes)
Polaroid 195:
Instant gratification, a must have.
As for the film, I will be using mostly the Kodak Portra series films, including some old 160NCs, should be fun ;)
Portfolio: http://cargocollective.com/stevenxue
Flickr: http://www.flickr.com/photos/istevenxue
Instagram: @istevenxue
Thanks again Bellamy
Steven
Thanks for sharing your bag with us again Steven. I love seeing how things change.
Check out the links and make sure you come and comment.
Keep them coming folks, we need more submissions, so get your bag on Japancamerahunter.com. Send me a hi resolution image of the bag (please make sure it is horizontal) and its contents, with some details about yourself and what you shoot. Oh and don't forget your contact details (twitter, flickr, tumbler et al). Send the bag shots here. Please understand that there is a long wait now as there is a backlog of submissions. Not all make the cut, so make sure yours is funny/interesting/quirky. And please make sure the shot is of good quality, as the ones that are not do not go up.
Cheers
Japancamerahunter