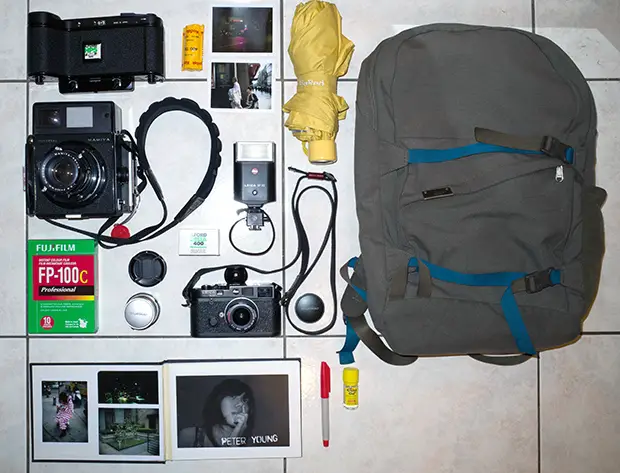 In your bag 1146, Peter Young
Peter carries a beast of a camera in his bag. Seriously, that thing could give little old ladies a heart attack. Check it out.

I've been following your website for a while and always find the 'in your bag' section pretty interesting, just to see what people are shooting with and carrying around with them on a daily basis. I thought it's finally time to submit what's in my own bag as I have finally settled on a kit that seems to satisfy all of my needs camera-wise.
A bit about myself, my name's Peter and I'm from the UK but have spent the last few years trying to avoid being there. I started shooting film whilst I was living in Vancouver, Canada, as I had become really tired of my hard-drive being full of thousands of meaningless shots resulting from being a little trigger-happy. The film photography scene is still alive in BC, and all of the thrift stores are full of great photography finds!  After 2 years, I had to leave Canada and I moved to where I am currently living in Taipei, Taiwan. Photography has really become my life, when I'm not working to earn money to buy more film, I'm out shooting all of the film that I just bought. Taipei is a pretty cool place, there's always something weird going on outside, so I never go out without a camera, or even two!
So… here is my bag. This is what I would typically carry on a day out, although I would probably have more film with me, but having just been out shooting, this is what I'm left with:
Bag:
MEC Mountain Equipment Co-op – This was one of the cheapest backpacks I could find whilst I was living in Vancouver, It's not fancy and isn't made for photography, but it does the job nicely and has been all over with me (and only cost $15).
Cameras:
Mamiya Press Universal + 100mm f3.5 + Polaroid Back + 6×9 120 back (type III)
This is a beast of a camera, it's heavy (but very managable, even for a scrawny lightweight like myself) and I absolutely love it! It's difficult to be subtle with this camera, although sometimes possible, but the reactions I get on the street are almost always positive, especially when using the polaroid back, as people love to see the photos. Even with the huge abundance of instax cameras here in Taiwan, people really seem to enjoy looking at the peel-apart prints this thing makes. This camera keeps me really entertained as it's just so versatile, I get bored very easily and this camera is the solution!
Leica M6 + CV 15mm f4.5 + CV 35mm f2.5
I love my M6, it may have a few dings and the red paint may have fallen off from the dot (which I then coloured black with a sharpie) but it's mine, and nobody else's! I never leave the house without it and I can't see the need to ever replace it with another 35mm rangefinder.
Flash
Leica SF20
I picked this up in Taipei from a store where it was marked incorrectly for a very reasonable price. I snapped it up and use it on both my M6 and the Mamiya Press via the hot shoe-PC sync adapter.
Film
35mm – Delta 400
I like to change it up all the time: color; black and white; ilford; fuji; kodak…. whatever is in stock or on sale, I'll probably pick up a roll or two.
120 – Kodak TriX
A classic, I usually shoot Ilford as the price is a fair bit cheaper when buying in bulk in the stores I go to, but I managed to run my Ilford supplier dry of any 400 speed 120 films…. so Tri-X it is!
Instant film
Fujifilm FP-100C
Pretty much the only thing available anymore, unless I want to pay a fortune for old stock (which I don't). This is great fun to shoot and the colours are pretty darn great.
Extras
Umbrella – It rains in Taipei… Just like London and Vancouver (why do I keep moving to rainy places?)
Today's instant photos
My scrapbook / workbook that I carry around to jot down ideas and stick prints in, just to show off to people if I'm in the mood!
A red pen… As an English teacher this gets a lot of use all the time. It's also useful for making notes on 120 rolls or in the scrapbook.
Some mint oil! Great for relieving the stress of work or just being in a crowded Asian city!
Anyway that's quite an essay from me about what I have.
If anyone is interested in seeing any of my work I have 2 tumblr blogs on the go…
BanqiaoBoy is my every day "street photography" page
British photographer Peter Young, currently based in Taipei, Taiwan.
The Taiwan Shrubbery Archive is a project I'm currently working on, documenting all the awesome and awful potted plants and shrubberies scattered around Taipei.
Thanks for your time, and happy shooting!
Cheers,
Peter Young
Thanks for sharing your bag with us, Peter. Keep on shooting that monster until it cannot be shot any more.
Check it out and make sure you come and comment.
Keep them coming folks, we need more submissions, so get your bag on Japancamerahunter.com. Send me a hi resolution image of the bag. Optimum size is 620×473. Please ensure there is a bag in the shot, unless you don't use one. The more you can write about yourself the better, make it appealing and tell us a story. Oh and don't forget your contact details (twitter, flickr, tumbler et al). Send the bag shots here. Please understand that there is a long wait now as there is a backlog of submissions. Not all make the cut, so make sure yours is funny/interesting/quirky. And please make sure the shot is of good quality, as the ones that are not do not go up.
Cheers
Japancamerahunter