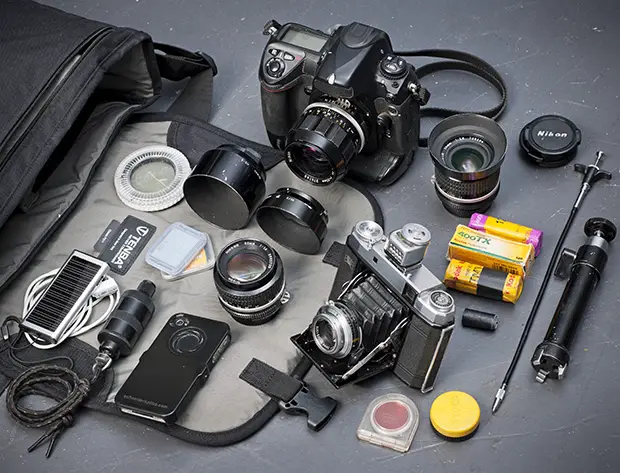 In your bag 975, Barry White
Today we are very lucky, as we get to delve into the Walrus of Soul's bag. Oh, wait, could it be another Barry White? Anyway, lets have a look.

Here is my bag, it's what I carry everyday and a bit rough with dust and all. I am a photographer from Cape Town, South Africa working in advertising where I use a lot of other cameras, but this is my carry around kit.
The bag is a Tenba Classic P211, a modern incarnation of the best camera bag ever made. This bag is quite fresh as I got it recently to replace my second original P211 that I used from 1996 after my first one was stolen. It still worked but looked a bit ragged so the I bought the new one, with a bit of customization (removing the briefcase handle and stiffener) it's almost the same. It might not look like it but all the gear fits in that bag plus a lot of other bits and pieces not shown.
Now the gear, Nikon D2x with my all time favorite lens the Nikkor-NC 1:1.4  f 35mm with a 50/2 F Nikkor lens hood. A Nikkor 50mm 1:1.4 lens with the HS-8 lens hood and Nikkor 24mm 1:2.8 lens with a HN-2 lens hood. As the camera is DX I use lens hoods that correspond more or less to the effective lens length on DX. A few CF cards and a Nikon polarizing filter complete that set up.
An iPhone 4s with iPro case, not carried in the bag, with the Schneider iPro lens kit, wide angle and 2x and a solar battery charger for emergencies.
Film camera, a Zeiss Super Ikonta III with a Carl Zeiss Tessar 1:3.5 f 75mm lens and a Kodalux clip on light meter. This is an amazing compact 6×6 camera with a built in rangefinder that is quite uncommon in folding cameras. This camera is a joy to work with and the results are fantastic.
I mostly shoot T-Max 400 with this but in the picture is also a roll of Tri-X  and Portra 400VC. The little roll of tape is quite important as well to stick a bit of extra paper onto the film leader paper so that the camera spacing works correctly, this is an easy way to get the frame spacing right as the older films this camera was designed for had thicker paper. The filters are Red, Orange and Yellow/Green, still looking for a Yellow. Also pictured is an old Rowi fold up mini tripod and a cable release.
Thanks for looking at my bag and thanks to JCH for a fantastic site. If you like have a look at my Tumblr and web site.
http://barrywhitephotography.tumblr.com/
http://www.barrywhitephoto.com/
Regards,
Barry White
Thanks for sharing your bag with us, Barry. That Zeiss is a stunner.
Check out the links and make sure you come and comment.
Keep them coming folks, we need more submissions, so get your bag on Japancamerahunter.com. Send me a hi resolution image of the bag (please make sure it is horizontal) and its contents, with some details about yourself and what you shoot. Oh and don't forget your contact details (twitter, flickr, tumbler et al). Send the bag shots here. Please understand that there is a long wait now as there is a backlog of submissions. Not all make the cut, so make sure yours is funny/interesting/quirky. And please make sure the shot is of good quality, as the ones that are not do not go up.
Cheers
Japancamerahunter