JCH Product review: LUMU Lightmeter & Ondu Pinhole
Every now and then I get sent lovely things to have a look at. Some of them don't really fit the idea of the site (Sensor swabs I am looking at you), but some of them do. Like these. The LUMU lightmeter and the Ondu Pinhole camera.

Usually I would do separate articles for different products, but these two seem to compliment each other so well that I simply had to use them together. Which proved to be useful as I could kill two birds with one stone.
LUMU Lightmeter
So, first up we have the LUMU Lightmeter.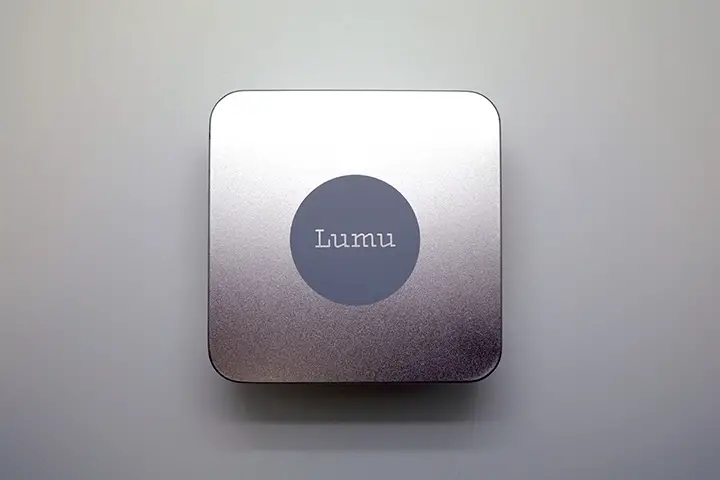 So some of you might know about this little widget. This is the LUMU. The lightmeter that works through your phone.
It was featured on Kickbegger last year and absolutely smashed its goal of $20,000 (see here https://www.kickstarter.com/projects/lumulabs/lumu-bringing-light-meter-to-the-21st-century).
Now this is a light meter for the app generation. There is no doubt of that. It is simple, small and convenient. There is even a little necklacey thing in the apple-esque box for you to use (I passed on that). Though I did use the rather spiffy leather pouch, as otherwise I would no doubt lose the thing, it is that small.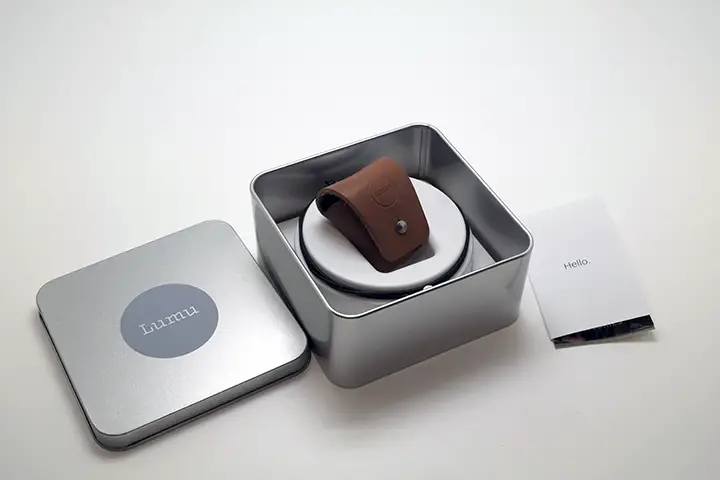 The meter itself requires for you to download an app to your smartphone and then run it whilst the LUMU is utilizing your headphone jack. Don't make the mistake I did and try to answer the phone with the LUMU in, your speaker doesn't work and you end up shouting at the phone in public like a berk.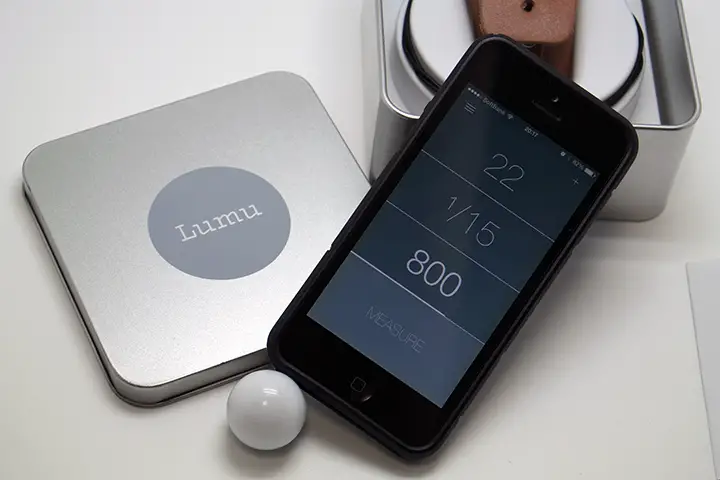 But once you have figured out how to use your smartphone properly this is a fantastic little bit of kit. It is small and light and very easy to use as well. I couldn't say about how much it drains the battery on your phone, as I didn't have to meter constantly with the pinhole camera in tow, as I was not shooting constantly (though I now see that there is a specific LUMU pinhole app, which might have worked better).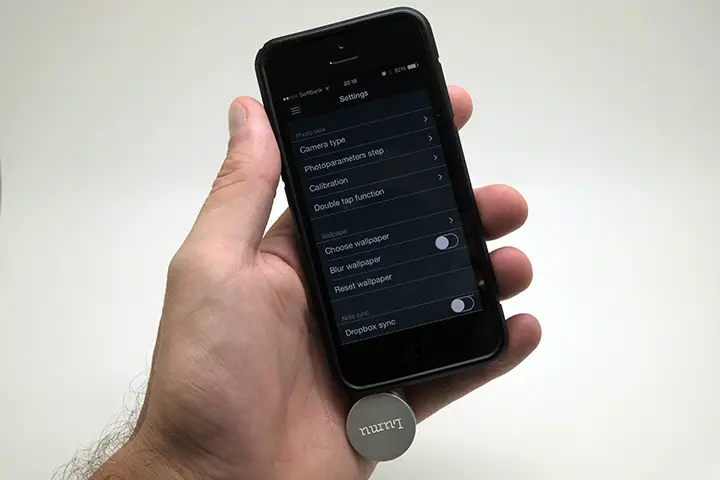 The metering interface is extremely simple and intuitive. You automatically move to swipe the screen, which is the exact motion required to adjust the settings the suite your iso etc. There really is nothing to it at all. And it seems to be very accurate too. Judging by the metering on the pinhole images at least. Though I shall be trying it with other cameras too in the future. I have seen other only reviews that test it against studio meters and it scores very well.
The settings page is very useful, helping you select the type of camera (digital or analogue) to help you get more accurate long exposure times. You can also change the steps from 1 EV through 1/2 EV to 1/3 EV, which opens up more control for you.
There are even photo tutorials in app to help you get the most out of your LUMU, which if you have not used an external meter before could prove very useful
There is a film rolls section for you to take notes on the camera and film you are using. Which is very helpful for people like myself who constantly lose pens. Though I should have take more notes with it, it is a feature I can see myself using it more in the future.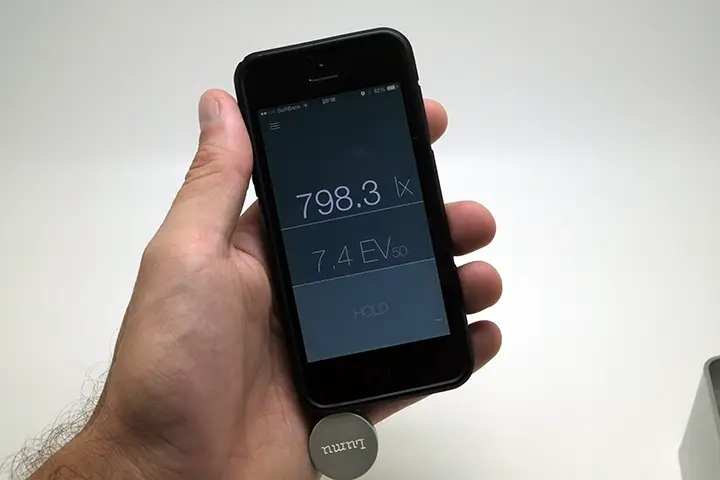 You can also measure illuminance in various different ways, such as lux, foot-candles or Exposure Value. Though I didn't find myself using this part of the app much, I can image it being very useful for others.
One thing I like is how it sits easily on the phone and doesn't look huge. In fact, people don't notice it is there, so you can meter away to your hearts content without obviously disturbing a scene, as everyone is too busy arsing about on their smartphone and they thing you are too. You can take a measurement quickly and quietly.
I am definitely very happy with the LUMU. It is accurate enough and small enough that I am happy to use it as a daily meter. It is never going to be as accurate as the fancy pants Sekonic meter with the big screen that one of my friends has, but that is massively complicated and looks like a futuristic TV remote. The LUMU is the meter for the modern analogue photographer. With one of these a whole other world of non-metered cameras opens up, and this tiny little meter gives you the confidence to shoot with them without worrying if you are wasting film.
The Lumu costs €149.00 (about 0.38778 bitcoin, 156,471 Somalian Shillings or $196 USD) and you can get one really easily at the LUMU website http://lu.mu/
Ondu Pinhole Camera

On to the Ondu, arf arf. But seriously, I was really happy when I got this thing in the post as it is so cool to look at and so easy to use. No faffing about tying to put paper in a blackout out biscuit tin, this is a medium format pinhole camera made of wood, is simple to use and has some ingenious little little tricks to make things to bring the pinhole into the modern era. .
The Ondu pinhole camera was another kickblagger project https://www.kickstarter.com/projects/ondu-/ondu-pinhole-cameras (what isn't nowadays?), which smashed it out of the park.
Elvis Halilović developed a cool idea to make simple and convenient pinhole cameras out of wood, seeing as he is a passionate pinhole photographer, industrial designer and woodworker. It seems that is a match made in heaven as he has come up with these little beauties.
Now I have not picked up a pinhole camera for years, seriously, since I was about 18. I have been given a number of them over the years but they all seemed to flimsy, or too prone to leakage or falling to pieces in my hands, so I didn't really bother with them. I actually have about 5 different DIY pinhole cameras sitting in a box somewhere.
But the Ondu got me interested again because of how damned convenient it is. A pinhole for the app generation?
See the metal bits on the back? Yes, those are magnets and they hold the Ondu together nice and snug, so no nasty light spiders can get inside and ruin your pinhole party. The body of the camera is beautifully machined and fits together with a satisfying snap. This is a very cool piece of design.
I went for the 6×6 square format camera, as I have not shot a lot of 6×6 pinhole and I have a bunch of reversal 120 film sitting in the office just itching to be shot. As you can see for the picture there is a nice simple setup for loading the film. The knobs on top are also magnetised to snap into place once the film is in the camera.
The front shutter cover swings out of place when pushed, and is held over the lens by a magnet when not in use. Which should help you from triple exposing the negative. It is a very straightforward design and keeps everything in place. You don't have to look for anything or re-attach anything. There is even a screw on the bottom of the camera for a tripod fitting (though I am too lazy to carry a tripod and mainly relied on street furniture and blind luck).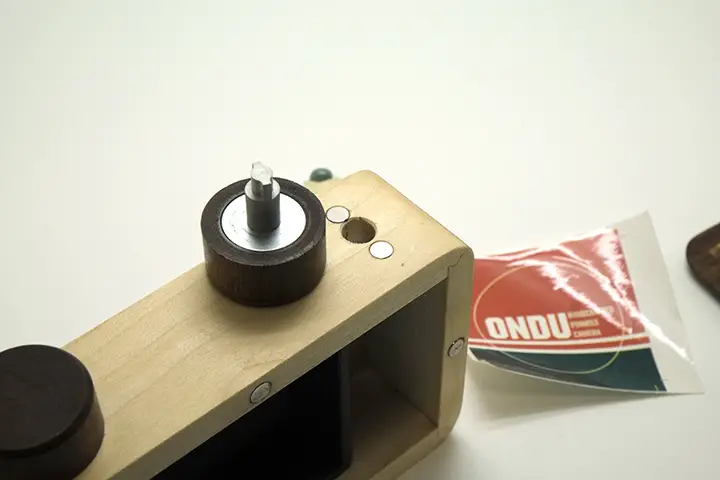 Though a note on these, the advance lever on my camera separated from the wooden knob halfway through a roll. It was an easy fix, I superglued it back into place and it hasn't been a problem since, but I hope that Elvis can use some stronger glue for future cameras.
On the back you can see that tiny wee window. That is for checking the number of the frame on the roll. Now this is possibly my only gripe with the camera. That thing is tiny, and really recessed into the camera, so you can practically never see the number of the frame unless you hold it up to direct sunlight, which kind of defeats the object. No light got through, which is a good thing, but it was sometimes a real pain to see which frame you where on. I hope in future models there is an upgrade on this part of the camera to make it easier to work out what you are advancing to (and when to stop advancing).
I have a great deal of respect for Elvis to be doing something like this on his own, that takes a lot of passion and dedication. Admirable stuff. I really like this little camera and I think I am going to get a lot more use out of it in the following months.
You can get you hands on one of these of one of the other types of camera from the Ondu site www.ondu.si this 6×6 one is about 130 €  (64 pieces of pirate booty, or $170 USD)
There is also a Flickr Group, with users submitted images https://www.flickr.com/groups/ondupinhole
I took a whole bunch of shots with this camera and some of them were not totally awful, so I decided to share them below.

Karuizawa Japan. Fuji Provia 100 reversal film 9 seconds

Tokyo Park. Rollei CR 200 reversal film 7 seconds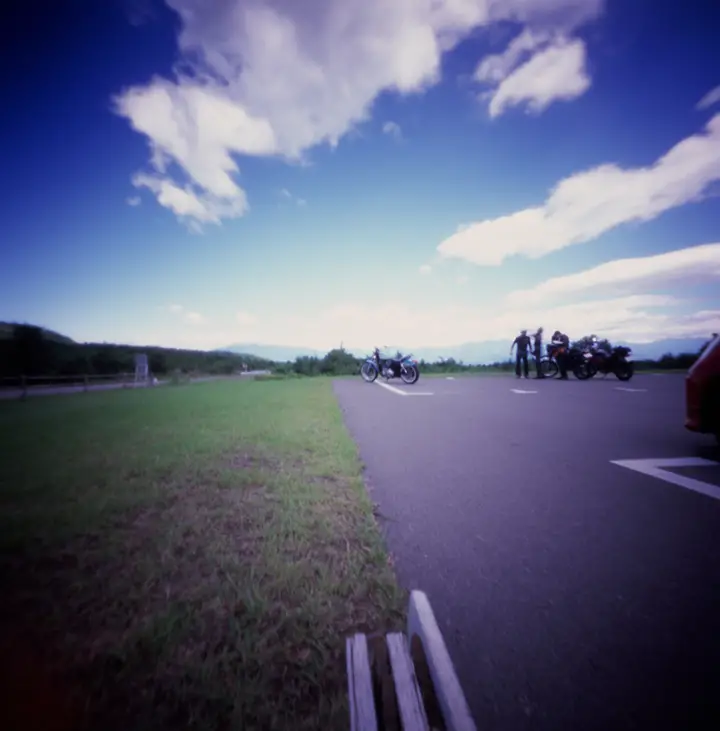 Karuizawa Japan. Fuji Provia 100 reversal film 9 seconds

Shibuya Mark City. Rollei CR 200 reversal film 30 seconds

TST Hong Kong. Fuji Provia 100 reversal film 33 seconds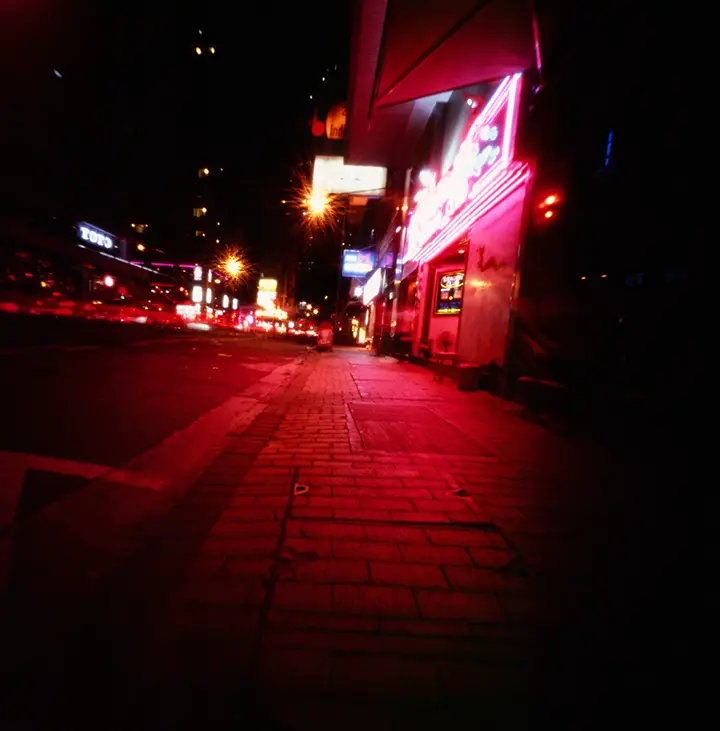 Wan Chai Hong Kong. Fuji Provia 100 reversal film 4 minutes
It is not all that often I do product reviews, for one, I don't have a lot of time and I rarely see products that I would genuinely use. But both of these products are going to be solid features in my bag from now on.
Using both of these products brought me a lot of joy and gave me the chance to go out and shoot, just for the sake of shooting, which is something I don't get to do all that often nowadays. They are both well worth the hard earned and get my seal of approval. Now I am off to run another bunch of reversal film though this a really long exposure. Should be a blast.
Cheers
JCH