Camera Geekery: Minox 35GT Lens Conversion
Today we have a guest post about hacking an old Minox camera lens. Ellis Ley has figured out a pretty nifty was of converting a Minox lens for use on an M mount camera. And it is very cool. Check it out.
Minox 35GT Lens Conversion
Hi readers! My name is Ellis Ley, I am an engineering student in southern England, I am also an avid photographer, for a recent project I decided to try my hand at converting a point and shoot lens for use with my Leica. I love the work of Miyazaki at Ms-optical and his work partly inspired this entire project, he creates great conversions and lenses singlehandedly and to an incredible standard which is very impressive. Converted lenses like these appeal to me because they are unique, hence why they are so sought after.
One of the hardest parts for my project was choosing what camera to sacrifice for its lens, I knew I wanted the converted lens to retain full aperture and focus control whilst still being very compact, because of this, finding a suitable camera was tough however after some research I had my eyes set on a Minox 35GT, the lens is small, has all controls and is well known for the great images it creates, as well as apparently being the smallest 35mm camera ever. Luckily there seems to be a lot of 35GT's going around so they are fairly cheap to source at the moment, I found a cheap one on eBay with a broken shutter for less than £10.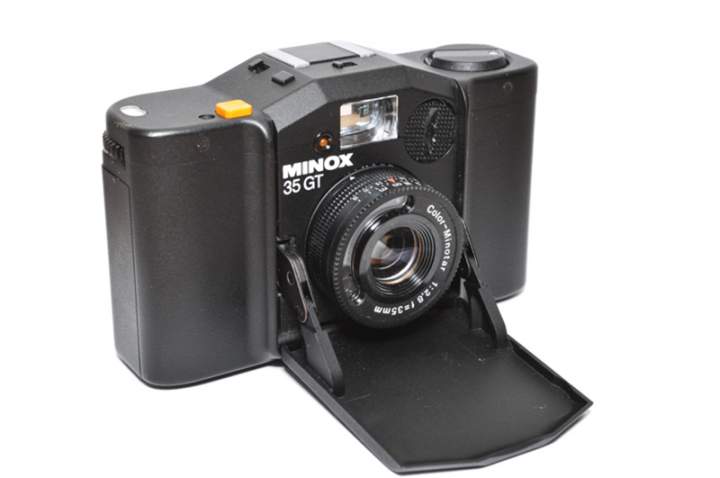 When the camera arrived I was surprised at how compact and light it was, I liked the feel of it in hand however I feel the panel that folds out with the lens would annoy me when shooting. I immediately took the camera apart and took some measurements, it was defiantly going to be tight but I believed it would be possible to convert.
I now began the design process, I originally wanted to use the m39 mount however I had no way of machining the large thread needed and so I was forced to use the m-mount, having searched the web for hours I realised there is no information anywhere on the m-mount regarding any dimensions or sizes, because of this I had to replicate the m-mount with my own design which was not an easy task.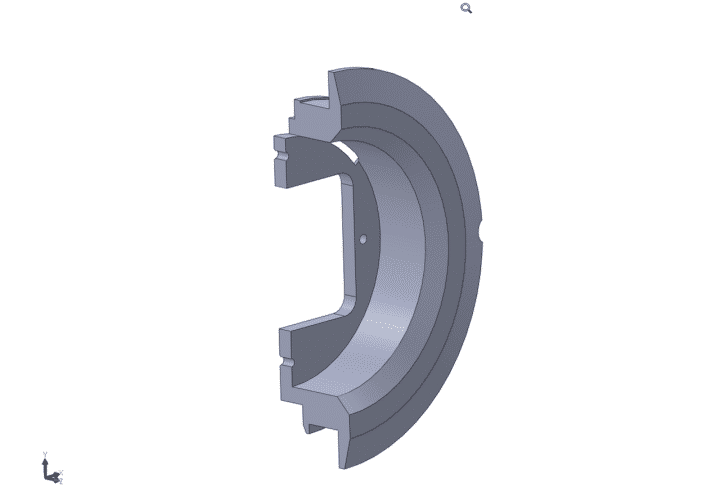 I considered 3D printing the component as it is very fast and convenient however some areas of the design are very thin and may not be strong enough if printed in polymer. I also avoided using 3D printing as I wanted the lens to look good, no ugly edges or layer marks from 3D printing would be acceptable, you can't just throw some ugly lens on a lovely Leica.
Instead I machined the entire component by hand, it took about 10 hours and was not easy but I am very happy with the end result, I decided on a polished finish to contrast with the lens and my black M6 and love how it looks this way. Below you can see the finished thing and how it all fits together.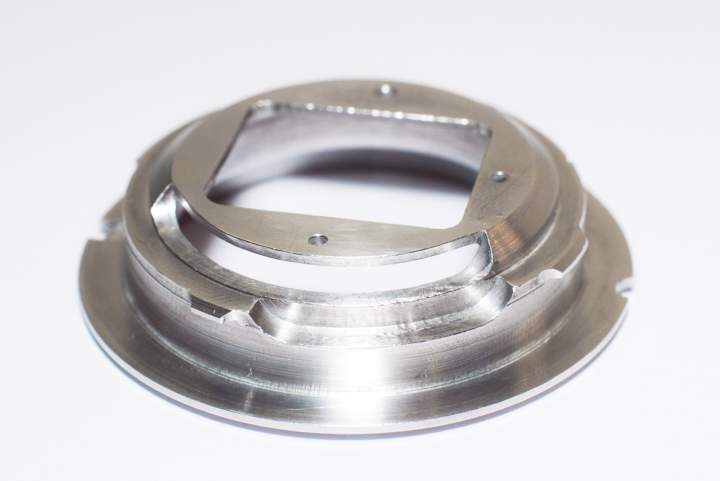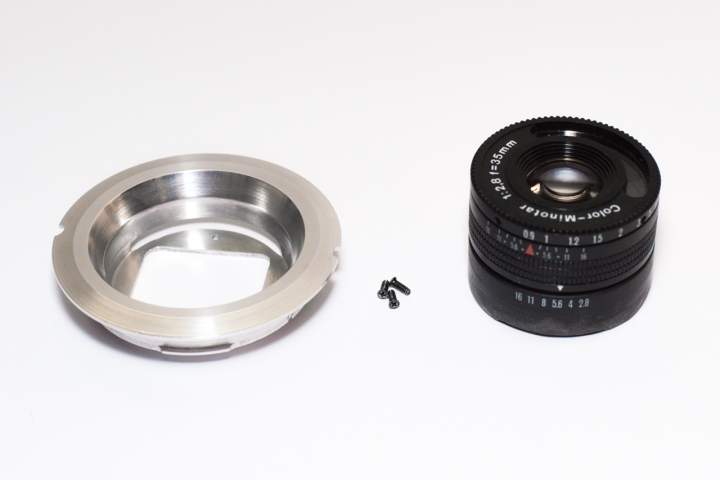 With everything put together the lens weighs in at just 41g and extends only 15mm from the front of the camera, this is far less than any of my other lenses and means I can pretty much always have a decent 35mm 2.8 with me in my pocket when shooting. The weight of the lens does affect the balance of the camera and means it tilts backwards a bit but that is only if you're being really picky.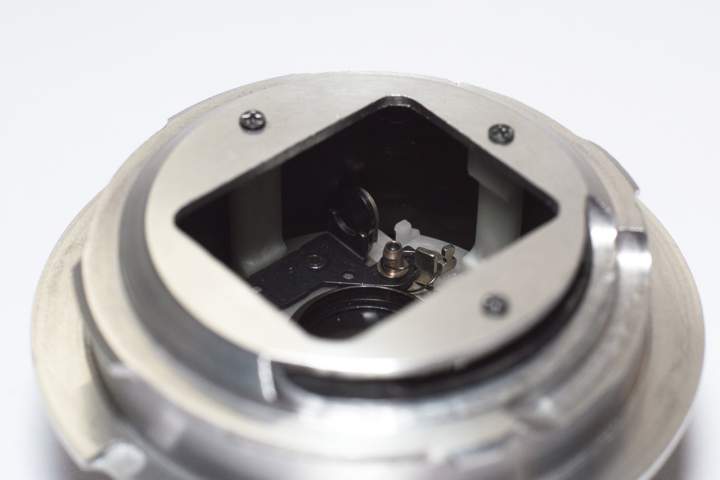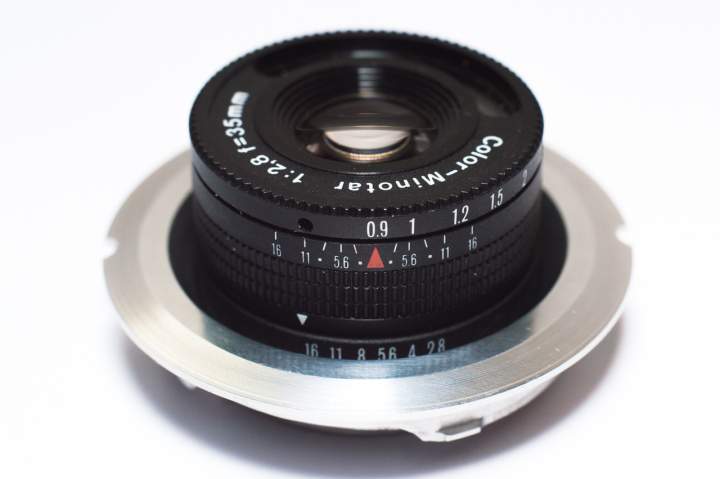 The ergonomics of the lens are actually pretty good, the focus ring is easy to turn and the aperture is smooth with no clicks, because the lens sits so far into the camera body it can be hard to see the aperture values as they are hidden slightly, you have to tilt the camera towards yourself to change aperture exactly however this does not effect me personally when shooting.
For an idea of optical performance, I compared the converted lens to my Zeiss 50mm f/2 ZM, the Zeiss is will clearly be superior however it serves for good comparative images. The photos from the 35mm are shot 50% closer to counteract the differences in focal length.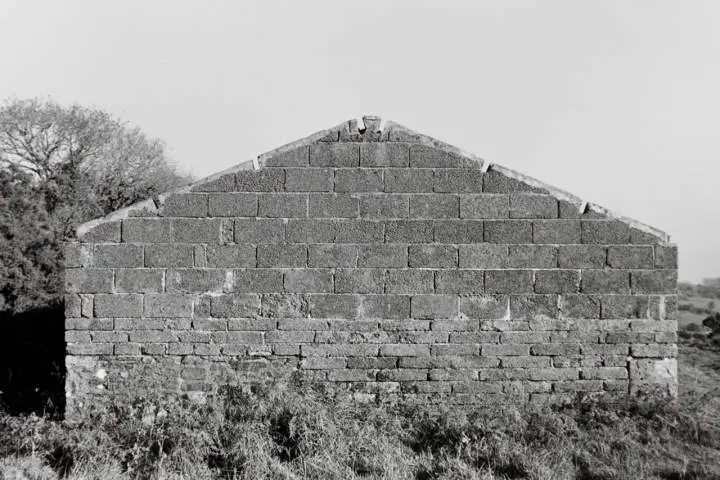 Zeiss 50mm @f/8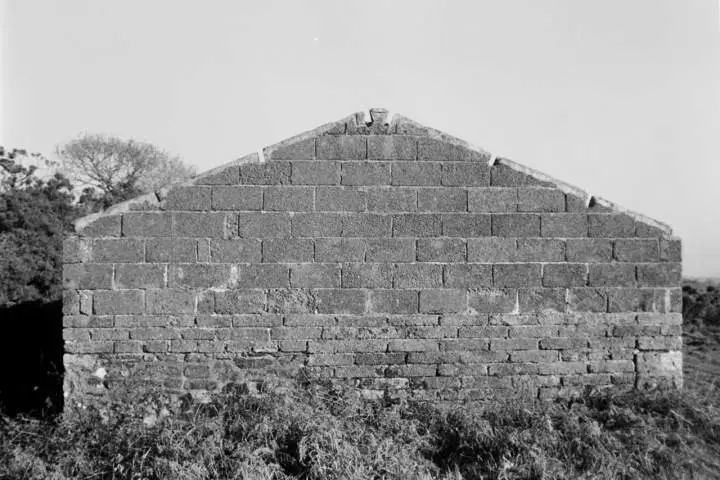 Minox @f/8
As expected the Zeiss centre crop is noticeably better however the Minox still delivers a respectable image and pretty good sharpness, enough to produce a great print. I'd compare the quality of the Minox to the Voigtlander 35mm Nokton 1.4, both compromise on image quality in favour of size and weight.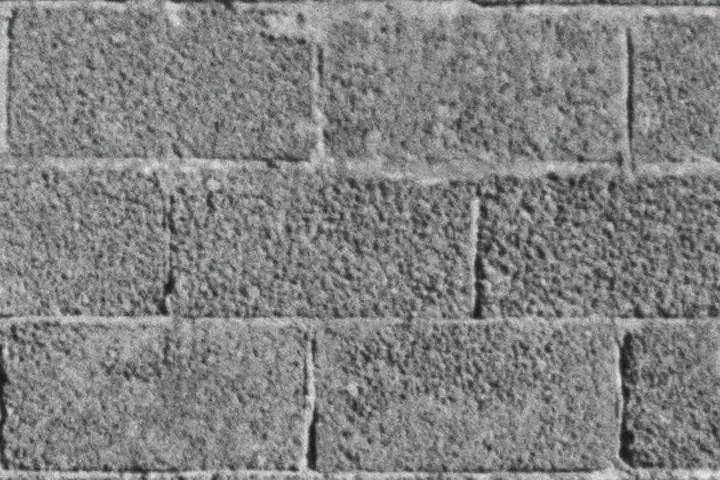 Minox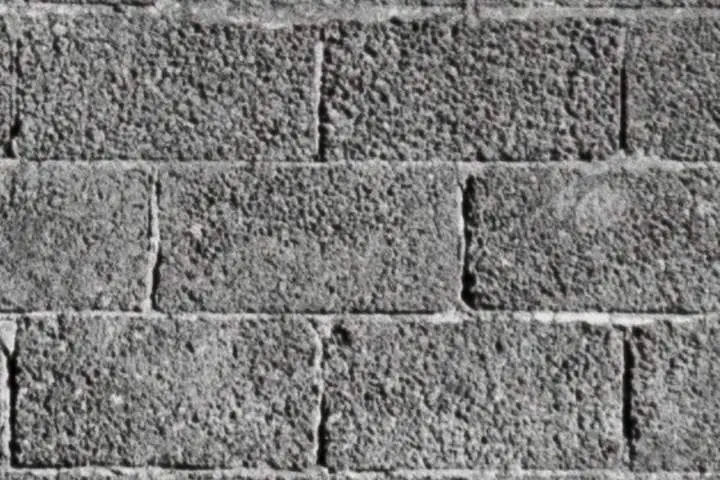 Zeiss
These images give a good comparison of the clarity/character the lenses produce, the Zeiss image is great, strong contrast can be seen across the rocks into the shadows. The Minox shows a slightly duller image with less contrast however the difference is negligible in this case, a slight adjustment to contrast in Lightroom or during printing would easily counteract the slightly lower contrast.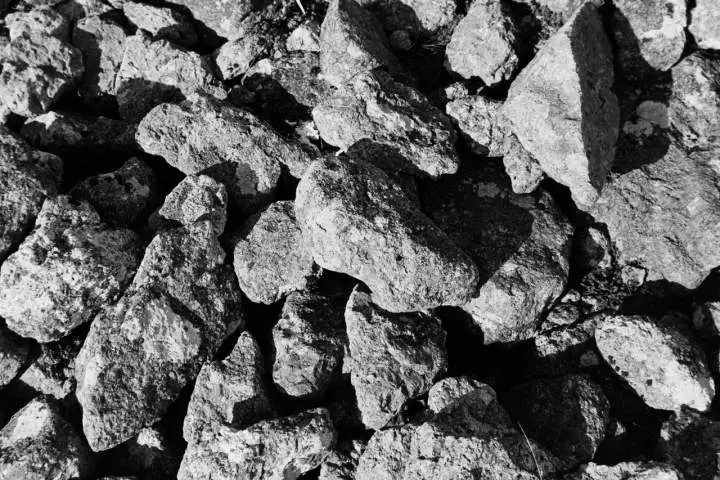 Zeiss
Minox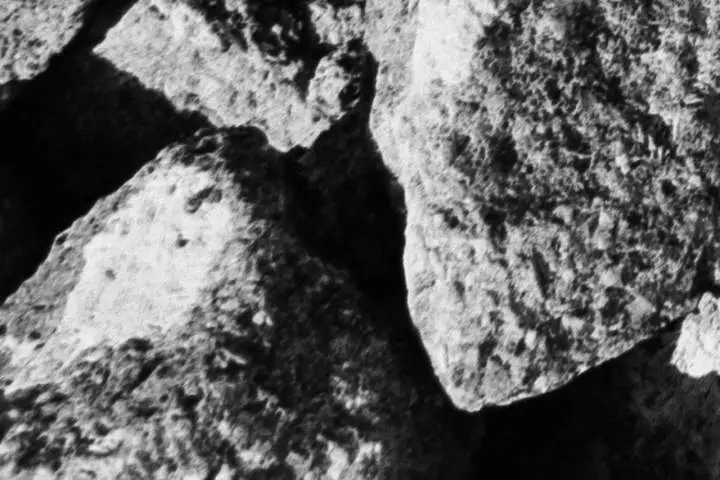 Zeiss crop
Minox crop
The corner crops above are surprisingly similar and the Minox has lost far less sharpness than I would expect from such a point and shoot lens. Again the Zeiss is sharper and shows better contrast however the differences are not huge and both images are usable.
Below are some more photographs I took with the converted lens, I haven't had any chance to shoot anything but landscapes yet but they do the lens justice, all are shot at Dartmoor Park and are developed and scanned by myself. B&W is FP4+ at box speed, colour is expired (probably) Truprint overexposed by 1 stop.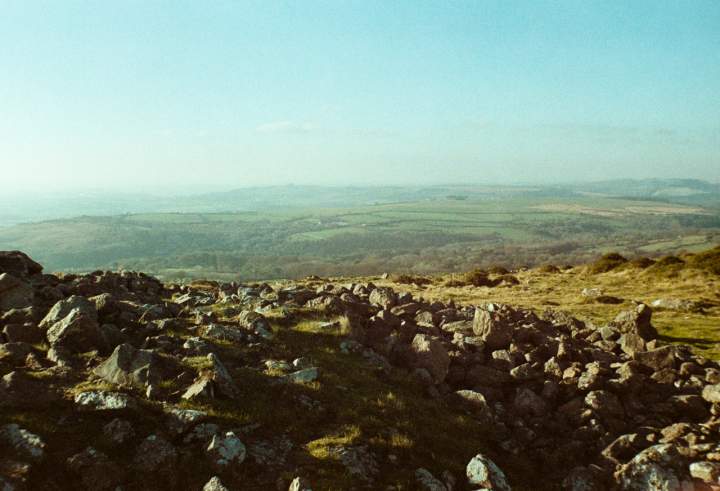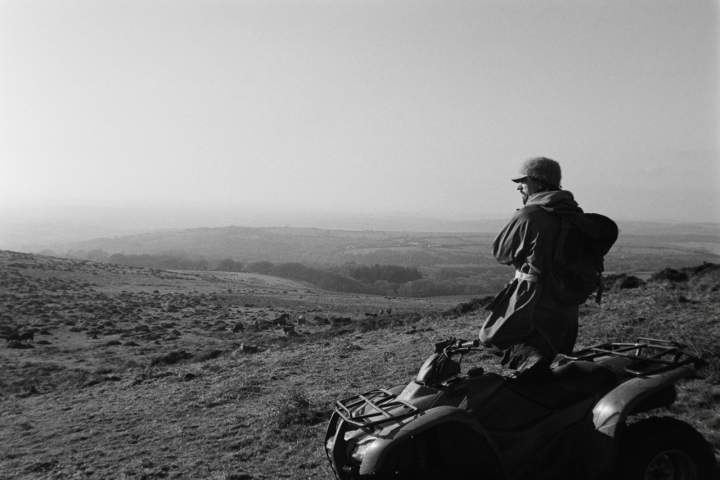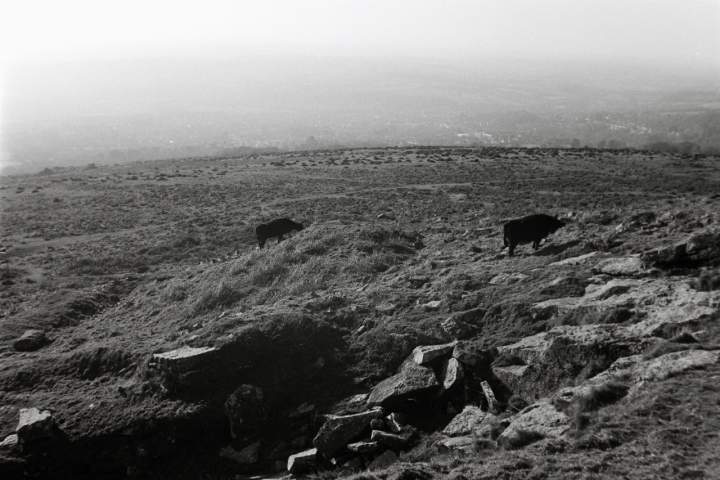 For anybody interested in the design/manufacturing etc. process I can offer you my full report, it is 7k words long and explains everything I did throughout the project from an engineering aspect. I am currently working on updating my CAD designs and hope to produce some more of these lenses or similar ones.
Please email me for more info or any questions – elliswtp(at)gmail.com
You can also follow my Instagram – @f1.420
Thank you very much for reading!
Thanks for sharing this with us Ellis. A very cool mod.
JCH