IN YOUR BAG 1748: Michael Nguyen
For this week's installment of "In Your Bag" we have my co-worker Michael Nguyen. Always envied his Porter x Nikon camera bag…check it out below:
Long time follower, first time posting. Been following JCH for a decade and have been working here for over 4 years but for various excuses never thought about doing an In Your Bag until now. So here it is, my weapons of choice for a day out of light painting.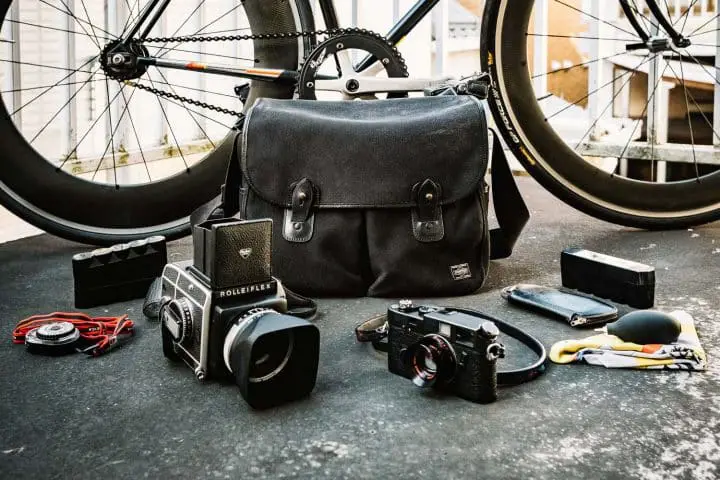 Over 15 years of living in Tokyo I've owned around 24 different cameras but this is the setup that brings me the most joy. The bag is a Porter x Nikon collaboration from 2010 that is still in fine shape. Though I don't have any Nikons anymore, I love the bag for its durability and understated quality. It's kind of like if a Billingham and a Domke made a lust child.
Contents of said bag
Leica M6 + MS-Optics 35mm Apoqualia
Rolleiflex Sl66 + Zeiss Planar 80mm
Sekonic Twinmate
JCH film cases
Filters, blower, cleaning cloth
The M6 was the first thing I bought with my first paycheck in Japan and has been my daily companion for 14 years. While my favorite lens is a 50mm Summicron, the last couple years I've been pairing it a lot with the MS-Optics 35mm Apoqualia. The lens is an absolute POS to use ergonomically but I enjoy the size to IQ ratio. I also like to ride fixed gear so perhaps it's just some masochistic partiality to things that are a pain in the derriere.
Couple years ago a financial burden forced me to part with a medium format camera; either the Pentax 67 or Rolleiflex SL66. To the surprise of many, I stuck with the latter. While I REALLY liked the Pentax 67, I didn't love it like the Rolleiflex. The 105mm Takumar is an amazing lens and most likely technically better but I just LOVE the rendering of that 1960's Planar. Ideally, I would have liked to use the SL66 lenses on the Pentax but after contacting the manufacturer of an adapter, I was disappointed to find out they are no longer available and I've never found one on the used market. I do prefer 6×7 to 6×6 as a format but again, there is just some PITA charm about how complicated and fragile yet amazing about the engineering behind the Rolleiflex SL66 that I just couldn't live without.
The Sekonic Twinmate is the perfect travel light meter. It's small, light and I love the analog dials design. It even serves as an incident meter. I also like to make it a habit to carry a selection of filters; yellow for black and white film, circular polarizer, and a couple NDs for when using high speed film on bright days. Round that off with a high quality blower and cleaning cloth and I'm ready for anything.
Thanks for reading,
MN
Instagram: @thericerocket26
Website: http://michaelnguyenphoto.com/
––––––––––––––––––––––––––––––––––––
Send me a high resolution image of the bag. Optimum size is 1500px across. Please ensure there is a bag in the shot, unless you don't use one. The more you can write about yourself the better, make it appealing and tell us a story. Snapshots of your gear with a camera phone and no words will not be featured.
Oh and don't forget your contact details (Instagram, Twitter, Flickr, Grainery et al). Send the bag shots here. Not all make the cut, so make sure yours is funny/interesting/quirky. And please make sure the shot is of good quality, you are a photographer after all. 
Cheers
-JF