In your bag 974, Chris Leskovsek
Chris has not one, but two bags for us. And they are both listed out for our convenience. Check them out.

Hey guys, my name is Chris Leskovsek, 32, Im originally from Santiago, Chile, but I'm currently living and working in Auckland, New Zealand. I'm an Art Director-Designer during the day, Photographer the rest of the time. First off, I wanted to apologize by the absence of film cameras in my kit, but truth be told, once I came to NZ the prices of buying and developing film were simply impossible to my pocket. Back home I shot almost only film with a Mamiya 645 for travel and a bunch of little compacts for my everyday, such as a Contax T2, Lomo LC-A (Russian) and Olympus XA1. But now they are all gone and few other in my collection are just that, for display only. I wanted to share both my "everyday" and "travel" bags, which are pretty similar except for a few things.
My Everyday bag: (Above)
Some cheap ebay canvas bag from china that fits all that plus an iPad mini. It's incredible. Just put some wax on it for weathersealing purposes and its good to go.
My While-I'm-in-front-of-the-computer-only-glasses
Olympus OMD EM10 with a Panasonic 20mm f1.7 pancake lens + cheap leather strap
Ricoh 21mm wide angle lens adapter
Ricoh GV-1 viewfinder.
Ricoh GR
Wallet
Climber – Swiss army knife
Flashdrive
Moleskine
Assorted pencils and brush pens
Cellphone – Nexus 4
iPod classic
My Travel bag: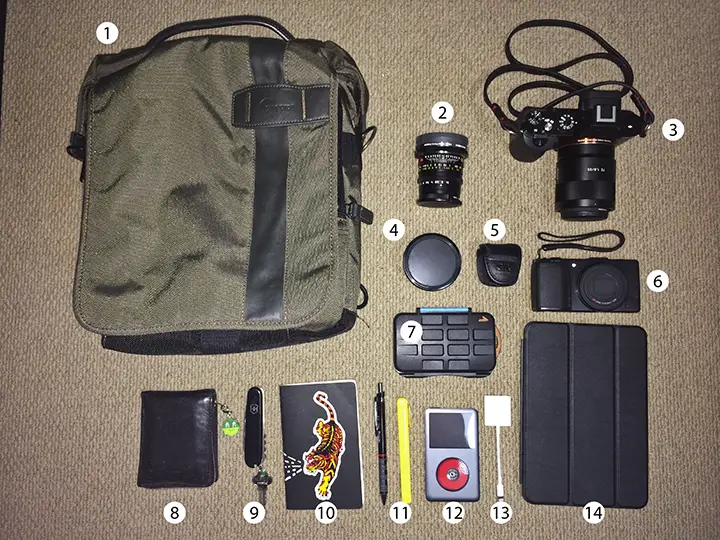 Lowepro Pro messenger 160
Leica 35mm Summilux ASPH. + Voigtlander close focus adapter
Sony A7 + Zeiss 55mm + cheap leather strap
Ricoh 21mm wide angle adapter
Ricoh GV-1 Viewfinder
Ricoh GR
Box full of SD cards
Wallet
Climber – Swiss army knife
Moleskine
Pencil and eraser
iPod classic
iPad SD card adapter
iPad mini retina.
I like to keep it simple and compact, as much as possible. only 3 cameras and only carry 2 each time. Being the Ricoh GR the one that never leaves my pocket, even when I'm not carrying any bag. I'm focused into everyday and documentary photography mainly. I'm also focusing on projects to develop different photobooks as I believe is a great and fascinating way to show your work and enjoy others. I recently started self-publishing a bi-monthly-ish book-zine with my everyday work (which you can download the latest one for free on my website). I'm also currently working on my first monograph about Burma…
Please feel free to check out my work over
www.chrisleskovsek.com
http://instagram.com/chrisnmn
http://chrisleskovsek.tumblr.com/
https://www.flickr.com/photos/nadameansnothing/
and if interested in my design do please check it at
www.nadameansnothing.com
Thanks once again Bellamy,
Chris Leskovsek
Thanks for sharing both of your bags with us, Chris. Very interesting to see the differences.
Check out the links and make sure you come and comment.
Keep them coming folks, we need more submissions, so get your bag on Japancamerahunter.com. Send me a hi resolution image of the bag (please make sure it is horizontal) and its contents, with some details about yourself and what you shoot. Oh and don't forget your contact details (twitter, flickr, tumbler et al). Send the bag shots here. Please understand that there is a long wait now as there is a backlog of submissions. Not all make the cut, so make sure yours is funny/interesting/quirky. And please make sure the shot is of good quality, as the ones that are not do not go up.
Cheers
Japancamerahunter