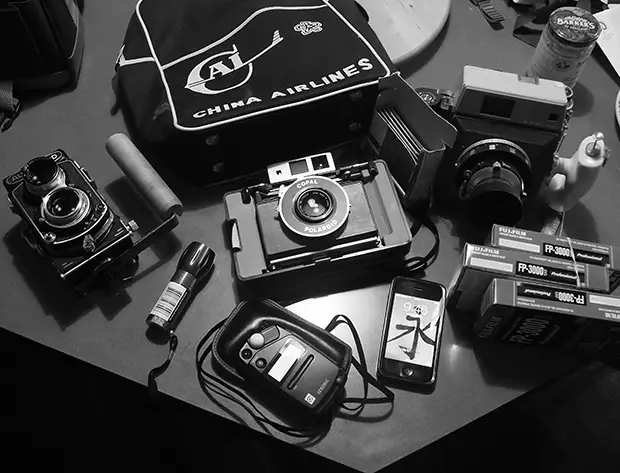 In your bag 1046, The Lazy Aussie
Inside the bag of The Lazy Aussie. Andrew shares with us some cool gear in a very cool bag. Check it out.

Well the bags the big problem isn't it? What to leave out and what to keep. I got the China Airlines bag to fit the polaroid, because it had a side pocket that could take the peel-apart negatives and some film boxes, but it still isn't enough. Made worse, because I've just decided to give up digital completely. Which is a problem. Because the digital fitted. In its bag. After many years of film, mostly various Nikons and the wonderful Minolta Autocord 6×6, in the 1980s and 90s…
https://www.flickr.com/photos/lazyaussie/sets/72157630022600809/
https://www.flickr.com/photos/lazyaussie/sets/72157600048547662/
…I moved to digital, and the film cameras gathered dust. But digital has got too bland. The cameras are too good. When every possibility is open to you, you are left with nothing! You need the uncertainty of machine, chemical and operator error for creative and stunning pictures to appear. So. I'm back with film.
The Autocord, the Polaroid and the monster Mamiya 6×9. Some of which have travelled the world with me, making a notch in my shoulder from whatever bag was weighing me down with their presence. Ah yes. The bag. Which of these slabs of metal plastic and glass to take? Obviously I need a torch, because they are all so wonderfully slow. I have the seconic for some incident metering. If the polaroid gets the nod, I also have to fit in the negative holder I made out of business cards. But…
I don't so much need a bag, as an assistant. With a bag. A big bag.
Andrew, "The Lazy Aussie McDonald".
Thanks for sharing your bag with us Andrew. Yes, there is something lovely about the mistakes that film offers us. Who needs a perfect world?
Check out the links and make sure you come and comment.
Keep them coming folks, we need more submissions, so get your bag on Japancamerahunter.com. Send me a hi resolution image of the bag (please make sure it is horizontal) and its contents, with some details about yourself and what you shoot. Oh and don't forget your contact details (twitter, flickr, tumbler et al). Send the bag shots here. Please understand that there is a long wait now as there is a backlog of submissions. Not all make the cut, so make sure yours is funny/interesting/quirky. And please make sure the shot is of good quality, as the ones that are not do not go up.
Cheers
Japancamerahunter