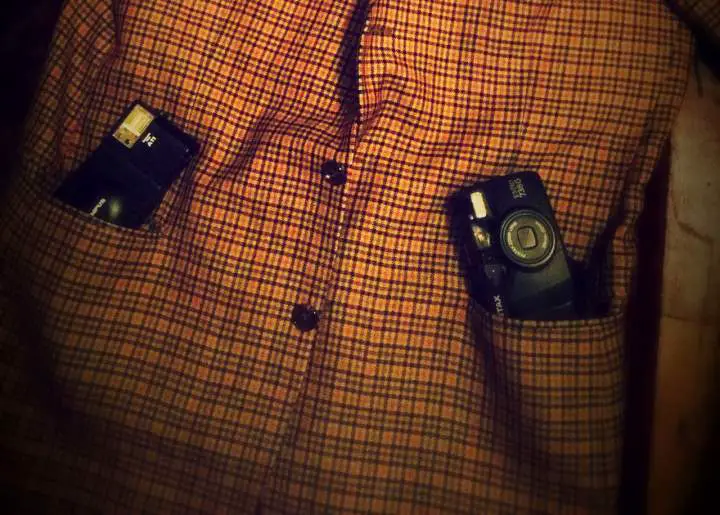 In your bag No: 1313, Andrew McDonald
Andrew has been on the site before, with a big old bag full of gear. But this time he is back, and with a touch of class. Not a bag in sight, but a rather fetching jacket. Now, where is my pipe?
Ok, listen. Nobody panic, but I've gone bagless. Or more accurately I've decided to reduce my camera size so that a jacket (in this case cashmere) can be my bag.
Since starting shooting seriously in 1981, I have never gone point and shoot. I've just got a little sick of carrying a bag to be honest. I've also gotten a little sick of focusing, but that's another matter. And why not have a 60 year old silk cravat to flick off the occasional imaginary fleck of dust?
So, although I love my 6×6 Autocord and other beautiful boat anchors, let's just take a while to walk around with an Olympus XA2 and some 90s Chinese Pentax Espio. I have been pulling back all the complexity in my shooting, going back to the most basic. This was recently rewarded by being a finalist in one of Australia's most prestigious photo awards (Bowness) with a pinhole shot.
http://www.ahcmcdonald.com/madethings#no2
And the point and shoots – with a death match between rodinal and tri-x,  -are producing some interesting results.
http://www.ahcmcdonald.com/oflandsandseas#no2
I have moved my best work to my own website now, and I'm pleased that some of my favourites are from 1983 and some from this year. I think I'm still doing some good work.
But I still put some day to day stuff (often shot on the phone, which is the only digital I do these days) of interest on Flickr.
https://www.flickr.com/photos/lazyaussie/
AHC McDonald (Andrew)
Thanks for coming back to us, Andrew. That is certainly a classy affair. I like your style. The modern gentleman and his discreet film camera.
Check out the links and make sure you come and comment.
Keep them coming folks, we need more submissions, so get your bag on Japancamerahunter.com.
Send me a hi resolution image of the bag. Optimum size is 1500 across. Please ensure there is a bag in the shot, unless you don't use one. The more you can write about yourself the better, make it appealing and tell us a story.
Oh and don't forget your contact details (twitter, flickr, tumbler et al). Send the bag shots here. Please understand that there is a long wait now as there is a backlog of submissions. Not all make the cut, so make sure yours is funny/interesting/quirky. And please make sure the shot is of good quality, as the ones that are not do not go up.
Cheers
Japancamerahunter