In your bag No: 1312, Gio Kenzo Sarmiento
Todays bag was put together during a trip to Tokyo, and now resides in Manila. Gio manages to shoot film on a students budget, and rocks some awesome gear. Check it out.
This will be my first time writing this, so introductions are in order. I'm Gio Kenzo Sarmiento, currently studying Photography in De La Salle College of Saint Benlide (a mouthful, i know.) in Manila, Philippines. I do part time work as a barista in a local coffee shop as well as buy and sell cameras on the side to fund my incessant film expenses. I like doing travel and street photography, and I've been shooting exclusively film for the past 6 years (it definitely cuts into a student's budget!).
I first started out in Photography with a cheap digital point and shoot, but working part time when I was around 16 in Vancouver led me to get my first film camera — a Pentax ME for around 100$ for a kit. I've used digital every now and then, but I find myself drawn to film regardless of digital's ever increasing quality: I mean, even my Sony phone has 20.7mp or my XE-1 has the convenience of seeing the picture immediately after I take the shot; but I've never gone out of the house and thought, "oh, today i'll grab the XE-1 and shoot!". It's definitely an odd quality.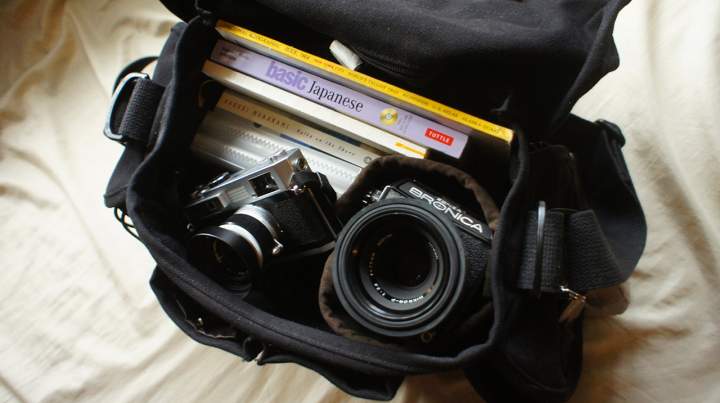 For the bag:
What I'm using as an all around (an understatement. I use it everywhere now) bag is a Domke F2 Original; which I got a few weeks ago. I love the grippy strap and the amount of space it holds for such an unassuming bag. I carry enough in this that I usually come home with sore shoulders if I walk around too much, though I'm hoping that walking around with it will get me used to the weight.
The gear:
At the moment, I'm immensely enjoying a Bronica EC with a 75 P Nikkor, a Canon 7 with a 35/2 and 50/1.8 and an Olympus Stylus for random shots. I swap it out every now and then for a Minolta XD. I used to use Nikon SLRs but found them too cumbersome to comfortably bring around as opposed to the rangefinder kit.
I was originally gonna resell the Canon 7 when I first bought it, but I fell in love with the viewfinder: it's so clean and uncluttered. Though the ergonomics tend to leave something to be desired — it's too boxy and a bit on the large side — the Canon's quality and feel had cemented that I'd be using rangefinders from then on. 35/2 and 50/1.8 are also amazing quality for the price — bought around 100$-150$ each, they definitely leave a distinct character in pictures I've used them in, though honestly, the 35/2's build quality feels sloppy compared to the 50. I'm hoping I can get a Leica M2 sometime in the future.
Actually, I bought the Canon 7 and Bronica EC in Shinjuku through a few recommendations from your article, "Camera shopping in Tokyo!", So I'd have to thank you for that. It was definitely fun going around (getting lost, really — I'm terrible at directions) the areas you wrote about! The Bronica EC, bought in that store above the ABC Mart in Shinjuku, takes gloriously detailed pictures: I'm also hoping I'd get used to MF, 'cause I've always loved the 6×6 format. I forgot, the Voigtlander VC Meter was also bought in Shinjuku in Camera Alps (an extremely friendly shop!) so I could use it to meter whenever I felt unsure of lighting
The Olympus Stylus and Minolta XD see use as an alternative body when the Canon 7 is using a particular kind of film (the 7's counter is broken so I can't rewind it midway), or in hands of other people: I like making photo albums, but sometimes it's hard to get a picture of yourself when you hand someone a complicated camera like the 7 or EC.
Also included in the picture is a large pouch — it's supposed to be a large format lens bag — it's lined with really soft material (bought in Katsumido for 300yen), but it serves use as a divider for the Bronica and the other contents of the bag. I bring around two filters for black and white, for either the Canon 7 or EC as well as spare rolls of film depending on the day.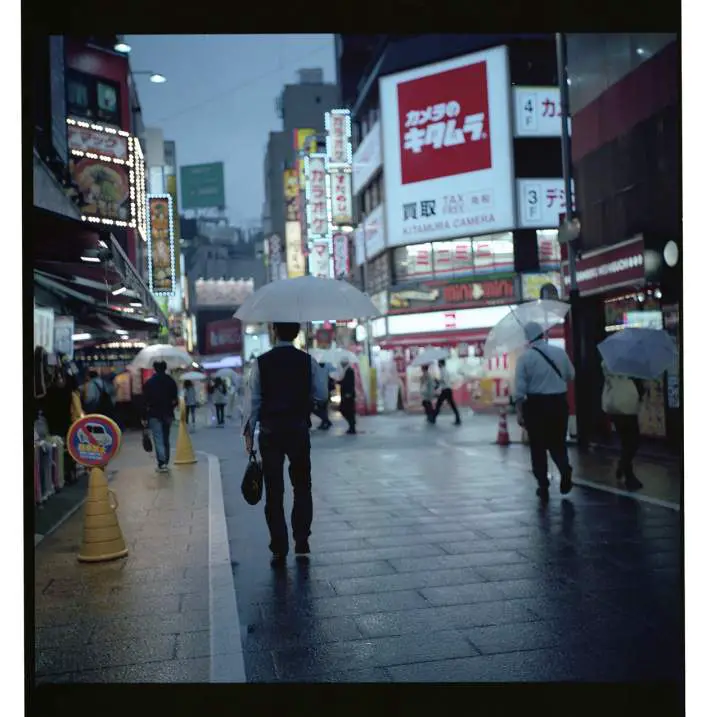 The bag:
I often have to wait around in random coffee shops here in Manila since traffic gets bad enough that driving would basically just force you to spend time in your car burning fuel, so I bring around a copy of any vintage National Geographic — mostly 'cause I dislike the newer editions' pictures, a book on learning Nihongo, a Midori notebook for writing and maybe a book or two. Coincidentally, I'm also bringing around a photo album of my trip from Tokyo, as I'm writing entries for most of the pictures. I use a Lamy fountain pen and a mechanical pencil for the occasional doodle.
I usually cram the film, filters and the Olympus Stylus into the left large pocket and reserve the other side for my wallet, phone and keys. The front pockets are (separately) used for exposed film and writing materials.
The pin on the bag is from a shop in Harajuku called 6% Doki-doki; easily one of my favorite places to have visited in Tokyo: the fashion and energy was definitely something you could never explain unless you were there first hand. There are also a few knick knacks from Akihabara on the right side: another place that left a lasting impression on me for sure, haha. Geek culture at its weirdest!
I don't have a 'portfolio' as I'm still in the process of actually pinning everything down into one site, but you can find me on tumblr as thiswasntme.tumblr.com and Instagram as geeyooza. also attached are a few of my recent pictures, taken with the Canon 7 and the EC.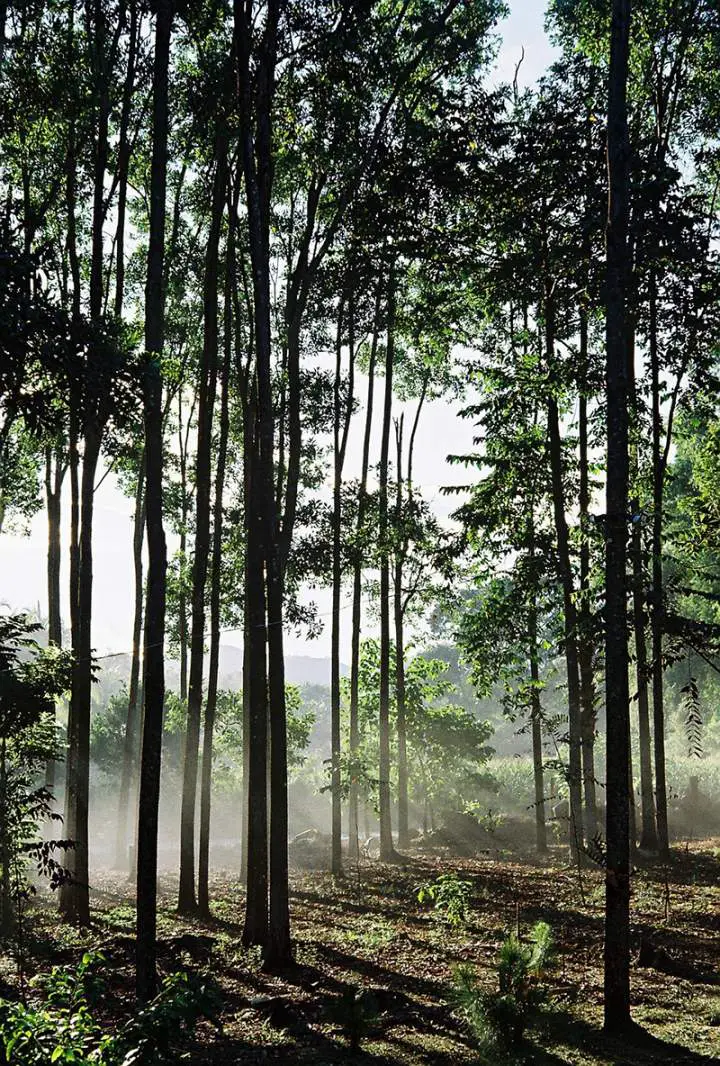 Have a good day!
Thanks!
Thanks for sharing your bag with us, Gio. Nice to hear you are shooting plenty of film. And the Japanese study books in your bag have also shamed me, I definitely don't study enough.
Check out the links and make sure you come and comment.
Keep them coming folks, we need more submissions, so get your bag on Japancamerahunter.com.
Send me a hi resolution image of the bag. Optimum size is 1500 across. Please ensure there is a bag in the shot, unless you don't use one. The more you can write about yourself the better, make it appealing and tell us a story.
Oh and don't forget your contact details (twitter, flickr, tumbler et al). Send the bag shots here. Please understand that there is a long wait now as there is a backlog of submissions. Not all make the cut, so make sure yours is funny/interesting/quirky. And please make sure the shot is of good quality, as the ones that are not do not go up.
Cheers
Japancamerahunter