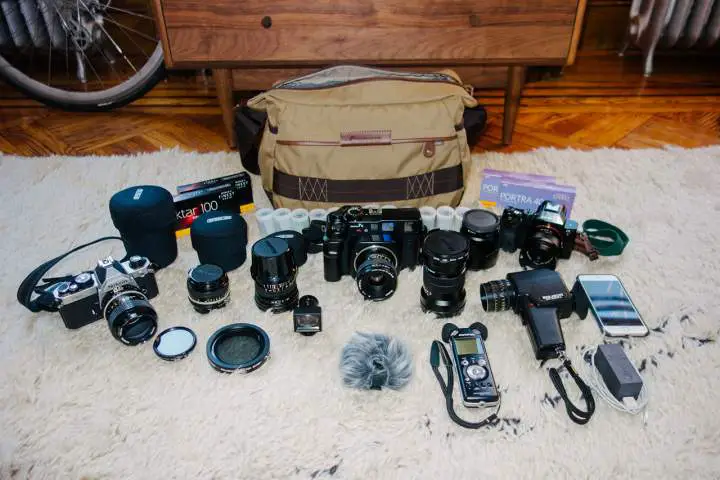 In your bag No: 1310, Lex Dodson
In your bag has been a pretty male dominated affair, so it is always nice to see ladies bags on the site. Alexis has been kind enough to share her bag with us today. And it is quite the bag too. Check it out.
Hey Japan Camera Hunter,
Apologies in advance for the terrible picture but I felt the need to submit because I feel like there is minimal lady representation in these bag showcases/ I'm fairly obsessed with bags and configurations as I travel a fair amount and am always in search of the most compact kit I can pack for maximal impact. This, however, is an excessive kit compared to what I normally carry.
The reason is that I'm headed out on a four state trip through Texas, New Mexico, Arizona and California and as such, I want to be prepared for what I expect will be some pretty incredible natural beauty, as well as for the thing I more often gravitate toward: portraiture. 
What I'm carrying: 
Nikon FM2n with 105mm 2.5 AI and 50mm 1.8 AIS lenses and Domke gripper strap.
I love this camera. Being purely mechanical, I know I can always count on it. These are the only two lenses I own for this set up and I feel no need for anything else. This covers all my 35mm needs.
Mamiya 7ii with 50mm 4.5 (and external viewfinder), 80mm 4 lens and 150mm 4.5 lens. Also an old Tenba strap, generic cable release and the Mamiya polarizing filter. 
This is the most exciting thing I've picked up in a really long time. I found it on Craigslist in mint condition. I've long admired the camera but held out on buying it for years. When my husband and I settled on this trip, I knew I wanted something lightweight that would deliver incredible results and my Mamiya RZ67, which is a stunner, could only fulfill one of those requirements. I took the plunge for the 7ii and couldn't be happier. Everyday feels like Christmas when shooting with this camera.
Sony A7 with Zeiss 35mm 2.8 and 55mm 1.8 lens and Domke gripper strap.
This is basically my back up camera. I know that's ridiculous because it's an incredible camera and frankly, I've never shot with a digital camera I love more. This was my only camera until recently, having sold a lot of film gear years ago with the intent to simplify and focus on this camera exclusively. Even with my recent camera purchases and return to film, I don't intend to give this camera up. It will be with me on this trip just in case I get the urge for instant gratification somewhere along the way.
Also in the bag: lots of film (for 120, a mix of Portra 160 and 400 as well as Ektar 100 and a few rolls of Acros 100, not pictured. For 35mm, just Superia 400), an old school Soligar spot meter I picked up for $30, polarizer and ND filter, an Olympus LS-10 recorder for taking notes and interviews (love this little machine), an iPhone, a Bolt external charger (couldn't live without this thing), and my wallet which I forgot to pull out.
It all goes into a Vanguard Havana 36 Shoulder Bag outfitted with a Tenba Pro Digital 2 insert for travel. My day to day kit will be a lot lighter: most likely just this bag packed with the Mamiya 7ii + 80mm and the Nikon + 105mm. Having the rest of the gear on the road ensures I'll be prepared for whatever comes, though.
Best,
Alexis
Thanks for sharing your bag with us Alexis. I am loving that Mamiya. They are such a joy to shoot.
Check out the links and make sure you come and comment.
Keep them coming folks, we need more submissions, so get your bag on Japancamerahunter.com.
Send me a hi resolution image of the bag. Optimum size is 1500 across. Please ensure there is a bag in the shot, unless you don't use one. The more you can write about yourself the better, make it appealing and tell us a story.
Oh and don't forget your contact details (twitter, flickr, tumbler et al). Send the bag shots here. Please understand that there is a long wait now as there is a backlog of submissions. Not all make the cut, so make sure yours is funny/interesting/quirky. And please make sure the shot is of good quality, as the ones that are not do not go up.
Cheers
Japancamerahunter