IN YOUR BAG: 1739 – Paolo Ernesto
For this week's installment of "In Your Bag" we have Paolo and his M4 cameras!
Hi my name is Paolo Ernesto, and I am a successful IT manager for a well-known global car-maker brand. I am also a freelance journalist, a photography enthusiast and, above all, I am Italian man married to a wonderful German woman. 
This is my camera bag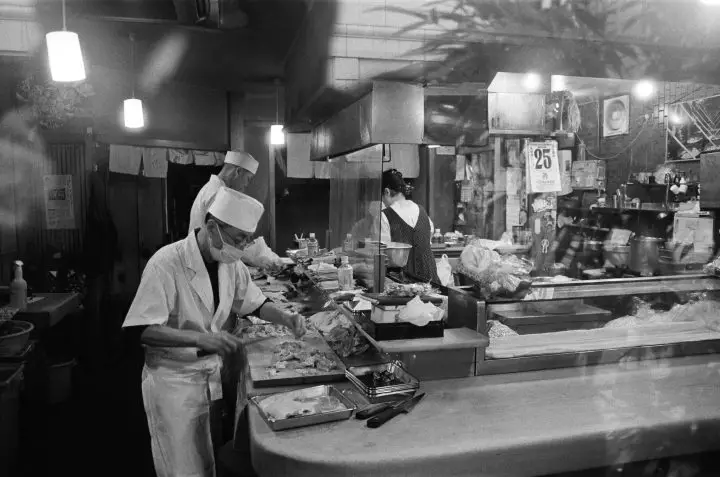 For many years I was taking photographs only with digital cameras. However, a few years ago my German father-in-law gifted me a Leica M4, previously owned by his German father-in-law.
I was born in the early 80's and growing up in an era of high-tech with many electric gadgets, also my photography has been mainly digital. Nikon has always been a passion for me, and I own many DSRLs.  I was looking for higher megapixels, for more detailed sensors, always in pursuit of the latest model. In 2014, after receiving the Leica M 4 and shooting the first roll, something changed. I was fascinated by the slowness of analog photography, by the fact that I could no longer take a ton of photos and then choose the best one.
I had to think, compose the scene, take one shot and that's it. Oh yes, one shot because the camera film has, as you know, only 24 or 36 photographs available and therefore it is impossible to take tons of pictures every time. In the beginning, I had a tough time with the analog camera. I found it difficult to get used to the rangefinder focus and the results were not convincing at all.
Disappointed in my first attempts, I put the Leica M 4 in a drawer and forgot about it. Two years later, I found myself in a camera store and bought a 36 exposure Ilford hp5 film. I dusted off the Leica and decided to try to take some pictures. This moment was the beginning of an end, a game changer. In 2017 I decided to sell all my digital SRL kit, and I started to shoot almost exclusively in analog. During my business trip to Detroit and Paris or during my several Japan travels, the Leica M4 was and is always at my side.
Then came the first Covid lockdown, the second lockdown, the third and fourth and now we are in 2022. During the various lockdowns, I was very active on social networks. I launched several successful artistic initiatives, both privately as well as with the University of Fine Arts in Karlsruhe, Germany, where I am finishing my Art Degree. However, recently I have decided to change my approach to life, as well as I did a couple of years ago with photography. 
As it took time, passion, and dedication to learn how the M4 manual focus, rangefinder and exposure worked, I have decided to focus in life on the important things and value them the most. Therefore, I closed almost all my social media accounts. Goodbye Facebook, Messenger, Instagram, Twitter, Pinterest, Telegram and TikTok. Everything instant and temporaneous that slowly but surely stole my time. Only LinkedIn remains active for obvious professional reasons.  Nowadays I also possess a digital bridge camera that is un use sporadically but overall, everything you see in the bag is what I use the most. 
After this very long presentation here is my bag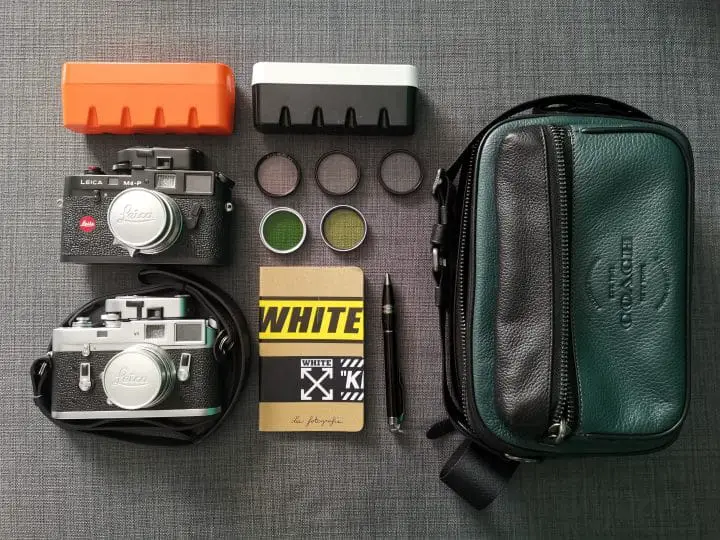 BAG: Thompson Small Camera Bag by Coach
FILTERS: Yellow, Green and UVs
FILMS CASE: 2 x Japan Camera Hunter film case currently filled mainly with, JCH Streetpan 400, Ilford HP5 and Rollei RPX 400
CAMERA: Leica M4 and Leica M4-P
LENSES: Summaron 35 mm f2.8 and Elmar 50 mm f2.8
LIGHT METER: 2 x Leicameter MR 4
EXTRA: A small notebook with a pen to write down thoughts and ideas.  
Of course, that's not everything since I also have my workstation where I scan the negatives with an Epson Perfection V600 Photo, an Ars Imago Lab Box for developing my films and several Adox binders where I archive the developed negatives. Now, that has been all. 
Paolo Ernesto
––––––––––––––––––––––––––––––––––––
Send me a high resolution image of the bag. Optimum size is 1500px across. Please ensure there is a bag in the shot, unless you don't use one. The more you can write about yourself the better, make it appealing and tell us a story. Snapshots of your gear with a camera phone and no words will not be featured.
Oh and don't forget your contact details (Instagram, Twitter, Flickr, Grainery et al). Send the bag shots here. Not all make the cut, so make sure yours is funny/interesting/quirky. And please make sure the shot is of good quality, you are a photographer after all. 
Cheers
-JF