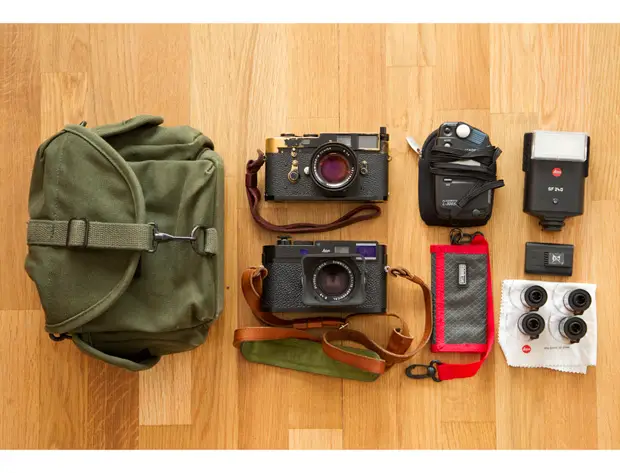 In your bag number 81, Erik Gunnerud
Hi ther bag lovers. Todays bag is really pretty special, as it has one of the cameras that I wish I could shoot with on a daily basis….The gorgeous black paint M2….droool….

Hi
My name is Erik. I work as a photographer in Oslo, Norway. I do all sorts of photography, but mostly commercial stuff for corporations. I also do a lot of music photo.
You can see my photoblog here: http://erikfive.wordpress.com/
Webpage: www.erikfive.com
Flickr: www.flickr.com/erikfive
From left to right:
Domke bag
M2 with matching black paint 50 summilux E46.
M9 with 35 Summilux AA
Lightmeter
Memorycards
Flash for M9. (never gets used, but I bring it anyway)
Spare battery M9
Film and cleaning cloth.
The M2 is kind of special since its the last black M2 produced from the last official batch. There was produced one last with a "special" serial that probably was given away to some special person. I have been meaning to write Leica and ask about it. In the end it doesnt matter though.
I also use Polaroid SLR 680, SX-70, Samsung NX200, Contax T3 and Canon 1D mkIV.
Mvh/Best regards
Erik
Fotograf/Photographer
A brilliant sites from Erik. I am really impressed when I get to see the work of other people around the world, it gives me a different perspective on things. Share your bag, share your work, share photography.
Keep them coming folks, we need more submissions, so get your bag on Japancamerahunter.com. Send me a hi resolution image of the bag (please make sure it is horizontal) and its contents, with some details about yourself and what you shoot. Oh and don't forget your contact details (twitter, flickr, tumbler et al). Send the bag shots here.
Cheers
Japancamerahunter