Camera Geekery: Leitz Photographica Auction
Last week I had the distinct pleasure of being invited to a viewing at the Leica Ginza boutique, for the upcoming Leitz Photographica Auction. And it was a real treat, with an incredible collection of not only cameras but prints by famous photographers curated for the upcoming auction. I had a wonderful time having my mind blown by some of the special items on display, so I decided to share what I saw.
Auction
The Leitz Photographica Auction was founded in 2002 and with the assistance of Leica Camera AG, they have consistently found, and sold, some of the rarest and most historically important cameras, including the most expensive camera ever sold, the Leica 0 122, A camera owned by Oskar Barnack himself.
Every year they hold two auctions for the rarest and most historically import items that they have collected. The upcoming auction is the 26th of November and has some spectacular items on the ticket.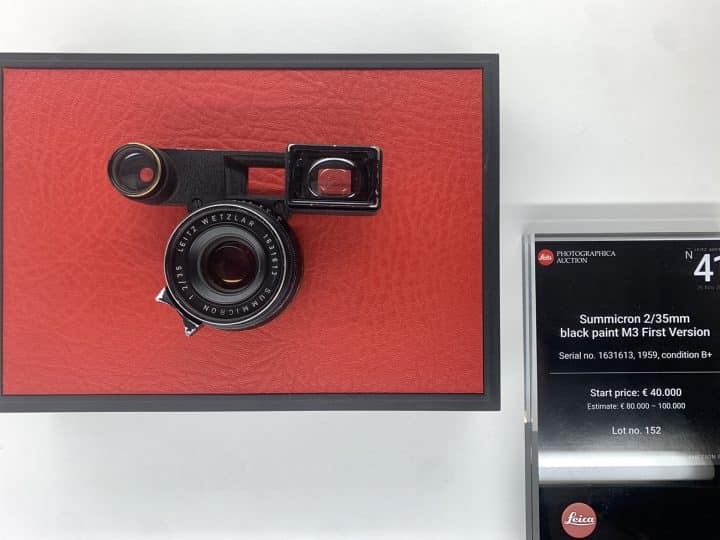 Japan is an historically important market for Leica and as a consequence Leitz Photographica Auction made the trip to Japan to showcase some of the most important items in the upcoming auction. As a guest of the auction I was able to handle some of the rarest Leica items I have ever seen. Including an old friend, but more on that later.
Rarities
When I entered the gallery everything was displayed beautifully in glass cases. Initially I thought we would not be able to handle any of the items due to the rarity, but the staff very very kind and opened up any case that I asked. My gracious hosts immediately wanted to show me one of the most incredible lenses I have ever seen.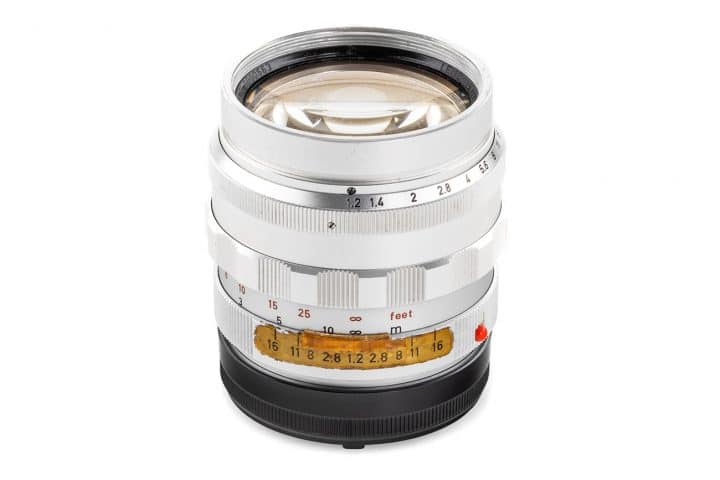 NOCTILUX 1.2/50MM B702 CHROME PROTOTYPE
This lens is unique in that it is not only a chrome prototype of the original Noctilux, but that it has an absolutely wonderful story attached to it. The 1.2/50mm Noctilux was the first lens in the world to contain aspherical elements. It was designed by Helmut Marx and Paul Sindel in the 1960's using an early Elliot 402F computer and was groundbreaking for the time.
What is special about this lens is that it was one of Helmut Marx's personal lenses, and at some point he passed it to his daughter. It was used for over 40 years by his daughter just as a regular lens, which she shot on her fathers M3 Betriebskamera (which is also for sale at the auction). It then sat on a shelf for over a decade until finally being discovered again. Just imagine that, one of the rarest lenses in the world sitting on your mantlepiece gathering dust.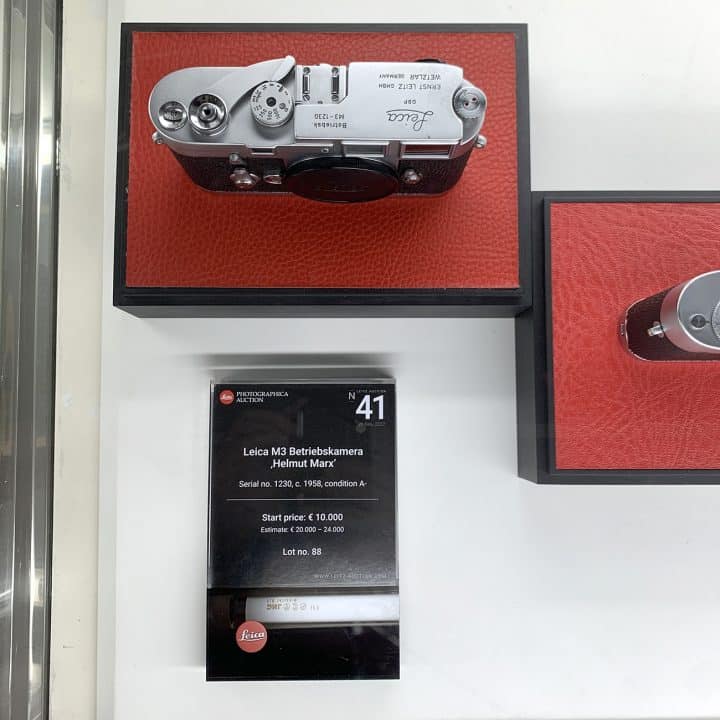 As I was handled the lens I asked if I can put it on my camera and they said yes immediately, so obviously I took that opportunity. The lens is beautiful and you really get a strong feeling of history when handling it. And it looks great on my MP-6. But when I asked the price… I nervously and very gently removed it from my camera. A bit out of my price range I am afraid but I have no doubt it will meet the market estimate of 500,000 Euro.
Walking around the collection was amazing and the staff are full of knowledge. Speaking to them they really know their stuff and many of them are collectors and photographers as well. At the back of the room there was a camera that caught my eye. And I had to see it up close.
LEICA M3 PROTOTYP NR.0037
This Leica M3 Prototype is a pre-series camera from 1952/53. The camera has some really interesting features in the design that didn't make it to the final version of the camera. Seeing it up close was a memorable experience. This is one of the most important cameras in the history of Leica. You can see the differences when you take a good look at the top plate.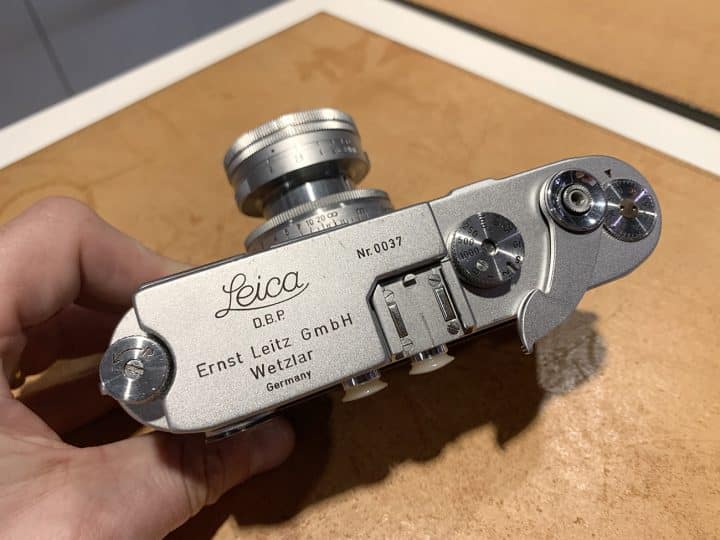 The sharp corners on the top plate are immediately apparent. And that advance lever is gorgeous. I want one on my MP! The dial film counter and textured shutter release are really interesting. And the best bit? This camera is actually working!
To hold this camera was something I never thought I would have the chance to do and I am thankful to Andreas Schweiger and Michal Kosakowski at Leitz Photographica Auction for the opportunity. I didn't want to put the camera down as I kept on finding fascinating little differences. This camera has an estimate of 300,000 Euro and I think it will definitely go for more. And it certainly belongs in a museum.
Right next to the M3 Prototype was a camera I immediately recognized. As soon as I saw it I remembered it. As it was a camera I sourced for a client many years ago.
Leica M3 olive Bundeseigentum
Made for the German military this is a first version camera and the 19th from the production batch. As soon as I saw it I immediately recognized the patina and the bubbling on the top plate. It felt good to feel it back in my hands again. I should have never let it go though, as it is worth so much more than it was back then. This one is expected to go as high as 100,000 Euro.
There was another green Leica at the show. Hiding in plain sight. Some might say, it was….camouflage… An extremely rare Leica, that I have never seen outside of a book.
LEICA M4 OLIVE BUNDESEIGENTUM THE SECOND ONE
This is possibly one of the rarest Leica cameras in existence. This is an M4 Bundeseigentum, made for the German military in olive green. Only 31 of these cameras were made in olive green and this is the second camera of the only batch. Making it extraordinarily rare. It is a fully working camera as well, which is even more remarkable. And they even let me touch it, they must be very brave. Or foolhardy.
This camera is estimated to bring in up to 350,000 Euro. But I think that it will get more. There is something special about this camera. I have never seen an original Olive M4 and I seriously doubt there are all 31 of these cameras still in existence.
It was a lot of fun to walk around the show and meet new people and some old faces too, that share a passion for these stunning items. Although, I think I will be looking towards the back of the catalog for my items, haha. Talking to the staff and sharing stories was a rewarding experience and I hope to go again for the next one.
Photographs
Downstairs there was a very impressive collection of photographic prints which will also be for sale at the auction. I got to speak to Caroline Guschelbauer, who was really nice and shared with me some of the more interesting prints that will be available at the auction. I was mesmerized and saw several pieces that I would simply love to own. Including pieces by William Klien, Nan Goldin, Bruce Davidson, Dennis Hopper and Mario Giacomelli.
If you are in the market for some rarities, or some amazing photographs then you should definitely register for the upcoming auction on the 24th of November. Check the Leitz Photographica Auction website for more details.
JCH