This Lego Leica Set is awesome, let's make it happen
I dunno about you, but I love Lego. A little known fact amongst non-Lego aficionados is that if you head on over to the Lego website you can submit a design. And if that design garners enough votes Lego will make it into an official set. Pretty cool right? Well Lego Ideas user Pandis Pandus has come up with a Lego Leica Set, and it is awesome.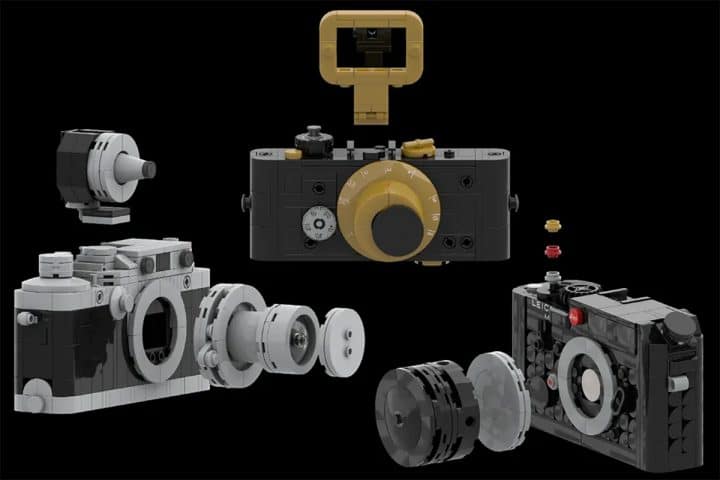 We have had some Lego cameras on the site before, but these are a bit different. Pandis Pandus has come up with these three lego sets, representing some of the most important points in Leica history, although his selection is likely to stir some debate amongst Leica aficionados. I wonder what the crossover is between Leica and Lego nerds? Anyway on the the designs.
In the words of Pandis Pandus:
"Project Red Stud" is a project about promoting a LEGO Leica product proposal to the IDEAS review, which requires 10k supporters. It can become reality with this final iteration, where three of the most iconic Leica cameras have been assembled to capture the history of Leica cameras.
Ur-Leica (1914)
, also known as the "Original Leica", was a prototype that revolutionized the landscape of cameras. This lilliput camera was 
my first Leica project on LEGO IDEAS
. I built it with physical parts, after designing many digital versions, to make a LEGO interpretation of this mechanical masterpiece as accurate as I could manage.
Leica IIIf (1950)
 is the Leica camera I happen to own, and it's an iconic one at that, so I decided to recreate it with digital LEGO parts. A very similar version was featured in 
a separate LEGO IDEAS project
 that received good support and feedback. Speaking of feedback; just like the Ur-Leica, the shutter button is tactile.
Leica M6 (1984) is the most recent and popular camera in this lineup. A detail I wanted to capture is the texture, using a combination of rounded tiles and plates. Some mentionable features are that you can see through the viewfinder window and that the grey shutter button is replaceable, with a gold and a red alternative.
The accessories included are; two external viewfinders (Ur, IIIf), two external lenses (IIIf, M6), one lens cap (IIIf), one body cap (IIIf, M6), one camera roll (IIIf, M6), three shutter buttons (M6) and finally one universal Leica stand with dual finishes; red carpet and wooden.
Updates have been made to the cameras previously featured on LEGO IDEAS (Ur, IIIf): Minor design changes, the weight bricks have been removed, and the printed elements have been decreased to two for each camera – to make it a more balanced kit. In total, this product proposal includes 1191 parts, of which 7 are prints.
I think this would be an awesome set for camera- and gadget enthusiasts, and fans of Leica and LEGO. Both companies have – with the philosophy that just good isn't good enough – managed to produce products that changed entire markets and inspired countless minds across generations.
Let's capture this opportunity that is framed right in front of us; let's promote this product proposal to the LEGO shelves. Feel free to post a comment and leave some feedback. I thank you for your attention and support. Have a creative day!
"Piece out,"
Pandis Pandus
Time to vote
Pandis Pandus is a serious lego nerd and for that he has my respect, that is pretty cool. He also has a popular Youtube channel as well, which you should check out.
But, more importantly, the Lego Leica Set. I would but this in a heartbeat, and I think many of us would too. This is definitely one we should try and get the support for. The way it works is that to be considered for full production the design must meet 10,000 votes. It currently has 134 votes, so I think we can help it edge towards the line.
What do you think? Do you want to see a Lego Leica Set? Then hit the Lego Ideas page and vote for this and make it happen.
Please comment and share, this is seriously cool and I want to see Lego actually make it.
JCH