Premium compact cameras – A buyers guide
One of the big questions I get is "which compact camera is best for me….?" Now this is a question that is very hard for me to answer, as each person has their own shooting style,  and requirements from a camera. I have written guides in the past for a few different cameras, most notably the Ricoh GR series and the Contax T2, but I thought it about time that I put all of the information in one place. I hope you enjoy it.

So, here it is, the premium compact camera buyers guide. I say premium, because I am referring to the compacts that were considered the finest of their age, the cream as it were. Why not all compacts? Well, there are far too many and I couldn't possibly go through all of them, so I decided to concentrate on the ones that I have the most experience with. Without further ado, on to the cameras:
Contax
Contax compact cameras were actually manufactured by Kyocera in Japan until 2005 when they ceased production. Shame really as they produced probably the finest compact cameras of all. Many of the cameras can still be serviced by Kyocera in Japan (until 2015 I believe).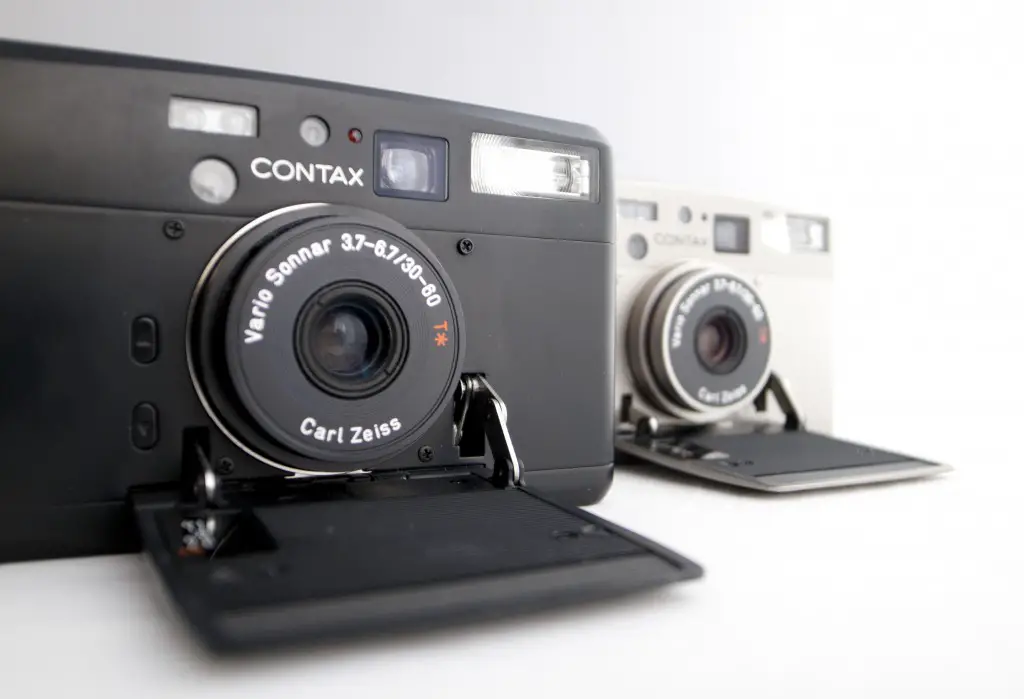 Contax TVS
The Contax TVS is a camera that is often overlooked as a compact camera, and definitely shouldn't be. I class it as a primum compact camera as the build quality is that of its fancier siblings, even if the price is lower. The TVS and later models the TVSII and III come with a zoom lens, the Vario Sonnar 30-60mm lens. As this is not a fixed lens it is a bit slower, but this is a very sharp lens. I have always found the design to be endearing too, with the pop-out zoom on the TVS and the flip down door on the TVSIII. If you are looking for a premium compact zoom then look no further.
These cameras are well built, but as always listen to the sound of the camera, it will tell you a lot about the health of the camera.
These cameras are inexpensive because people overlook them, so you can often get a bargain. These cameras can no longer be serviced.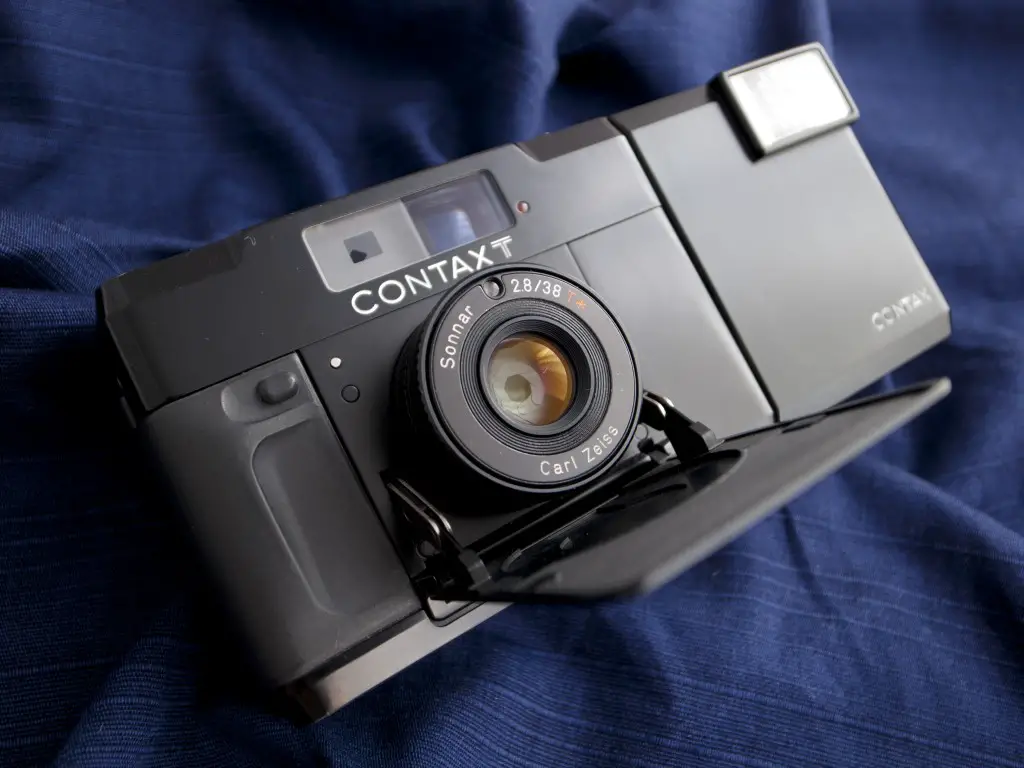 Contax T
The Contax T is a camera that I was unsure if I was going to put in the list. It is a premium compact camera, but it is also a rangefinder. This beautiful Porsche designed camera was aimed at the rich traveller. It is not an AF camera though, and all of the others on this list are. It has the same stunningly sharp 38mm f/2.8 lens as found in the T2. This is a very simple camera, you even have to wind on the film yourself. But it is a beautifully made camera.
If you get one make sure that the meter is working, and make sure you get it with the flash unit, as you may want a flash and finding the unit on its own is almost impossible. Prices remain high on this camera, mainly for the rarity value.
Downsides are the small viewfinder, slow functionality and lack of service, you cannot have this camera repaired by Kyocera.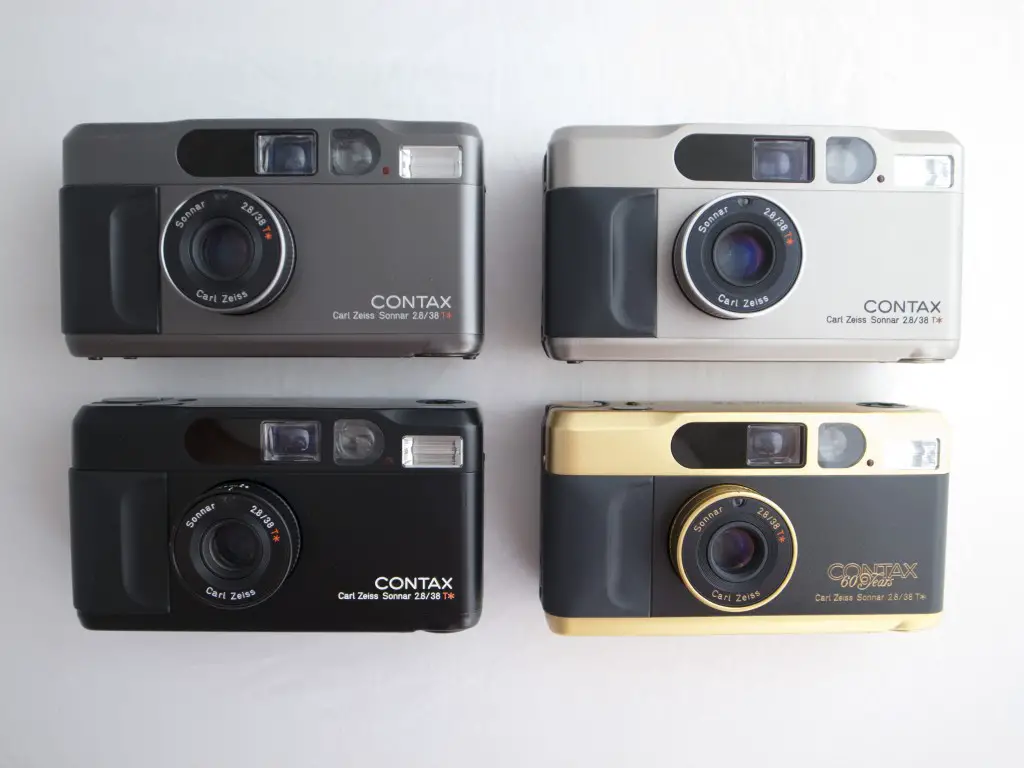 Contax T2
I cannot pretend to hide that the T2 is my favourite compact camera. For all of its imperfections, there are many things that this camera does superbly. The camera is not the fastest, and it lacks the features that you would find on other premium compacts. But, this camera is simple, and most importantly has an outstanding lens. The 38mm f/2.8 is extremely sharp and a very suitable lens for street photography. The flash unit is robust and the body is very tough, as it is Titanium. These cameras last a good long time and if you treat them well will last for a long time yet.
Downsides are the small finder, and lack of service, Kyocera will not longer repair this camera.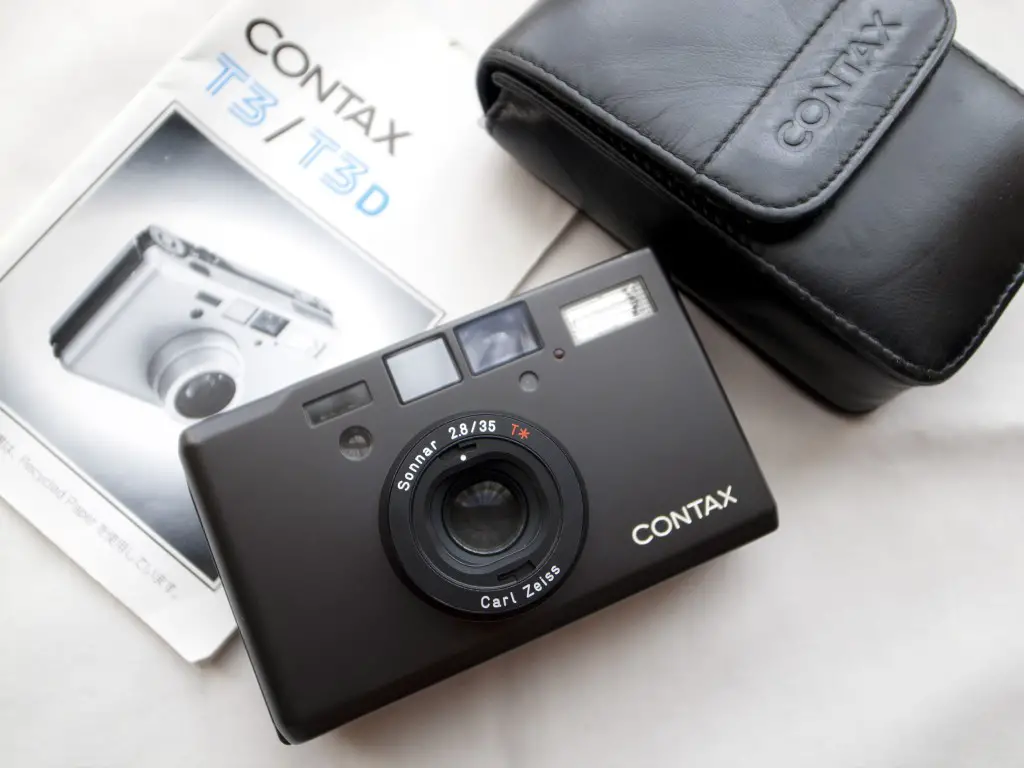 Contax T3
The T3 is the flagship of the Contax Range, and many consider it to be the best of the compacts. This is really up to the user, but it is a very fine camera. It has a stunning 35mm Sonnar f/2.8 lens, which is one of the sharpest lenses I have seen on a compact. It is a true compact too, with a nice small size. Ming Thein wrote an excellent review on this camera here.
This is a street shooters camera, and I know many people who keep one as a dedicated backup camera. The prices are high for these, and they are going up. The Black version is more expensive, and is becoming hard to find.
Downsides are the fiddly controls, rising prices, and the small finder. On a plus point, you can still have this camera serviced by Kyocera. *Contax cease repairs in March 2015*
Fujifilm
I barely try to hide my distain for Fujifilm and their attitude towards their customers (film and digital), but despite this they have produced some very good cameras. Notably they are one of the few companies that are still manufacturing film cameras. Recently the discontinued the Natura Classica, but the Klasse is still in production (for now). I have left the classica out of the list as I feel it is not really a premium compact, despite the ridiculous prices being asked for them now.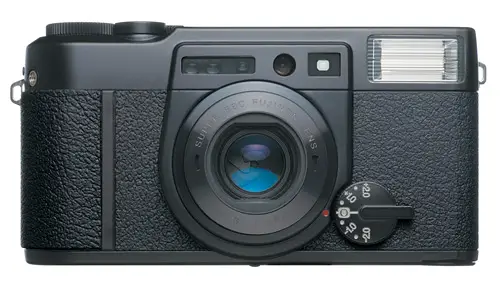 Fuji Klasse S/W
The Klasse S and the Klasse W cameras were released in 2007, in what looks to be the last of an age of film cameras from Fujifilm. But they really did a good job in putting these together. The Klasse S comes with a 38mm f/2.8 EBC lens, which is very similar in properties to the Contax T2, there is a good review here. The Klasse W is the wider version, with a multicoated 28mm F/2.8 lens, which is comparable to the Ricoh GR cameras. I would consider both of these cameras to be viable alternatives to the T2 or the GR1. But, I feel that they are not as good as either. I find the images to be sharp, but a bit flat when compared to the other cameras in the range.
These cameras are very well put together and easy to use with simple controls and a wide range of functions. Drawbacks are the lack of English support for the cameras, and the prices are rising, as Fuji tries to phase them out.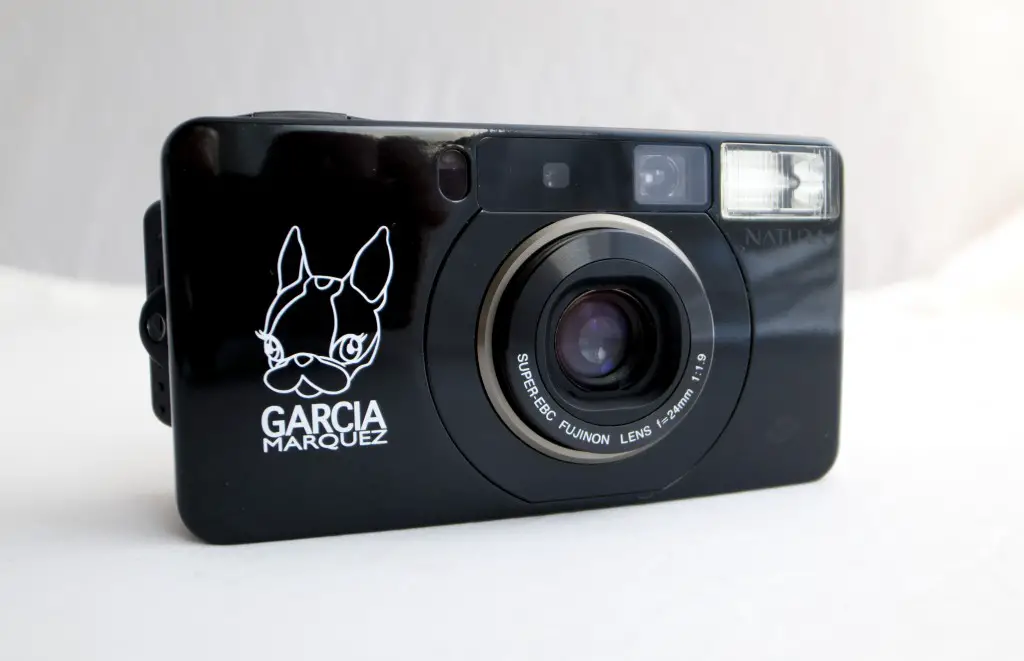 Fuji Natura S
The Natura S can proudly claim to have the fastest lens of any film compact, coming in at an amazing 24mm f/1.9! And that is a Fujinon EBC lens. The camera itself is a bit unusual. It has a whopping great big LCD screen on the back, and the buttons are only in Japanese. The Piano black version of this camera is especially sought after by collectors. This camera holds a high price. But, it is not a fast camera to shoot, and the LCD is very easy to break. Fujifilm apparently no longer repair this camera, despite discontinuing it only a couple of years ago.
Konica
Konica made some great cameras and lenses over the years, including the Big Mini, which is one of the best cheap compacts out there. They also made the Hexar series of cameras, the RF and its more convenient cousin, the AF. Konica got out of the film camera business in 2006 after merging with Minolta. They now concentrate on copiers, but they are still servicing cameras.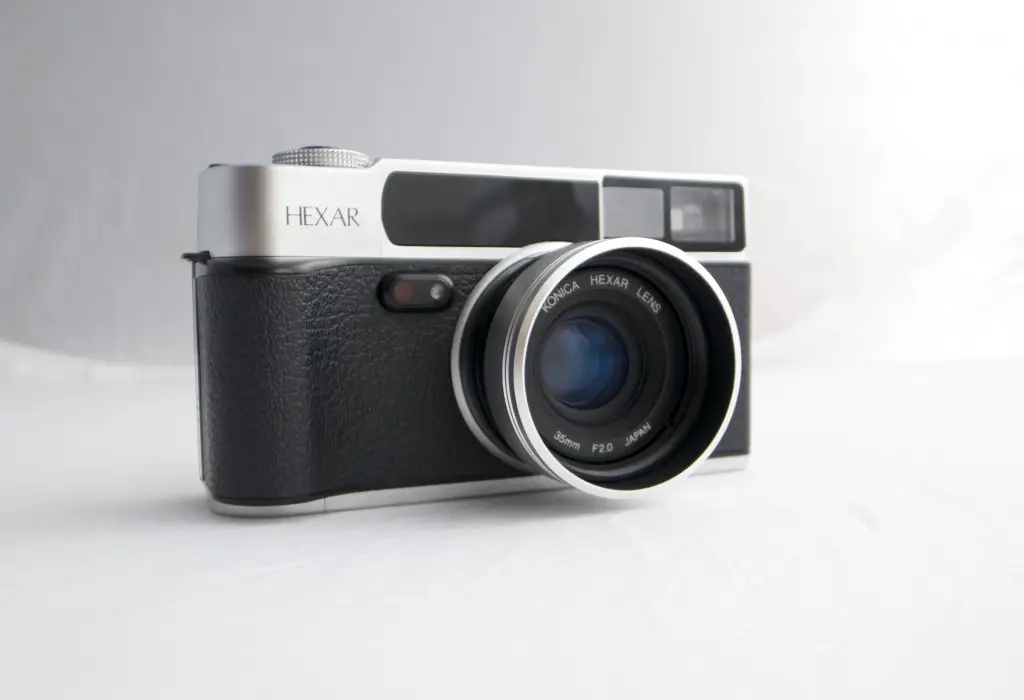 Konica Hexar AF
The Hexar AF is a bit of a funny one. It is not really a compact camera, as it is far from compact. But it is a fully automatic camera that was aimed at the compact camera market. It is more of a point and shoot. The lens on this camera is outstanding, as you would expect from Konica, and it has the famous 'silent' features, making this one of the quietest cameras available. There are details about how to switch on the silent mode here.
The camera is very capable, but it is let down by a few problems, most notable being the 1/250th and f/16 settings, making this not the most versatile of cameras. The AF is also slow and cameras often fall to the shutter button failure problem.
The camera was released in a number of different versions, but black is the most common and the cheapest. The black cameras were the only ones that officially had the silent mode, but some silver cameras were upgraded to have the silent mode.
*Konica have now ceased repairs*
Leica
Leica are very good at making cameras, we all know that. But they are not so great at making compact cameras. It was just never their forte. The Minilux cameras were their first real stab at the compact market, and it was too little too late. Leica do not service compact cameras any longer.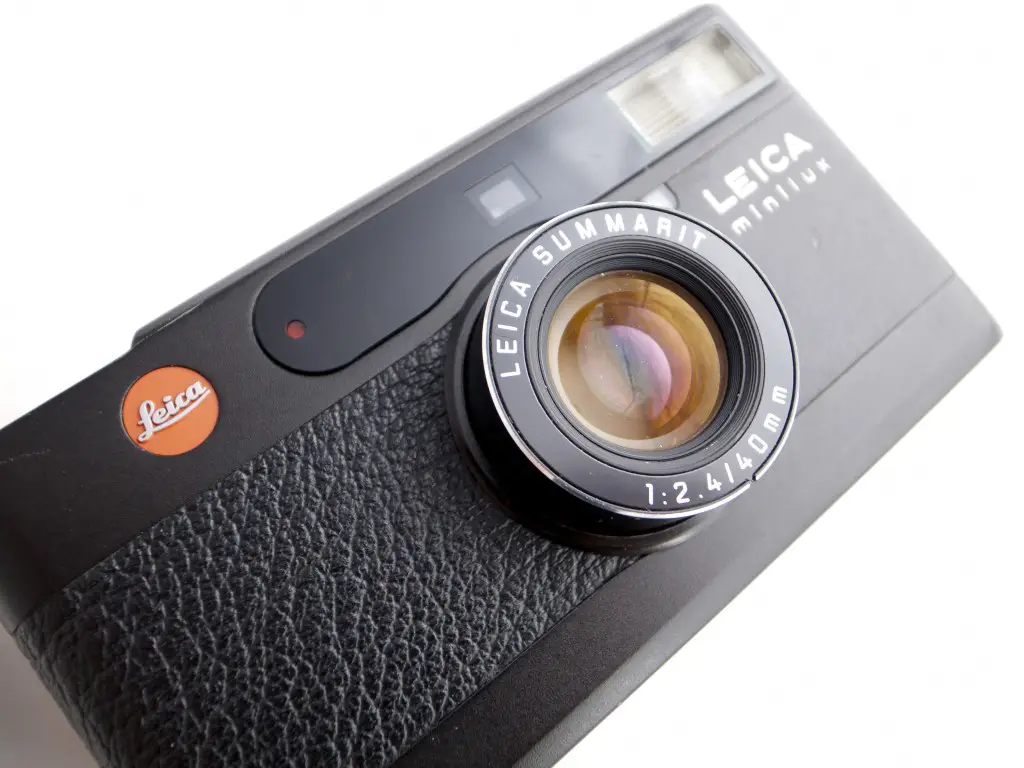 Leica Minilux
The Minilux should be an amazing camera on paper, but in reality it is a difficult and finicky camera to use. It is slow and rather clumsy. But, for its faults it has an absolutely outstanding Summarit 40mm lens, which is way too good to be on a compact camera. The main issue with this camera though is the error problem. If the camera 'bricks' then you have a paperweight, as there is nobody that will repair it. But all is not lost, you can have the lens converted to M-mount.
Minolta
Minolta, who later became Konica-Minolta, made a ton of different compact cameras and were a big player in the market. The real selling point for their cameras is the lenses, which were outstanding. Minolta still service some cameras through Konica.
Minolta TC-1
The Minolta TC-1 was the flagship of the compact camera range from Minolta. This camera was built without compromise on the price. The camera itself is made from Titanium and the lens is very special. It sports a 28mm f/3.5 Rokkor lens, with a very special aperture selection system. This selects a perfectly circular aperture to get some beautiful bokeh results. This is not a speedy camera through, it is fiddly, the viewfinder is tiny and the camera is pretty small too. If you like to take your time and make arty photos then this is your camera.
Prices remain high on this camera. A bonus point is that it can still be serviced.
Nikon
Nikon were also a big player in the compact camera market, they still are. But they no longer make film compacts. Their swansong cameras were the 28Ti and the 35Ti. It seems like all the makers tried to outdo each other by using exactly the same material, titanium.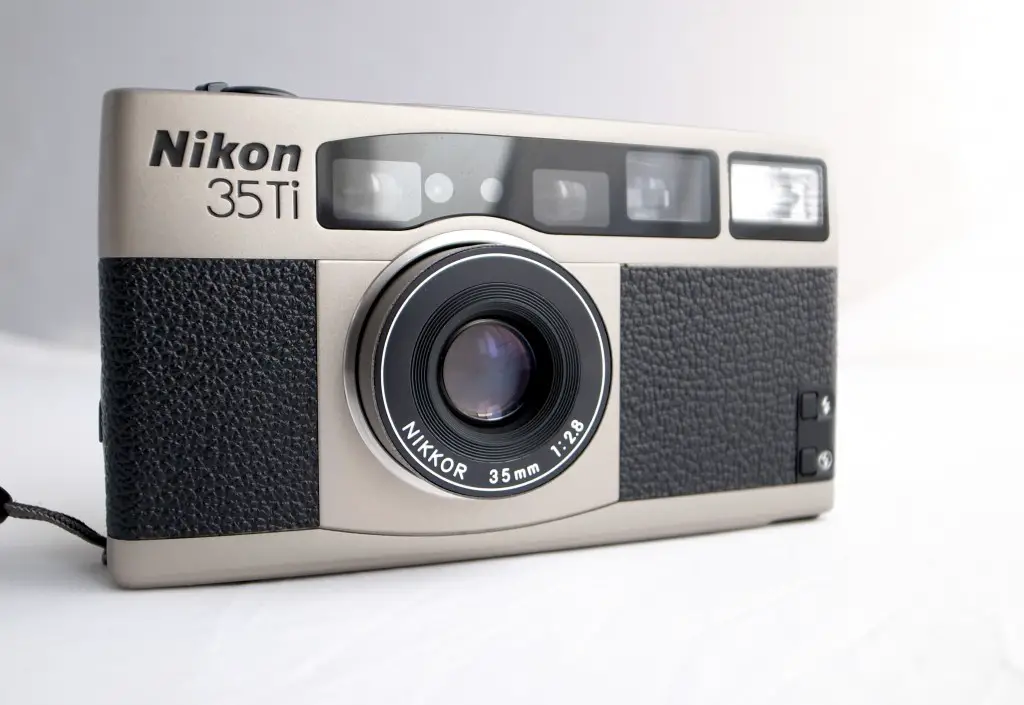 Nikon 28ti/35ti
The 28ti and 35ti are both basically the same camera. fantastic lenses, as with all of the cameras in this field, Nikon put the best they could into it.The retro style dials on the top plate are very cool. The cameras have a panoramic mode, which is just a couple of buffers that come down and narrow the film on the top and bottom. Not really panoramic.
The dials are a problem and the break easily. The cameras themselves are slow and fiddly to use, definitely not a street camera. But they give great results. Nikon don't officially repair these any longer.
Ricoh
And finally we get to Ricoh. And I guess you all know about these cameras. The GR range are so popular that I have trouble finding them now. Prices are rising as fewer and fewer stay on the market. Ricoh still repair them, but only until 2014. And only while they have parts. *Ricoh have now ceased repairs*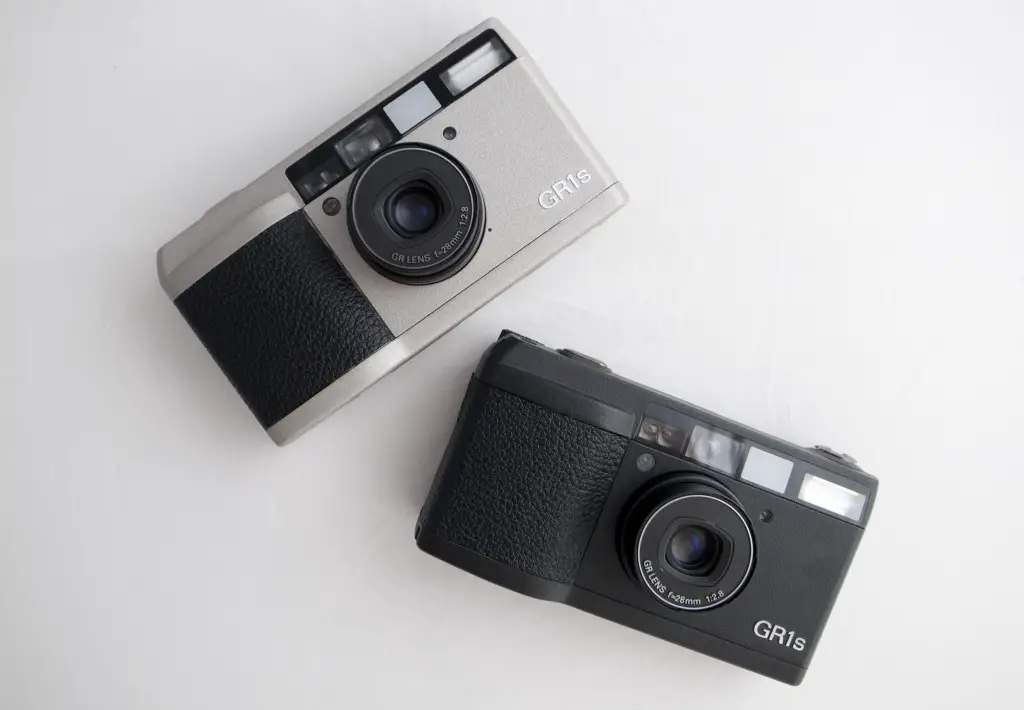 Ricoh GR1/GR1s/GR1v/GR21
I could go into all of the details about all of these cameras, or I could be sensible and just get you to click here and read my dedicated GR guide. What I can tell you is that these are pretty much the ultimate street compact. They are light, small, have a great lens and are very easy to use. What you should know is that the LCD's have a problem sometimes, which can be repaired. These things are generally built very well and even if the LCD is out, you can still shoot them. By far the most popular of the compacts and for very good reason.
There you have it, my little buyers guide for premium compact cameras. I hope this helps you when you are trying to figure out what is available. If you would like to get a camera then I can certainly help you, all you need to do is click here. Please note, it has become very hard to locate many of these cameras now, demand outstrips supply. I will do my best, but sometimes I just cannot find things.
Thanks
Japancamerahunter