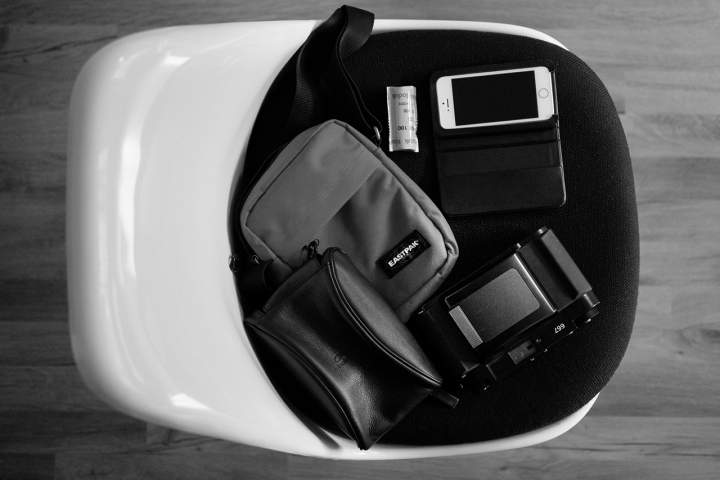 In your bag No: 1404, Stephan Spiegelberg
Stephan has been on the site before. In fact, he was one of the very first bag shots to be featured on the site. Safe to say Stephan like to pace himself when it comes to bag shots. But now he is back, and with a delightful setup.
My name is Stephan, 43 yo, from Hamburg (Germany). I work as a Sports-Editor, I love photography and while I shoot my little daughter with a Panasonic GX8 at home I have my Bessa with me, when I'm on my way.
The Voigtländer Bessa III aka Fujifilm GF679, a medium format-folder which shoots 6×6 and 6×7. It is a nice heavy camera with a great 3.5/80 mm fixed lens. I prefer to load Kodak Ektar, Portra and Fuji Acros 100. To protect the Bessa a good friend bought Fujifilm's soft case for me at Adorama's in NYC. I looked for it in Germany for months.
Next to the camera I have an iPhone SE with me. I put it into a so called "Leuchtturm 1917 Undercover iPhone 5"-case. It is not perfect, but okay. I use this smartphone for my daily private and professional stuff and as a digital camera plus quick & dirty light metering.
All this and a Snickers fits into a cheap "Eastpack The One, 2,5 liters". 
You'll find me here: http://www.spiegelberg.org/
and here: https://500px.com/kagamiyama
Stephan
Thanks for sharing your bag with us, Stephan. Nice to see you again after such a long break.
Check out the links and please come and comment.
Keep them coming folks, we need more submissions, so get your bag on Japancamerahunter.com
Send me a high resolution image of the bag. Optimum size is 1500px across. Please ensure there is a bag in the shot, unless you don't use one. The more you can write about yourself the better, make it appealing and tell us a story. Snapshots of your gear with a camera phone and no words will not be featured.
Oh and don't forget your contact details (twitter, flickr, tumbler et al). Send the bag shots here. Please understand that there is a long wait now as there is a backlog of submissions. Not all make the cut, so make sure yours is funny/interesting/quirky. And please make sure the shot is of good quality, as the ones that are not do not go up.
Cheers
Japancamerahunter