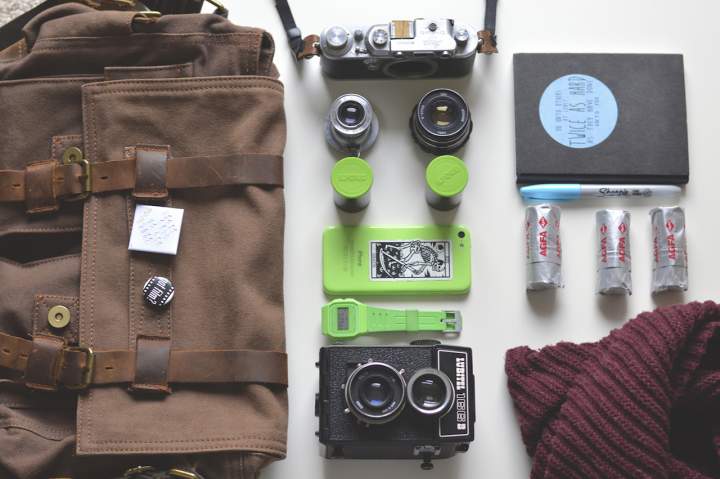 In your bag No: 1405, Simeon Smith
Simeon has a classic and stylish setup for us today. He also makes samples of camera sounds, which is pretty awesome. Check out what Simeon carries in his street bag.
Hi, my name's Simeon, I make music for film, help run a community studio, and shoot film, mainly on the streets. If you've heard of me, it's probably from about a year ago when I recorded the clicks and whirs of my cameras and uploaded them as a sample pack for music producers to use as percussion in their recordings (http://www.synthtopia.com/content/2015/03/05/free-sample-pack-features-the-sounds-of-vintage-cameras/). It spread around the internet scary fast.
Here's my gear:
Bag – A present from my wife. Unbranded canvas and leather, with enough lined pockets to stop things scratching other things without having to worry too much about taking cases for everything. Featuring a badge someone sent me when I bought a load of expired film from them, and another badge from electronic music artist Alone. (This guy makes amazing post-rock with home-made synths and a computer-controlled NES – it's crazy, check him out: www.alone-music.co.uk)
Leica IIIa – From the beautiful folk at Red Dot Cameras in London. After experimenting with Lomography and Holga cameras I wanted to buy a fully manual camera, and liked the look of rangefinders so picked up a FED-3 for like a tenner on eBay. This had a few shutter problems after a while, so I started looking around at more reliable rangefinders. I never thought I'd drop cash on a Leica, but I saw this one at a ridiculously low price because it's been user-modified with a PC socket drilled through the top plate. As it was being sold by Red Dot, they made sure it was in great condition other than this, and it's been super reliable since.
Industar N-61 LD – Super contrasty f2.8 50mm. My main glass. If you're looking at vintage Russian glass and fancy one I wouldn't recommend the standard N-61, it's very average, but it's later "LD" cousin is a beast in colour and black and white. 
Industar 22 – Collapsible for absolute convenience, f3.5 50mm.  Provides quite a nice, intimate quality to pictures. 
XP-2 film – In old, 1980's Ilford cases. Yeah, sure, okay, it's not a "real" black and white film because it uses a C-41 process, but look at the range of silvers and greys in the mid-tones. 
iPhone 5c – I'm a bit addicted to Instagram, follow me and I'll leave mildly amusing comments on your photos: @_simeonsmith 
Casio F91W – It's a design classic.
Lomo Lubitel 166b – I love shooting with this camera, but it rarely loves me back. If a portrait is going particularly well I'll pull this out and shoot a couple of frames. Usually loaded with colour film.
Notepad and Sharpie – If people ask for a copy of portrait, I have them write down their email address, but can rarely read their scribbles. If you were expecting an email from me, I'm really sorry. Featuring a sticker with a line by poet Howard Ingham (https://twitter.com/howthewoodmoves) "Do unto others at least twice as hard as they have done unto you."
Afga Portrait 160 – I found a large batch on eBay for pennies, it expired in 2007, still have a dozen rolls in the fridge. 
Infinity scarf – I live in Wales where it can go from sunny to downpour in minutes. Infinity scarves can double up as a hood and protect your camera from the rain if you're not wearing a jacket. 
My photos are hanging publicly for the first time, at Square Peg in Sketty, Swansea throughout May 2016.  I'm trying something a little different and doing a "silent auction" of the photography, not looking for just cash, but for anything people might want to offer in exchange for my photography, be it their own art, or anything that takes their fancy (seriously, the crazier the better!). I realise that Swansea isn't the easiest place to get to, so if you'd like to take part in the silent auction without visiting the exhibition email [email protected] and if your offer is the best, I'll email back.
My home on the internet is just here: www.awonderfulkindofimpossible.co.uk
Please say hi on Instagram or Twitter: https://www.instagram.com/_simeonsmith/ https://twitter.com/_simeonsmith 
And I made a video about my current exhibition, which you can watch just here: https://vimeo.com/165049563
Thanks!
Simeon Smith
Thanks for sharing your bag and your gear with us, Simeon. I am sorry this was too late for people to catch your exhibition, I hope it went well.
Check out the links and please come and comment.
Keep them coming folks, we need more submissions, so get your bag on Japancamerahunter.com
Send me a high resolution image of the bag. Optimum size is 1500px across. Please ensure there is a bag in the shot, unless you don't use one. The more you can write about yourself the better, make it appealing and tell us a story. Snapshots of your gear with a camera phone and no words will not be featured.
Oh and don't forget your contact details (twitter, flickr, tumbler et al). Send the bag shots here. Please understand that there is a long wait now as there is a backlog of submissions. Not all make the cut, so make sure yours is funny/interesting/quirky. And please make sure the shot is of good quality, as the ones that are not do not go up.
Cheers
Japancamerahunter