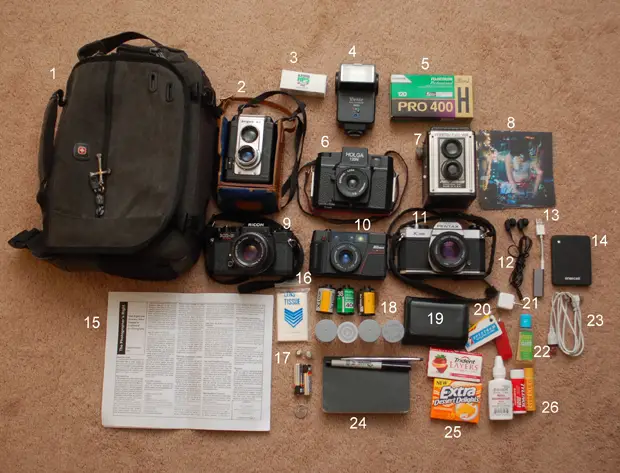 In your bag number 151, Shawn Ashley
A well packed and well organised bag for you today. Shawn has been good enough to label all of the items for us all. So lets see what Shawn has in his bag…

'Ello, my name is Shawn Ashley; I'm from San Antonio, Texas (US). I love photography like most of us here do. I try not to get to expensive in gear. I usually find my cameras used and very cheap. I try not to lug more than 3 of these cameras around at a time. But I am known for switching them out daily. I work downtown at our local Courthouse pushing papers and such. During lunch and right after work is when I get most of my shots. My bag is with me at all times even at night. My family calls it my man-purse; I call it being-ready-at-all-times. lol
1. Swiss Army bag: "The Zinc" as they labeled it. I like the bag, I do [at times] wish it was a little bit wider so I can fit more stuff. Then again I probably shouldn't want to fit too much seeing that I'm always walking everywhere and caring 3 cameras can get a bit sluggish. I bought this at a Bestbuy store for about $60. I liked it because it didn't cry out OMG PHOTOGRAPHER.
2. Argus 40: This little beauty I picked up in Round Rock, TX. I bought this along with the (#9) Ricoh KR-5 super the (#4) Vivitar Flash and (#7) Spartus Full-Vue for $70! All in great working condition. I saw an ad on craigslist.com drove up to see them, check to see if they worked. The guy was super cool and honest about the dings and scratches. I then bought all of them together as one. Awesome deal I thought.
3. Ilford HP5 400/ 120 film
4. Vivitar 2800 Flash: I love this more than my Nikon flash (not listed but used to take the picture): See 2nd paragraph.
5. Fujifilm Pro400/ 120 film
6. Holga 120n: I was on Digitalrev's YouTube account [those who don't know it's a site that reviews cameras in a humorous way] and they were doing and "analog review" where they talked about the Holga. It seemed interesting and so I bought it on Amazon. This is my only camera not used. lol
7. Spartus Full-Vue See 2nd paragraph.
8. I use to carry my Kindlefire with me so I could show people my work, but it was getting a bit heavy for me. So now I carry some prints with me so people can lay off a bit.
9. Ricoh KR-5 super w/50mm: See 2nd paragraph.
10. Nikon One-Touch 35mm automatic point and shoot: Found this little gem at a flea market for $5. Perfect condition, no blemishes or scratches and the flash is covered with black electric tape.
11. Pentax K1000 w/50mm: Found this baby at the same flea market as the Nikon P&S. I bought this one for $10 with a teleconverter, working batteries, telephoto prime lens and bag [that I'll never use]. The winder lever is missing along with the button thing in front [not sure what it was, timer maybe?].
12. In ear headphones by "The Sharper Image" $7?
13. IPod shuffle loaded with Trance music.
14. Enercell rechargeable battery. Whenever my phone or IPod start dyeing I use this little magic box to recharge them back to life.
15. "The Photographers Right" It a print out of the law [broken down] in case someone ever claims that I'm violating their rights to photograph them in public… published by: Bert P. Krages II Attorney at Law www.krages.com © 2003 Bert P. Krages II [I got it from his site, just giving him the credit he deserves].
16. Lens Tissue: nuff said.
17. Back up batteries & a nickel: you never know when you need batteries. As for the nickel, I use it to open my camera to replace the batteries.
18. Le film: Kodak 400tx, Fuji Neopan 400, Kodak Pro Image 100 Sometimes I'll push these films 1 or 2 stops. Depends how I feel. I think you can probably read "pushed to 1600" on one of the caps.
19. Nautica Wallet: It was a gift from a close friend.
20. Keys and 4g USB: that holds all my pics.
21. Square: Squareup.com another fast way to get paid for shoots, besides cash.
22. Hand sanitizer: taken from my wife.
23. USB mini and micro cable (in one). Found it at drug store. I hated lugging around multiple cables to charge things.
24. Moleskin note pad, Cross pen and Sharpie marker. I never knew why people used these brands until I tried them, smooth & reliable.
25. Gum: my two personal favorites. Trident Layers and Extra Dessert Delights. OMG-YUM!
26. Drugs & such: Major Nasal Decongestant, Tylenol Extra strength, Burt's Bees [taken from the wife]
I get bad headaches lately and I also get bad sinus and I bite my lips a lot. They might be all linked together… lol
(Not in picture Nikon D50 w/28mm with Speedflash600 used to take picture)
These have all my digital work. No film has been posted yet.
My Flickr: http://www.flickr.com/photos/ccramirez
And on Facebook: http://www.facebook.com/corvixcorax my "like" page is listed as my occupation.
Thanks for reading!
Shawn
A great bag and a fantastic description, this is exactly the sort of thing that I love. Thanks for sharing with us Shawn. Check out the links and make sure you comment.
Keep them coming folks, we need more submissions, so get your bag on Japancamerahunter.com. Send me a hi resolution image of the bag (please make sure it is horizontal) and its contents, with some details about yourself and what you shoot. Oh and don't forget your contact details (twitter, flickr, tumbler et al). Send the bag shots here.
Cheers
Japancamerahunter