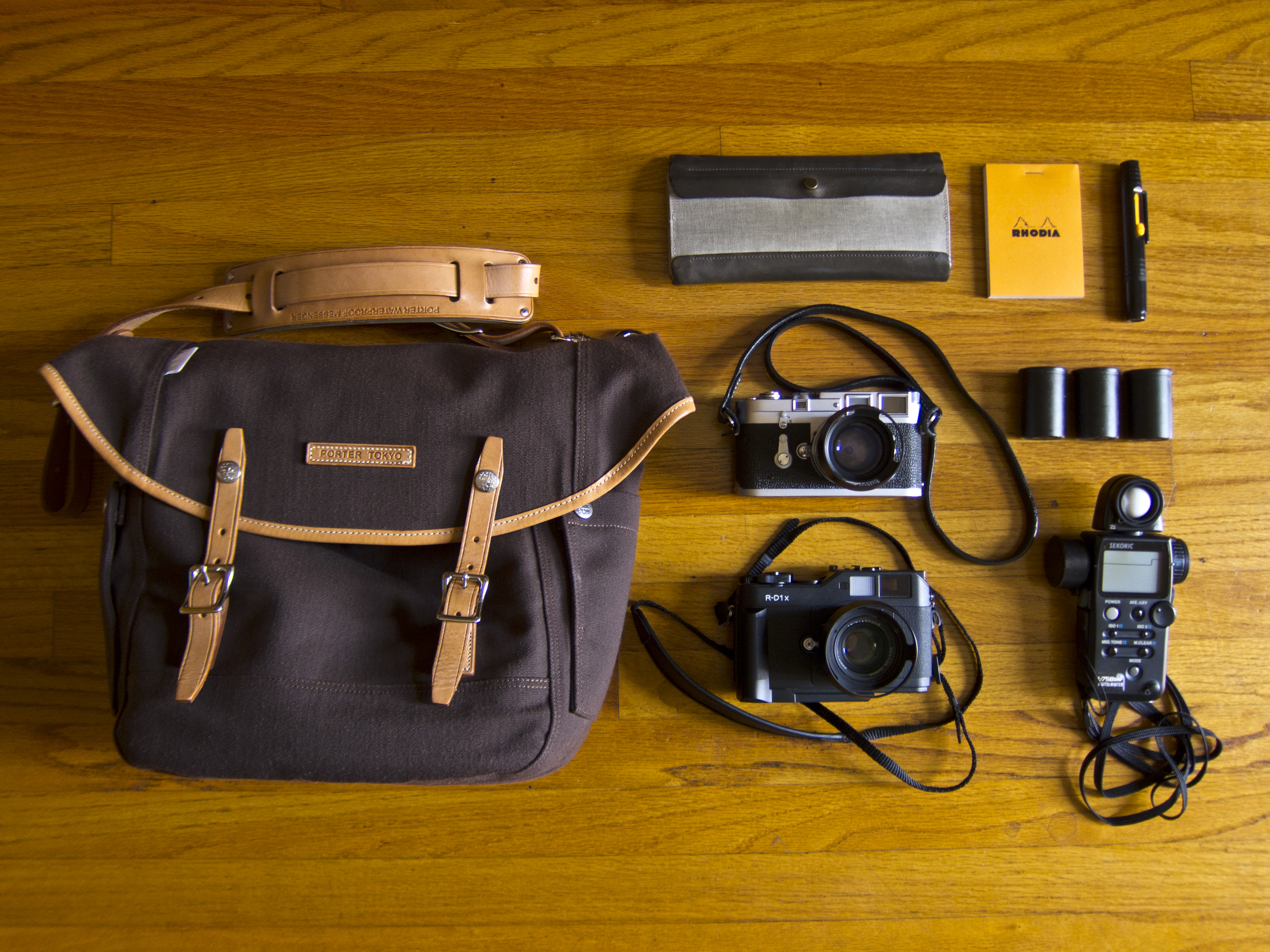 In your bag number 38, Leo Kitajima from USA?
Howdy peeps, how are you all? I am doing great, been busy trying to find time to ride my new bike, take some pictures and please you lot, the internet masses. I have another lovely bag for you lot today. This time it is from Leo. Now I am not entirely sure where Leo is from, but I think it could be the USA. Please comment and tell us what you think. Over to you LEo:
My name is Leo Kitajima and I recently got interested in photography when I found an old Pentax ME camera that my dad used to use. It was my first time using a rangefinder camera and thought it was so fun to shoot with! Ever since then, I have been trying out different rangefinders and have enjoyed the advantages and quirks of each one. My favorite is a Leica M3 with a dual-range 50mm Summicron. My most recent acquisition is an Epson R-D1xg with a CV 35mm Nokton that Bellamy hunted down for me!
The Sekonic light meter is one of my most important tools. I often shoot in low light situations and like to use Ilford HP5, ISO-400. My friend taught me how to develop my negatives at home and find it a soothing ritual.
I also jot down notes while shooting so I carry lots of pens and pencils in a case made by Postalco (www.postalco.net) and a small Rhodia notepad.
The bag is made by Porter Yoshida – I love the retro mail bag strap and the fabric is waterproof Gore-Laminate. The inside has nice partitioning and perfect for my two cameras.
I just started a project about sharing my analog tools with the public, such as bringing in my typewriters to a cafe. Here is my blog: www.analogtype.wordpress.com
Thanks for that Leo. Interesting bag and selection of gear. Please don't forget to add you details for twitter etc in the future.
Keep them coming folks, we need more submissions, so get your bag on Japancamerahunter.com. Send me a hi resolution image of the bag (please make sure it is horizontal) and its contents, with some details about yourself and what you shoot. Oh and don't forget your contact details (twitter, flickr, tumbler et al). Send the bag shots here Send the bag shots here..
Cheers
Japancamerahunter