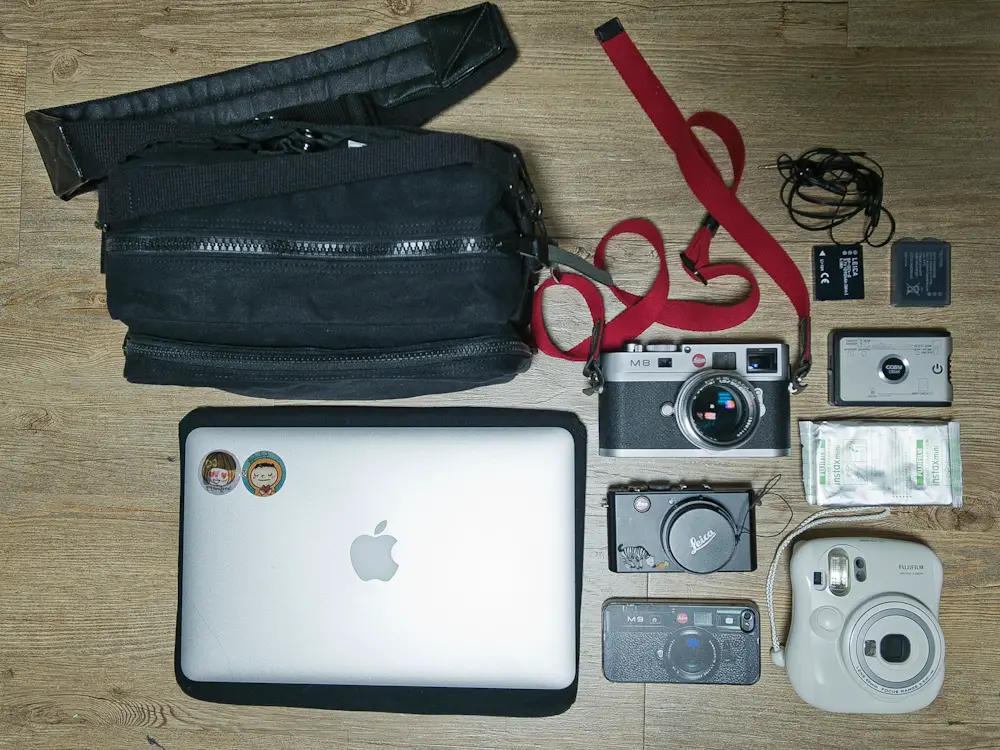 In your bag number 37, Dani Kim from Korea
Hey photogs, streettogs and whattogs, how are you all doing? I have been busy this week, but things are finally starting to calm down, which is good because I really need a rest. But, despite that there are still bags to show and share. And here is another one for you. This bag come from Dani Kim who is in Korea:
Hi everyone!
So a while ago I did a post on my camera bag. At that time I was just getting into photography~ Now, I've started to think about it more seriously and take it more seriously. I thought it would be a good idea to do another post, as a lot has changed about my bag since then!
1. Bag: A and A (Artisan and Artisan) Acam-1100
Firsttttt is my bag! Before I used to just use whatever hand bag I was carrying for the day and put my camera stuff inside! This was okay, but I really wanted to get away from carrying my cameras like that. After getting the Leica M8, I decided to get a camera bag as well. I loveeee this one! It perfectly fits everything I need to shoot for a day!
2. Cameras: Leica M8, Leica Dlux-4, Instax
I carry three cameras with me nearly all the time. My main camera is the Leica M8. I loveee this camera! It's the silver version, with a red AandA strap. I don't understand why people don't like the M8. It's a wonderful camera! I had the X100, and I can easily say they are not anywhere near the same league even though the M8 is much older!
I also have a Leica point and shoot, the Dlux-4. I was going to buy the Dlux-5, but I realized that they are basically the same except for a new viewfinder. I don't use the viewfinder in this style of camera so I don't mind. Plus, I really like the joystick on the back for changing settings easily!
The last camera I have is an Instax. It's a fun camera to use for group pictures and things like that!
3. Lens: 50mm Carl Zeiss Sonnar f1.5
I only carry one lens for now! It's the Zeiss Sonnar f1.5~ What a great lens! It's bokeh is greatttttt and it takes great pictures! I like it because I'm not a nervous street photographer and I like to take close portraits. I find it perfect for this situation. If I need something wider I use the Dlux! The Zeiss is also in silver finish Looks great with my silver M8!
4. Notebook: Macbook Air `11
The notebook I carry is the 11 inch Macbook Air. It's a great little computer, and super small! I do all of my processing on this little guy It runs Lightroom 3 fine!
5. Extra Stuff: iPhone 4, Instax film, SD card reader, extra batteries, etc
I always have my phone as well! It's the iPhone 4 and it has a nice M9 case, kikikiki. You can also see some instax film and extra batteries for the other cameras. Some headphones are usually in my bag, too!
Anyway, if you wanted to know what a girl street photographer carries, this is it for me! I really like my setup these days and feel completely satisfied with my equipment!
See you soon~
Blog
tumblr
twitter
Good to see someone who has only been taking pictures for a short time getting so enthusiastic about it. And a lovely bag too. Thanks for sharing with us Dani.
Keep them coming folks, we need more submissions, so get your bag on Japancamerahunter.com. Send me a hi resolution image of the bag (please make sure it is horizontal) and its contents, with some details about yourself and what you shoot. Oh and don't forget your contact details (twitter, flickr, tumbler et al). Send the bag shots here Send the bag shots here..
Cheers
Japancamerahunter