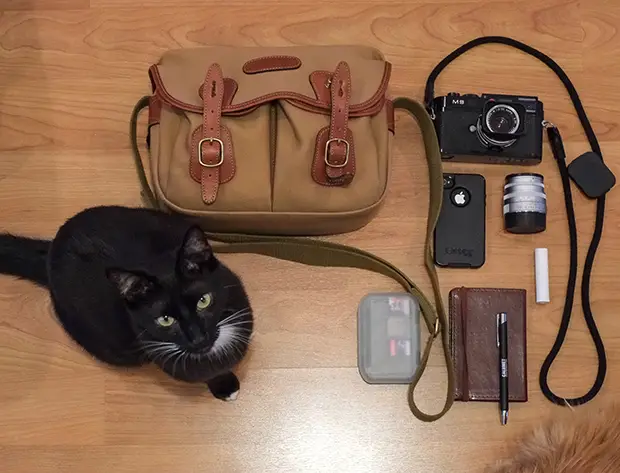 In your bag 877, Shannon Atkinson
I think I have just about exhausted all of my cat in the bag jokes. But I am feline fine about this bag…

Hello! My name is Shannon Atkinson and I live just outside of New Orleans Louisiana.  Although I shoot other genres, my main interest is Environmental Portraiture.  When not shooting on the street I have the usual large, overstuffed bag with way more things in it then I should.  However, when it comes to shooting on the street I've really put an effort into simplifying what I carry with me.  This is my current setup.
-My bag is a Billingham Hadley Small.  I have owned tons of bags (still have quite a few), although not perfect the Billingham is great.  I'm amazed at how much it can carry when I need it to.  It's comfortable and I love the look.
-Leica M9 with 35mm Summicron ASPH in Chrome.  The is the camera/lens combo I use 99% of the time.  It's simple and works well for me.
-50mm Summicron ASPH Chrome.  This is a great lens, but I rarely use it.  I love it for studio work and when I really want to get close to someone.  I don't use it as much as I should.
-iPhone
-Chapstick
-Extra SD cards
-A notebook/journal for writing down email addresses or whatever I need to remember.
-Sometimes I carry a Fuji X-Pro1 (used to take these pictures) but less and less.
The cat is Avery.  He owns the place, I just live here because he lets me.  At least that's what he thinks.
Here's some link to my work…enjoy!
http://www.shannonatkinsonphoto.com
So this is my attempt at a minimalist approach.  Thanks Bellamy for such an awesome site… I spend WAY to much time here!
-Shannon
Thanks to Avery for letting us view this bag.
Check out the links and make sure you come and comment.
Keep them coming folks, we need more submissions, so get your bag on Japancamerahunter.com. Send me a hi resolution image of the bag (please make sure it is horizontal) and its contents, with some details about yourself and what you shoot. Oh and don't forget your contact details (twitter, flickr, tumbler et al). Send the bag shots here. Please understand that there is a long wait now as there is a backlog of submissions. Not all make the cut, so make sure yours is funny/interesting/quirky. And please make sure the shot is of good quality, as the ones that are not do not go up.
Cheers
Japancamerahunter