In your bag No: 1691 – David Herington
David neatly lays out the wise choices that you'll find in these efficient and handsome bags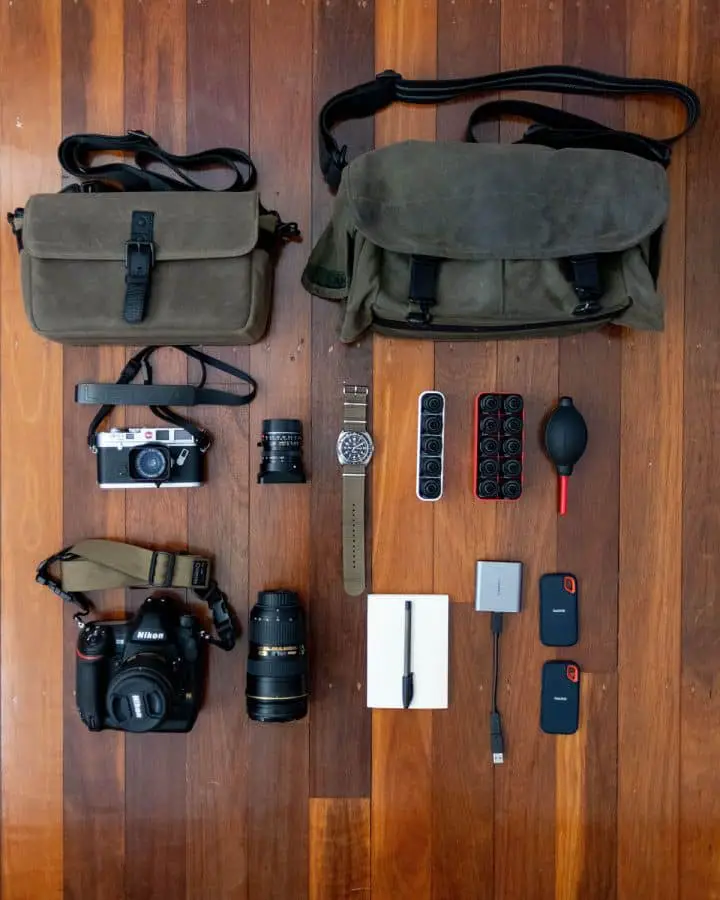 My name is David Herington. I live in Bexhill, Australia and primarily photograph (or rather photographed since COVID-19) live music and the touring associated with it.
For the last ten years I have worked as a tour manager and guitar tech extensively in Australia and internationally, particularly throughout Europe and the United Kingdom for Australian punk bands.
For the majority of those ten years, my photographs have only been for myself and my own personal work, and have always been on film, specifically Ilford HP5.
I've been using HP5 personally since around 2005 however as I shared my work more with the bands I photographed, I slowly started to get work not only as a tour manager or guitar tech but also as a photographer and added a digital camera to my bag for times when I'm being paid to shoot. I still try to shoot in the same way that I do with the Leica, but the ability to get photographs to the bands quickly for promotional reasons is great.
As such, I now have two different set ups, depending on what I'm doing.
When I'm not being paid to photograph and shooting for myself, I only bring my M6 and that travels inside my ONA x JCH Bowery Limited Edition bag (I have number 45/230), everything related to the Nikon stays home in those instances.
The Gear
Domke F-2 (RuggedWear, Military Green)
I like this bag a lot. I use this in my "work" set up. It makes sure I don't bring too much gear and carries everything I need. I mostly use it on the plane and while I'm on tour it stays back stage and the camera stays around my neck. I try to never have my camera inside my camera bag so I don't miss important moments. It's strong and durable and if I keep it waxed it protects everything when I get caught in a rain shower.
ONA x JCH Bowery Limited Edition Bag
This is a very beautiful bag. When I'm in my "personal" set up, the M6 with 35mm Summicron, 28mm Elmarit, film, note pad and pen fit this bag perfectly. Again, I try to keep my camera out of my bag and around my neck as much as possible, but when it's traveling inside the bag it's well protected, padded and safe. The rigid base is also excellent. I love the hardware on this bag. The clasps and buckles are starting to show signs of brassing and the strap itself is very nice. Everything just feels high quality.
Leica M6
I purchased this through JCH. This model is made in 1992 and 1992 is coincidently the year I was born. I love this camera. I've shot with a lot of different 35mm cameras over the years, Nikon F3, F4, F5, F6, F100 and FM2s, various point and shoots, Canon QL17's, Zeiss Ikons, but nothing brings me personal ~joy~ like using this Leica M6. Nothing HBC says about it's small size or quiet shutter applies to me, that doesn't really matter in the dark with a band playing at 120dB, but I feel fast and accurate with it and it just stays out of my way and lets me make photographs I like.
Leica 35mm Summicron ASPH
This lens is new to me and also purchased through JCH. Prior to owning this I used a Zeiss Biogon 35mm f/2.0 ZM. I haven't been photographing much music lately, COVID-19 has just about completely ground that to a halt, but everything I have shot with it, looks great. I use the 35mm focal length on bigger stages, walking around cities or for candid shots on tour. It find this focal length works really well for me and allows intimate images that are natural to my eye.
Leica 28mm Elmarit V3
This lens was also purchased through JCH and is a beautiful lens. Also, by complete coincidence was produced in 1992. Many, many of my favourite images have been shot with this lens. The wide 28mm focal length is great on smaller and tighter stages and the way it renders is beautiful to me. It is pretty big and does block a lot of finder, especially with the hood on, and the 2.8 aperture can mean in dark venues it's a bit trickier to use but the results are definitely worth it to me. The amount of crowd that can be sucked in to a live shot can make such a difference and this lens does a great job of that.
Japan Camer Hunter Film Case filled with Ilford HP5.
I push all of this HP5 to ISO 1600 and try my best not to get in to arguments with airport security every single time I fly. I really enjoy the process of coming home and developing all of these rolls of film, which gives me the opportunity to relive some moments while I watch them dry and scan or print them.
Japan Camera Hunter 135 Half Case filled with JCH Streetpan 400 or Ilford Delta 100
These are my "day off" films. I like to not push these films and shoot them at their box speed and therefore they're too slow for work inside the venues. The Streetpan gives me a similar look to the pushed HP5 in terms of contrast and I really like the mood of it. I typically only shoot this on winter tours or overcast weather because in summer the contrast of the light along with the film can be a bit much in some situations for my taste. For those situations I'll bring the Delta 100.
Nikon D6
This is new to me, and a massive upgrade from the D3S I was using for many years before. It's a great camera, not a lot to say about it other than it's very good, very nice to use and very expensive. It's a great shame that touring stopped almost as soon as I got it, meaning I have no real need for it at the moment and haven't got that much of a chance to use it how I intended to. What I have used it for I've really liked and the few "socially distant" concerts I've shot with it have looked great. It's absolutely incredible low light.
DSPTCH Heavy Camera Sling Strap
This is a good, heavy duty camera strap that I can easily clip on and off the camera. The only drawback I've found so far is sometimes the D rings manage to twist their way around on the strap and it can bunch the strap up a bit.
Nikkor 35mm f/1.4 G AF-S
I like this lens a lot. It's what I use most of the time on this camera or my F100. The 35mm focal length helps with continuity through images and across formats.
Midori MD Paper A6 Lined Notebook
These are beautiful note books that are made in Japan. I use them to write down ideas and use them as journals. Touring is definitely very bad for sleeping and I have found writing down everything I did in the day helps me get to sleep a bit better.
Luminox P-38 Lightning wristwatch
It's not really "in my bag" but it is always on my wrist. I like planes and this watch is modeled after the cockpit dials of the Lockheed-Martin P-38 Lightning, which I think is possibly the coolest plane ever.
Nikkor 24-70mm f/2.8 G AF-S ED
Gnarbox XQD Card Reader
2x SanDisk Extreme 1TB Portable USB-C SSD
Black Ball Point Pen
Dust Blower
I don't think these ones need any explanation.
Thanks for your time and for your consideration.
Enjoy the rest of your week.
Cheers,
David Herington
—————————
Keep them coming folks, we need more submissions, so get your bag on Japancamerahunter.com
Send me a high resolution image of the bag. Optimum size is 1500px across. Please ensure there is a bag in the shot, unless you don't use one. The more you can write about yourself the better, make it appealing and tell us a story. Snapshots of your gear with a camera phone and no words will not be featured.
Oh and don't forget your contact details (twitter, flickr, tumbler et al). Send the bag shots here. Please understand that there is a long wait now as there is a backlog of submissions. Not all make the cut, so make sure yours is funny/interesting/quirky. And please make sure the shot is of good quality, as the ones that are not do not go up.
Cheers
Japancamerahunter