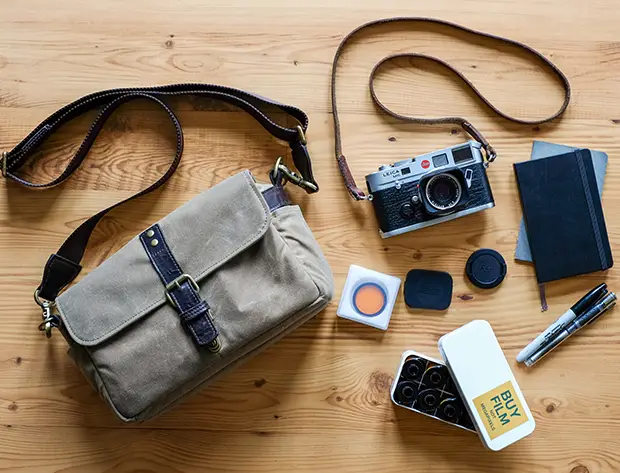 In your bag 743, Matt Day
Looks like we are starting strong in 2014 with another great bag for you all. Matt shares with us a very similar bag to the one I carry. Check it out.

My name is Matt Day, I'm 22 years old, and I'm a photographer from southern Ohio.
I shoot portraits for a living. Everything from families, senior portraits, engagements, you name it.
My personal work is everything else that I see between jobs. Street, landscape, whatever. It's just photography.
That's the work that this bag is for, so I'll get right to it.
Ona Bowery Bag – I've searched and searched for the right camera bag since I started shooting ten years ago. For the daily setup that I carry at all times, this bag is it. I used to use the Domke F5XB and that was a nice bag, especially for the price, but I can trust this bag way more. Quality stuff and it's simple. It stays out of the way.
Leica M6 TTL & 35mm f/2 Summicron ASPH – What's there to say? Wanted this setup for so long that I basically sold every other camera to have it and then sold the remaining cameras because this is all I ever use anymore. It's a camera/lens combination that'll be with me forever.
JCH Film Case – Love that thing. Always full of Tri-X. Nothing else.
All of the extra stuff like pens, Sharpies, notebooks, lens caps, filters… Nothing really to say about that stuff. It's there.
Maybe in the future, I'll send in my "business bag" where I carry several different cameras and formats for each shoot. That could be a fun one.
Thanks for doing something like this on your site, Bellamy. One of the only sites out there I can enjoy.
– Matt
Tumblr: downriverframes.tumblr.com
Instagram: @downriverframes
Twitter: @downriverframes
Thanks Matt for sharing your bag and for buying a film case. This one is a beauty.
Check out the links and make sure you come and comment.
Keep them coming folks, we need more submissions, so get your bag on Japancamerahunter.com. Send me a hi resolution image of the bag (please make sure it is horizontal) and its contents, with some details about yourself and what you shoot. Oh and don't forget your contact details (twitter, flickr, tumbler et al). Send the bag shots here. Please understand that there is a long wait now as there is a backlog of submissions. Not all make the cut, so make sure yours is funny/interesting/quirky. And please make sure the shot is of good quality, as the ones that are not do not go up.
Cheers
Japancamerahunter