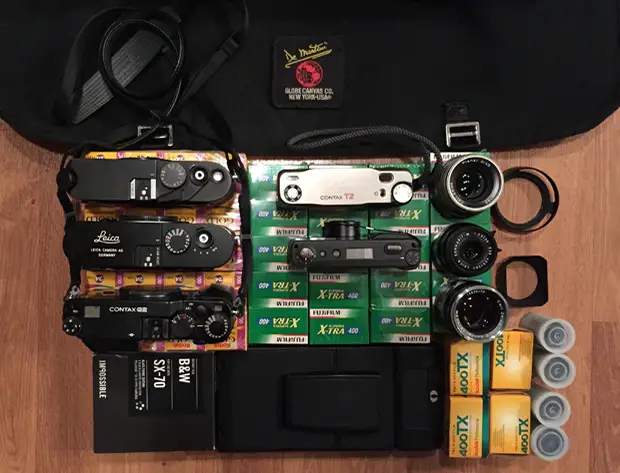 In your bag 1125, Dan Connor
Wait, another Dan. This Dan has a load of cameras and film in his bag. This must be a lot to carry about. Check it out.

Hello JCH
My name is Dan Connor and I am Art Director for a large footwear company. I travel a lot and have had a passion for photography ever since I got a Yashica T4 in 1996.
I consider my photography to be naive as opposed to "street", I don't know a ton about photography (technically). I have found that if you do interesting things and have a nice P&S camera, you are by default a pretty decent photographer. That is not to say that I am not constantly trying to improve and learn about photography.
I art direct a lot of shoots and have really been able to take in a lot aesthetically, again still don't have a ton of tech knowledge but I think I know how to make a good picture from time to time. After an array of marvelous P&S cameras I was drawn to shoot with a rangefinder and now I would say I have a pretty robust bag that lets me capture what I am looking for (with a couple back ups as an insurance policy).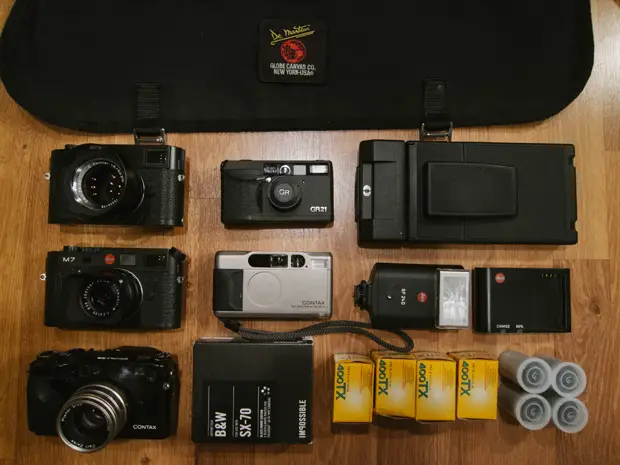 -DeMartini messenger bag: heavy duty canvas, no frills
-Leica M7: trusty workhorse
-Leica M9-P: digital sidekick to my M7, makes great pictures and has the clunkiest menu interface ever. I love it though
-Contax G2: back up for the M7, amazing camera stand alone
-Contax T2: this camera needs no description
-Ricoh GR21: this beauty is so unique that I always end up throwing it in the bag, great wide shots
-Polaroid SX-70 autofocus: really fun, although impossible film is pretty inconsistent
-Leica 35mm Summarit f2.4: not the fastest, certainly the smallest and the cheapest. Great lens
-Zeiss ZM 50mm Sonnar f1.4: fantastic all around lens and affordable
-Zeiss 45mm Planar f2: another flawless lens
-Leica SF24D Flash: I forgot to take this out of the bag, works great
-Film: I have tons of film, I am always looking for giant lots of 35mm film on eBay and scooping it up.  So I will end up shooting some pretty random stuff from time to time.  However I mostly shoot, TriX 400, Portra 160/400, and I have a healthy stash of Provia 400 slide film.
You can check out some of my photos here:
http://alwaysreigning.tumblr.com
http://www.alwaysreigning.com/blog
https://www.flickr.com/photos/41267483@N08/
Thanks for sharing your gear, Dan. My word that is a lot to carry.
Check it out and make sure you come and comment.
Keep them coming folks, we need more submissions, so get your bag on Japancamerahunter.com. Send me a hi resolution image of the bag. Optimum size is 620×473. Please ensure there is a bag in the shot, unless you don't use one. The more you can write about yourself the better, make it appealing and tell us a story. Oh and don't forget your contact details (twitter, flickr, tumbler et al). Send the bag shots here. Please understand that there is a long wait now as there is a backlog of submissions. Not all make the cut, so make sure yours is funny/interesting/quirky. And please make sure the shot is of good quality, as the ones that are not do not go up.
Cheers
Japancamerahunter