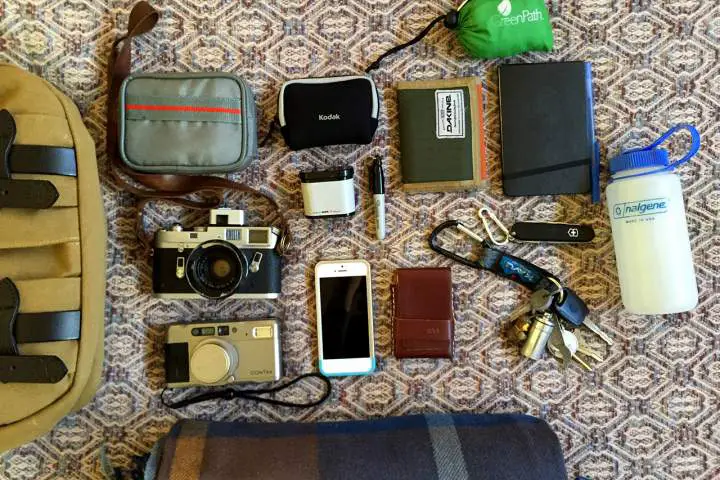 In your bag No: 1306, Angelo Partemi
What we have here is a semi-nomadic style bag. Angelo shares with us his bag from a recent move to San Francisco. A couple of great cameras and all you need for a day of shooting. Check it out.
Hello all,
I have recently relocated to the Bay Area, and these things are currently traveling with me through life.
Filson Medium Field Bag w/Filson Camera Insert – This bag is amazing.  
Hoffman Woolens Blanket – The Bay Area is an unpredictable microclimate, and I have low iron.
Leica M4 – I have been shooting this beater for about 6 months now. Mechanically perfect, this camera might stick around for a while. The Voigtlander meter is very handy; I have trust issues.
35mm Version 3 Summicron – This lens has been to hell and back, but the glass is excellent. It renders beautifully on film.
Contax Tvs – This highly underrated premium compact is with me at all times. I absolutely love this camera. It is perfect for a commute or a drunken night out in the city.
Rollei Film Case w/Ilford HP5+ – I have been pushing this film to 800 then stand developing for 2 hrs in 1+100 Rodinal. I am very pleased with the results, but the time it takes with a 2-roll tank is a pain in the ass. Definitely a spot in my workflow that could use some attention.
Grey and Red Meds Bag – I have a crazy obsession with putting things into small bags. This Goodwill find has been keeping me healthy for a while now.  
Dakine Wallet – I like Velcro in my wallet.
Moleskine Reporter – Nothing more important than the written record of that Spades game I played 4 months ago. 
Knife – In case any funny business pops-off, I am ready. Or, when I need to slice an apple.
16oz Nalgene – Hydration is great and this guy makes it happen without adding a ton of weight to my bag.
Re-useable Bag – Because the Earth is our friend, and I like things that stuff into themselves.
Keys – Someone thinks I am responsible.
Iphone 5 – A recent hand-me-down, the camera on this phone still surprises me.
Fun-Size Sharpie – This works perfectly for marking up film canisters. 
Kodak Pouch – Another Goodwill find; this guy holds my headphones and lens cleaning cloth.
Cheap Sunglasses – Scooped these up in Chinatown, and definitely not regretting that $6.
Business Card Holder – I don't even have any damn business cards, but this personalized holder is pretty cool.
If you would like to check out my work, I am semi-social:
https://instagram.com/angelopartemi/
https://www.flickr.com/photos/angelopartemi/
I prefer in-person meetings. If you are in the Bay Area, hit me up. 
Thank you Bellamy for creating such a wonderful community. We are all forever indebted to you.
Thank you to everyone for checking out my bag. 
Thanks for sharing your bag with us, Angelo. A couple of lovely cameras you have there.
Keep them coming folks, we need more submissions, so get your bag on Japancamerahunter.com.
Send me a hi resolution image of the bag. Optimum size is 1500 across. Please ensure there is a bag in the shot, unless you don't use one. The more you can write about yourself the better, make it appealing and tell us a story.
Oh and don't forget your contact details (twitter, flickr, tumbler et al). Send the bag shots here. Please understand that there is a long wait now as there is a backlog of submissions. Not all make the cut, so make sure yours is funny/interesting/quirky. And please make sure the shot is of good quality, as the ones that are not do not go up.
Cheers
Japancamerahunter