Show us your film : Shoot or die
They keep on coming. And I keep on sharing them. Some of you guys have some very impressive selections tucked away.

John Berner

Well I got rid of about 1/3 of my stash recently, and since I'm going back to school soon and have made a move towards sticking to three or four main film stocks I'll likely be getting rid of a good amount of it again soon so figured I take a few shots of whats left and send them your way.
Random assortment of 35mm and medium format stuff. Rarities include, Anscopan from the late 60s , Verichrome 620 from the 60s, several 127 films from Rollei Bluefire and Efke including original Efke IR  820 , and a few other random discontinued films.
Here we have lots of 120/220 and 4×5 films. Lots of Fuji 4×5 instant film (100B, 100C, 3000B) . A few unique 4×5 sheet films, Kodak Ekatapan , Kodak Commercial Film , and Kodak Contrast Process Ortho.
Next shelf is just some more assorted bits and pieces. Some tungsten films , Some more Instant 4×5, and some 8×10 film (HP5 and Fuji Xray film)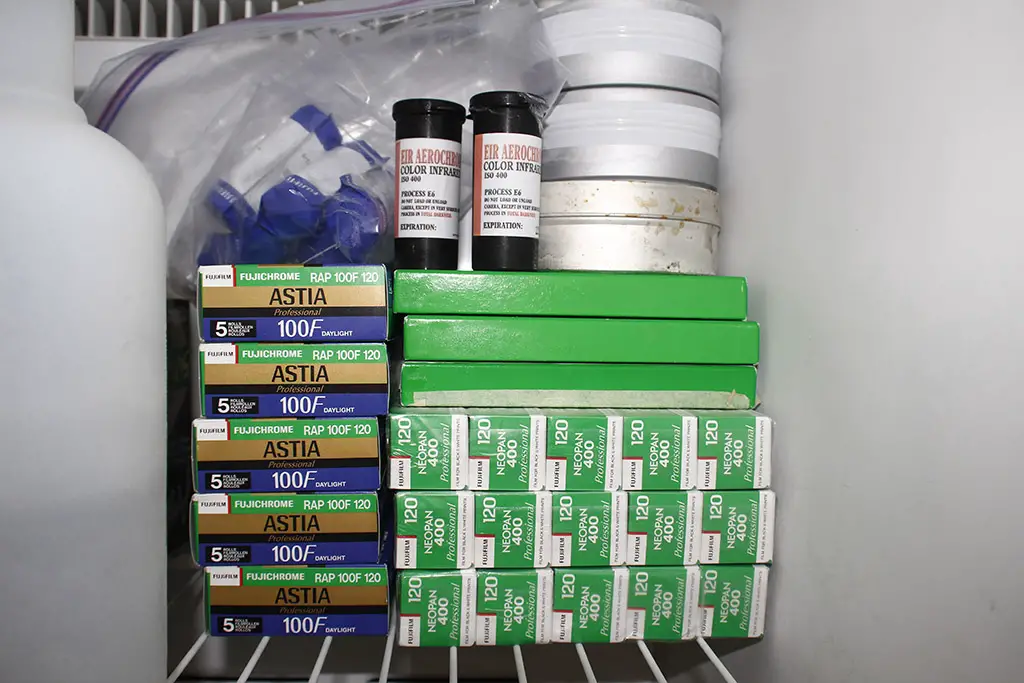 The real treasure is in the freezer though. My stash of Astia 120 and 4×5 film, my stash of bulk and 120 Neopan 400 (yes I've shot a lot of it) Some bulk unperforated Konica 160 Pro , and of course a few rolls of Kodak Aerochrome as well as a several 4×5 sheets of it that I've yet to try out.
Well thats my stash! For now.
Blaine Vernicek

Blaine here. I'm in the process of restocking film so I laid out my stash. Here's a shot of what I'm hoarding away.
Cheers,
Blaine A. Vernicek
(aka clowshoes)
Look for me elsewhere:
http://www.lomography.com/homes/clownshoes
http://www.flickr.com/photos/bigclownshoes/
http://blainevernicek.tumblr.com/
Jenifer Hanen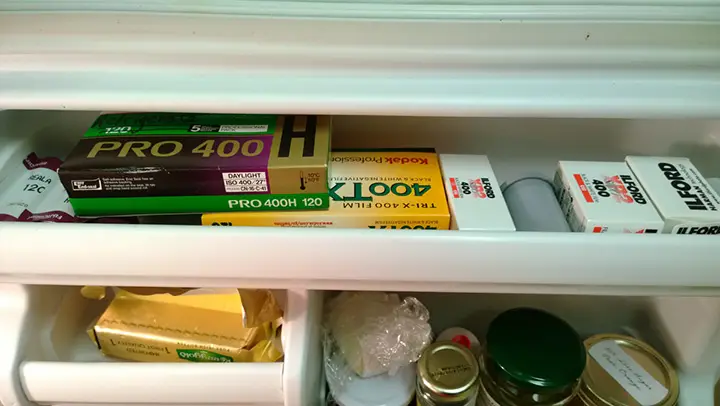 Hello Japan Camera, nee film, Hunter,
Here is the upper shelf on the door of my refrigerator. I have more Ilford 35mm B&W film hiding amongst the food in other crannies/shelves, but I give you the main bulk of my (small) hoard in this photo.
smiles, jen ;o)
Jenifer Hanen
http://www.blackphoebe.com/msjen/
"Simplicity is the keynote of all true elegance." – Coco Chanel
Jackson/Karen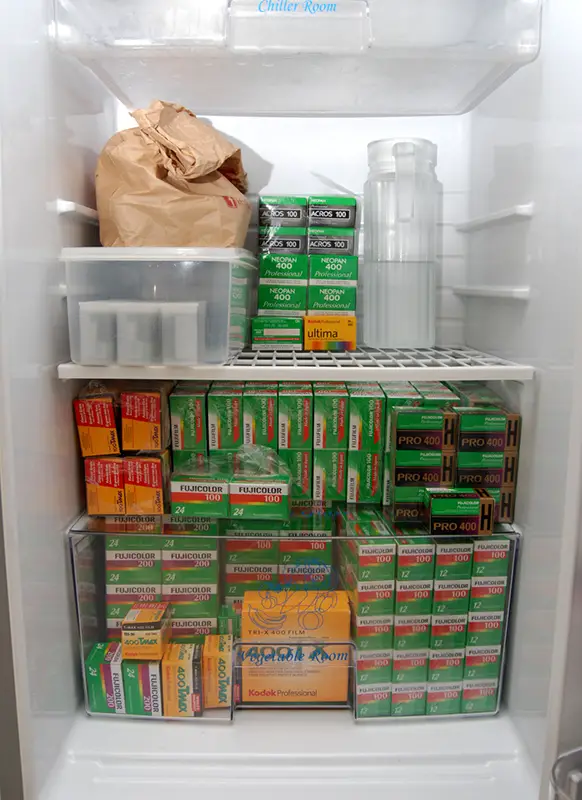 keeping the film alive from Philippines!
http://theonlinewarehouse.biz/
http://ilikelifeonthestreet.com/
Now there are some films I would love to get my hands on. If any of you feel like sending some my way I wouldn't complain. Check out those beauties.
I would love to see your collections, so if you want to send them in feel free. Perhaps you can include a couple of shots taken with your favourite films, that would be fun. Click here to send your stash. Please make sure you send the submissions to this link, otherwise they will not be featured.
Cheers
Japancamerahunter