Show us your film : Interfilmer
Oooh, more stashes, more film lovers share what they have got. Nice to see such a wide range of films too. Check it out.

Christian Heinrich


I'm Christian Heinrich, 35, from Leipzig, Germany.
I've been erratically shooting film for 15+ years, the last 10+ with a Nikon F80 (N80). I bought my first DSLR only last year and I now shoot digital *and* film. I've been eying medium format for years, but don't have the funds to buy something new, and I don't trust eBay with used cameras. To start *somewhere* I bought a Holga and I'm now making medium format baby steps.
To my knowledge my favorite color film (Fujicolor Pro 160c) is no longer produced in 35mm format, so at the moment I'm on a quest to find a replacement. I have to replace my most used b/w film (Ilford XP2 400) as well since I now have access to a black & white only lab. There's a lot of new film around, sadly a lot of old film is gone, but news items like CineStill and Ferrania are good to hear.
Film + digital work can be found here: http://www.flickr.com/photos/coffeepyros/
Keep up the film work!
Christian
Adrian Orr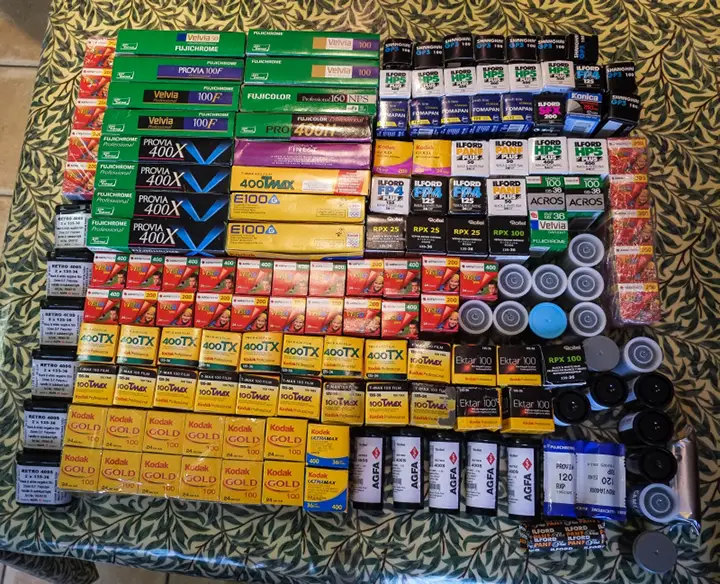 I am a regular visitor to your site, I love seeing other peoples kit and film stash! I thought I would share my recent family crisis with this in mind. My wife and daughter decided that enough was enough with all my film in the fridge. I didn't think there  was that much  film in the fridge until they  laid it all out on the kitchen table. Perhaps they had a point. Family harmony has now been restored though with the addition of a film only fridge in my study. More room for cheese triangles in the family fridge now. Lets just hope they don't dig too deep in the freezer, that's a whole other story.
The output from my film stash can be seen on my Flickr page at:
https://www.flickr.com/photos/johnadrianorr/
Keep up the great work on the site.
Adrian Orr
Paul Koay


Just went on a recent two week family holiday to New Zealand, and as usually had the dilemma of trying to to decide what to take both for film and camera wise. Here is a photo of what I was choosing between.
Ended up taking the Hassy and M6 with Ektar, Portra and XP2.
Cheers
Paul Koay
Have you shared your stash yet? Your hidden fridge? Come on, get involved.
Also, please make sure you submit your film through the link below, otherwise I might miss it (I get an awful lot of mail).
I would love to see your collections, so if you want to send them in feel free. Perhaps you can include a couple of shots taken with your favourite films, that would be fun. Click here to send your stash. Please make sure you send the submissions to this link, otherwise they will not be featured.
Thanks
JCH