Show us your film : All stashes great and small
I show 'em when I got 'em. And a few more have come in. Some really interesting collections here. It is fascinating to see what people are shooting. Check them out.

Bezalel

Hello, My name is Bezalel, and I seem to be addicted…. This is the first time I collected all the different stashes I have into one place, and seeing all these films together, makes me realize I need professional help… What do you say, Doctor? Did I show you my Leica lens already?
My Bag was featured past October – Bag no. 665 – and here are a couple of shots I've taken since, using Ilford HP5+ and Fuji Acros. The rest can be seen in my Flickr page:  www.flickr.com/photos/bezalel_bc/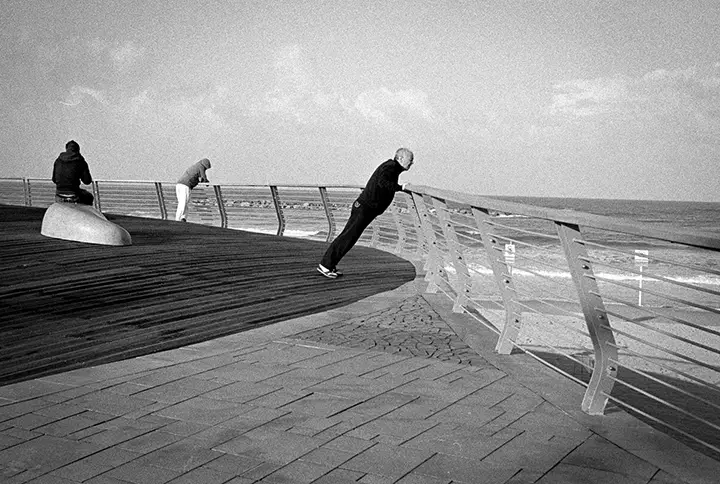 Bezalel
Jimmy Yang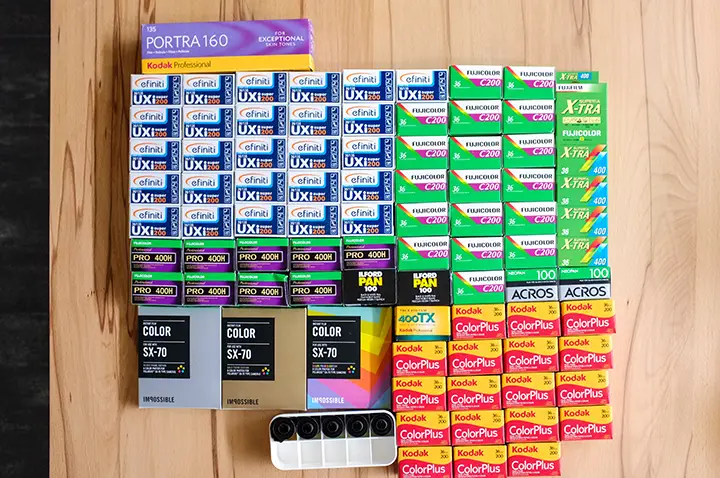 I was on your website with my bag (No.770) before, and after seeing other people's film stash, I decided to share my stash with you.
I have some uxi200, colorplus 200, and fujicolor C200 for my weekend walk around. And I use Fuji 400H for more series stuff. And I also keep some instant film from impossible project for my SX-70.
I shoot street photography mostly, and I use these film with my Leica M6 or Canon QL17 most of the time. My favorite film so far is the Fuji 400H, but I'm still exploring other films. For me, ISO400 is perfect on the street as it allows me to use zone focusing at f/8.
You can see my work at
https://www.flickr.com/photos/yang1219/
http://jimmyyangphotography.wordpress.com (Mostly in Chinese)
http://www.jimmyyangphotography.com
Thank you,
Jimmy
Ray McKean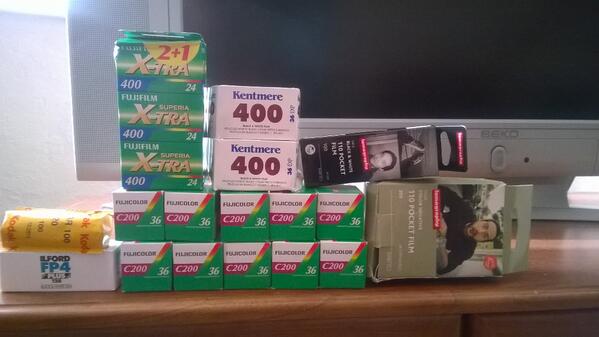 Greetings from leaking light, Wigan UK – my latest stock replenishment includes some 110 film to give my newly acquired Minolta and Pentax 110 SLR a test run, a load of c200 (bargain price, summers coming, med cruise holiday is on soon), some superia 400 and Kentmere BW and some BW / Colour 100 ASA for the Lubitel. Plenty of fun to be had there, nice little store box in the fridge. Would still like to get hold of some IR 35mm film and some expired / redscale for fun (110 expired migt be interesting).
Thanks to everyone for sharing their film and their passions with us. Please keep them coming, it is a lot of fun to see these.
I would love to see your collections, so if you want to send them in feel free. Perhaps you can include a couple of shots taken with your favourite films, that would be fun. Click here to send your stash. Please make sure you send the submissions to this link, otherwise they will not be featured.
Thanks
JCH