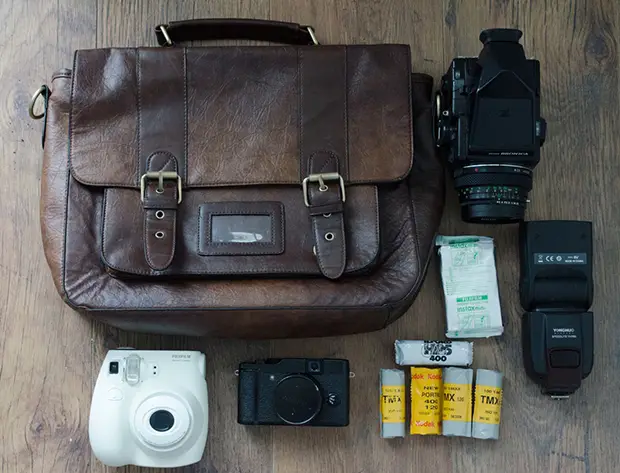 In your bag 839, Joe Spence
Joe shares his simple bag with us from the UK. Come and have a look at this delightful setup from a guy who came to film photography from an unlikely beginning. Check it out.

Hello hello guys, My name is Joe Spence, I live in Hartlepool (A small town in England) and I'm a 18 year old student studying photography in English martyrs college. I got into photography 2 years ago by stumbling across Instagram , yes Instagram! I later ditched Instagram and decided to get a camera and take a photography course because I wanted to take things a bit more serious and gain more knowledge. I bought an nikon d3000 which did the job for me for long time but then came along called 'film photography' into my life which I had never thought about trying as I thought it was for oldies who never wanted to switch to digital until I was given an old nikon F50 of my grandfather which instantly made me fall in love with the world of film and all its greatness.
Thats the bit about me over, now about the gear.
1. Satchel Bag (keep all my gear in here and can even fit my laptop in there to)
2. Fujifilm instax ( for all the instant film goodiness)
3. Fujifilm x10 ( my digital camera which I'm currently using on the streets)
4. Zenza Bornica ETRSI (For my Medium format work, used mainly for portraits)
5.Yongnuo speed light (cheap speed light, but works a treat)
FILM;
1. Ilford HP5
2. Kodak Tmax 100 ( 3 rolls)
3. Kodak Portra 400
4 Fuji instax film
Thanks for the sit Japanese camera hunter. Film is not dead!
My flickr: http://www.flickr.com/photos/93951125@N03/
Thanks for sharing your bag with us Joe. Cool to hear about your journey to film, keep it up.
Check out the links and make sure you come and comment.
Keep them coming folks, we need more submissions, so get your bag on Japancamerahunter.com. Send me a hi resolution image of the bag (please make sure it is horizontal) and its contents, with some details about yourself and what you shoot. Oh and don't forget your contact details (twitter, flickr, tumbler et al). Send the bag shots here. Please understand that there is a long wait now as there is a backlog of submissions. Not all make the cut, so make sure yours is funny/interesting/quirky. And please make sure the shot is of good quality, as the ones that are not do not go up.
Cheers
Japancamerahunter