Get Featured: Pedro Costa Neves
Pedro shares with us his project 'The Killer-Rabbit'. It has been a tumultuous year for Pedro, but he has remained creative and has put together this project which has been partly inspired by the work of Helmut Newton. Check it out, but please note, this is not safe for work.
My name is Pedro Costa Neves, I'm a shit film photographer from Brazil, those that take crap photos of naked girls. The road started in 2012 shooting my friends with a Lomo LC-A that I do not posses anymore and using always cheap film, because you know, the dollar is to high for one to buy portra everytime haha.
Had lots of photosets featured on the C-Heads website which makes me want to shoot even more www.c-heads.com/?s=pedro+costa+neves.
Last year I've been to Helmut Newton Foundation in Berlin with some friends, since he was always source of inspiration for me, it got me on track to do my first book (Link here) and to continue with my photos, even if as a hobby and never making any money with that haha.
This was a shit year for me, lost my job, my wife, my house and decided to use my last resource of money to travel to my great friend's house in Boulder – CO, for a month, Rob Timko (the friend) helped me a lot, we camped on a small city called Nederland, oooh boy I took awesome photos there and did a small zine with these photos (http://www.magcloud.com/browse/issue/1009911) hope nobody buys the printed version haha may be shit print I don't know.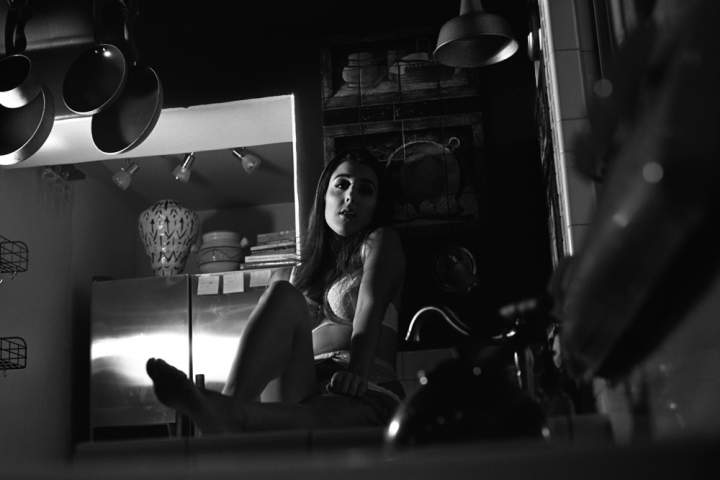 Yeah, well mainly I'm shooting with my Leica M6 and my new Contax G2 that I got during this trip to USA, using Agfa film or any kodak cheap film, love to shoot black and white because I can develop at home and do not spend money on lab, scanning everything with my Kodak Pakon makes everything easy.
The Killer-Rabbit is a personal project where my aim is to shoot aesthetically pleasant killer-good-looking women.
Since the beginning, I wanted to show the female form through my eyes, my vision, how I see the world, and their bodies. 
I never intended to please anyone, it was always for me, to express myself. The addition of film makes everything perfect. I love the process of developing my own film, it's like a therapy.
It's kinda selfish, if you think about it. I'm in control of the entire process. I develop, scan, choose the model, and put my feelings into the shot. 
I don't want to follow trends like lots of photographers out there these days and in 2-3 years will be doing another thing, this is a life project.
my links:
website: http://killer-rabbit.com.br
instagram: http://instagram.com/persocon
tumblr: http://tumblr.killer-rabbit.com.br
Best regards,
Pedro Costa Neves
Thanks for sharing your work and your story with us, Pedro. I am interested to see how this pans out a a life project.
Come on, share with us what you have and get yourself featured.
Click on this link and send in your project/work: Get Featured. *I am looking for mainly projects, not individual images*
Oh, and click here to see a few of the photographers that have been on the site before https://www.japancamerahunter.com/?s=featured
Please make sure you come and comment, polite and constructive critique is welcome.
Thanks
JCH