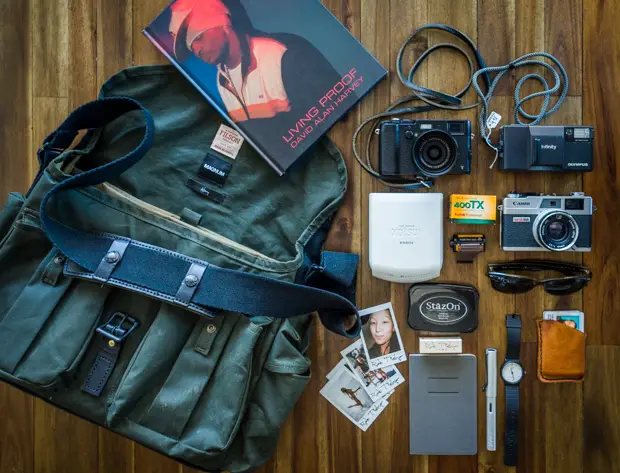 In your bag 1142, Robert Timko
Robert has a cool bag, and fine taste in pens too. Check this one out.

I now live in Boulder, CO by way of NYC. I'm a studio photographer by day but secretly have a passion for street photography. This is my everyday carry.
Filson – Magnum Series – David Alan Harvey edition bag.
I was bitten by a bit of fanboy on this one. David Alan Harvey is a huge influence on my photography. Nonetheless, it's a slick bag and I love it!
Photobook of the week
I always carry a book or 3 around with me for inspiration.
Fuji X100T
My main digital camera. I hated every other version of this camera but this one is really growing on me. I use it with the Instax SP1 printer very often as it can print directly to it. This is very useful when wanting to give someone a quick snap either on the street or at the bar. It's a great conversation starter! I stamp them because I'm narcissistic and felt it needed my own personal touch.
Canon QL17 GIII
The QL17 is a finicky rangefinder that I'm using for my "52 Rolls" project. It's quirky, but I love it. However, I ONLY like shooting B&W through it. Color just doesn't seem to pop for me with it no matter how hard I try. I picked this camera for my project because I almost impulse bought an M6 and realized I'd never actually shot with a rangefinder before. So, I told myself "Rob, shoot with this finicky thing all year, same camera, same film, THEN you may be deserving of an M6!", and that's what I'm doing. Trix-400 and home developing for the whole year. Rangefinders and home developing are both new to me in 2015.
Olympus AF-1 35mm
This is quickly becoming my go-to camera. I do like shooting color, but as mentioned above, the QL17 just doesn't do it for me. I picked this up for $1.95 at the thrift store (talked down from $4.95). I put a few rolls of expired Gold 200 through it and I absolutely love it! I use it even more than my X100T it seems!
Film
Instax SP-1 printer
Stamp
Sunglasses
Shinola notebook
LAMY AL Star fountain pen (why I have a $50 pen and a $5 watch is beyond me, but, I like pens and like simple watches)
Casio MQ-24 watch
Wallet
I'd link you to my work, but I never really post my street photography photos. I'm not sure why as I seem to post everything else I shoot. Maybe I'm just waiting for a good one…
http://instagram.com/robtimko
Thanks for sharing your bag with us, Robert. That bag is pretty cool, I quite fancy one of those.
Check it out and make sure you come and comment.
Keep them coming folks, we need more submissions, so get your bag on Japancamerahunter.com. Send me a hi resolution image of the bag. Optimum size is 620×473. Please ensure there is a bag in the shot, unless you don't use one. The more you can write about yourself the better, make it appealing and tell us a story. Oh and don't forget your contact details (twitter, flickr, tumbler et al). Send the bag shots here. Please understand that there is a long wait now as there is a backlog of submissions. Not all make the cut, so make sure yours is funny/interesting/quirky. And please make sure the shot is of good quality, as the ones that are not do not go up.
Cheers
Japancamerahunter