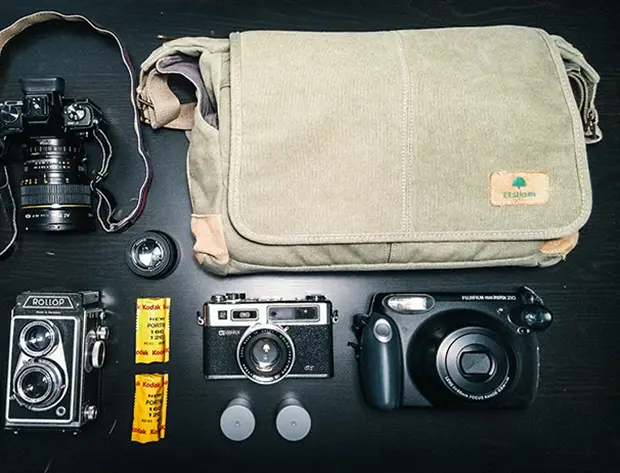 In your bag 1143, Hampus Andersson
Hampus has not only done a bag shot, but also a series of very pretty cameraporn pics for us too. Check this one out.

Hi Bellamy and all the amazing people reading Japan Camera Hunter!
My name is Hampus Andersson and I'm a soon-to-be 25 year old guy in Sweden. I work as an information clerk for my countys local transportation company, but usually do a job or two by the side as a photographer. I've had a big fascination for cameras and Japan (also how I found this great site) and have been combining that during my travels to Japan for the past years.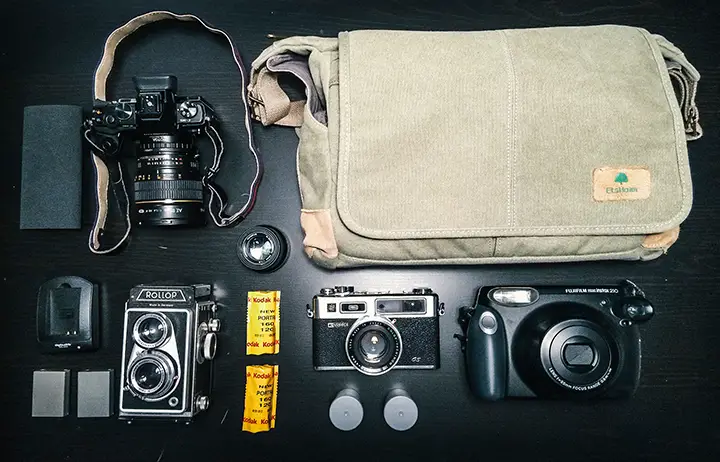 Let's start with the bag. It's a shoulder bag from Etshaim (model V250 I think?) that I picked up at Yodobashi Camera during my last visit to Tokyo. It's a quite nice looking canvas bag with room for a camera or two. Not showing in the picture is the really nice shoulder pad. I usually like backpacks, but this is the first shoulder bag in a while I haven't felt totally exhausted after wearing it around for a day.
The cameras I take with me varies from time to time. Usually I bring my lovely Olympus OM-D EM-5 to begin with. It's a small and great camera and I love it's immense amount of style. It's either mounted with a Nikon-M43 adapter and the Samyang 85mm/1.4 or a Olympus 45mm/1.8 lens. I love the perfomance of both!
Then comes the hard choice of picking one of my analog cameras. First out is my Rollop TLR. It's half-broken as the shutter doesn't shut at correctly at longer shutter speeds (1/50 is the longest). I have a case for this camera with a strap connected to it, not in picture though. But I just love the pictures that come out of it. I usually go for the Porta 160 film when loading it.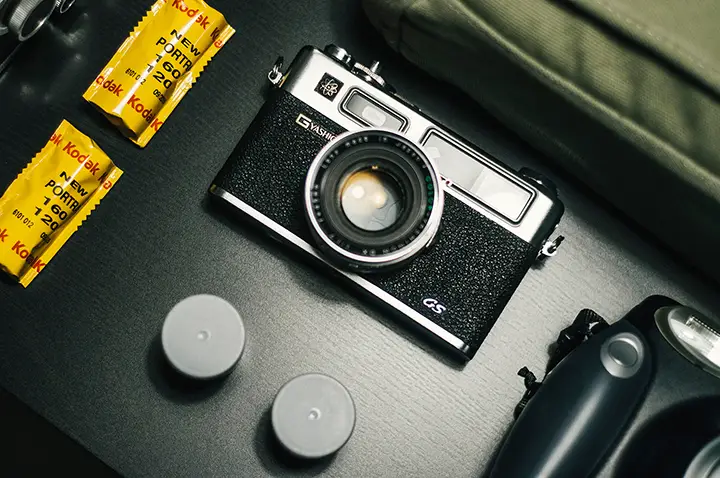 I bought the Yashica Electro 35GS just a year ago so I haven't really had so much time shooting with it. I'm amazed over how nice it handles low light situations. I've been trying out lots of different films in it, but I'm messing around with B/W film for the first time!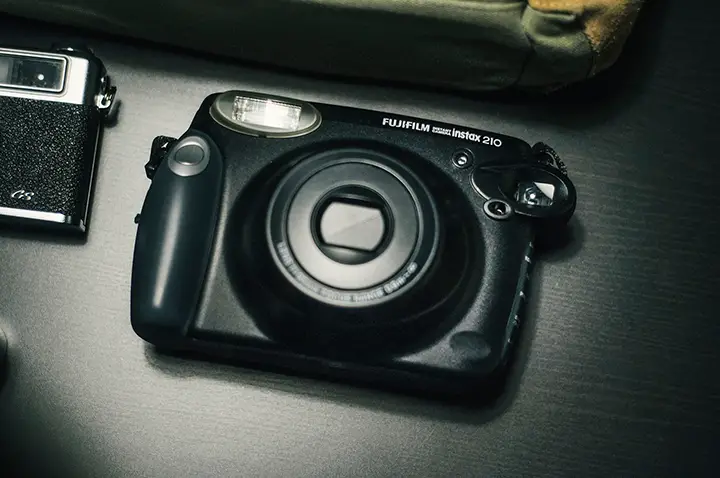 My love for the Instax Cameras from Fujifilm totally started during my first trip to Japan where I saw a lot of people use them. I bought a smaller one in the beginning and I was really satisfied with the results (combined with the low price for the film, in comparison to other polaroid film). I later upgraded to the Instax Mini 210.
I often bring a USB-battery, a USB-charger, some extra batteries. It's lightweight, but it fits my needs. Oh, and my iPhone, which has helped me in many situations. It's a great tool, both for last minute information and help as well as taking pictures with.
My website can be found at http://hampus.photography/ 
My flickr at http://flickr.com/hanpusu
And lastly, my Instagram is @hanpusu
Thanks for sharing your gear with us, Hampus. This bag is even more Japanese than mine.
Check it out and make sure you come and comment.
Keep them coming folks, we need more submissions, so get your bag on Japancamerahunter.com. Send me a hi resolution image of the bag. Optimum size is 620×473. Please ensure there is a bag in the shot, unless you don't use one. The more you can write about yourself the better, make it appealing and tell us a story. Oh and don't forget your contact details (twitter, flickr, tumbler et al). Send the bag shots here. Please understand that there is a long wait now as there is a backlog of submissions. Not all make the cut, so make sure yours is funny/interesting/quirky. And please make sure the shot is of good quality, as the ones that are not do not go up.
Cheers
Japancamerahunter