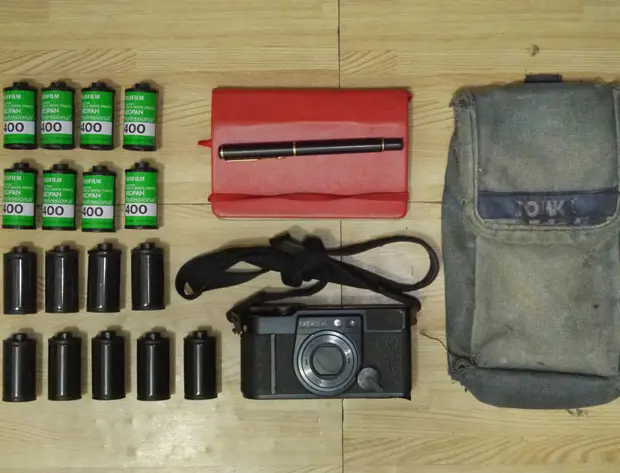 In your bag 440, Buck Pago
Todays bag is simple and pure, as it is a bag that is totally focussed on getting the shots that Buck wants from the street. This is a fantastic bag because of purity of vision. There is also a great picture of Buck at work. I wouldn't normally feature a bag with this little information, but this one is good enough to go up.

Good day mr. Japancamerahunter,
perhaps you might be interested to see whats inside my bag, Im Buck Pago from the Philippines doing documentary photography on human conditions here. heres my online website/blog https://sites.google.com/site/buckpago/
I have a very simple set up, I carry only one pouch with 400 films and 1600 reloaded films, as well as a notebook and pen. I carry my camera in my neck all the time.
here is a sample of my work http://bulatlat.com/main/2010/09/25/photo-essay-north-triangle-residents-resist-demolition/
also a photograph of me while doing the assignment taken by a colleague.
thanks
buck pago
Thanks for sharing your simple bag Buck. I love the style and the intensity of your images. And the shot of you shooting is great.
I know I always say it, but really go and check out the links and come and comment. This stuff is great.
Keep them coming folks, we need more submissions, so get your bag on Japancamerahunter.com. Send me a hi resolution image of the bag (please make sure it is horizontal) and its contents, with some details about yourself and what you shoot. Oh and don't forget your contact details (twitter, flickr, tumbler et al). Send the bag shots here.
Cheers
Japancamerahunter