Film news: Photoklassik International Magazine
In case you missed it, Photoklassik magazine completed their successful Kickstarter campaign and have started sending out copies of the international version of the magazine. And what a magazine. A dedicated magazine for film photography.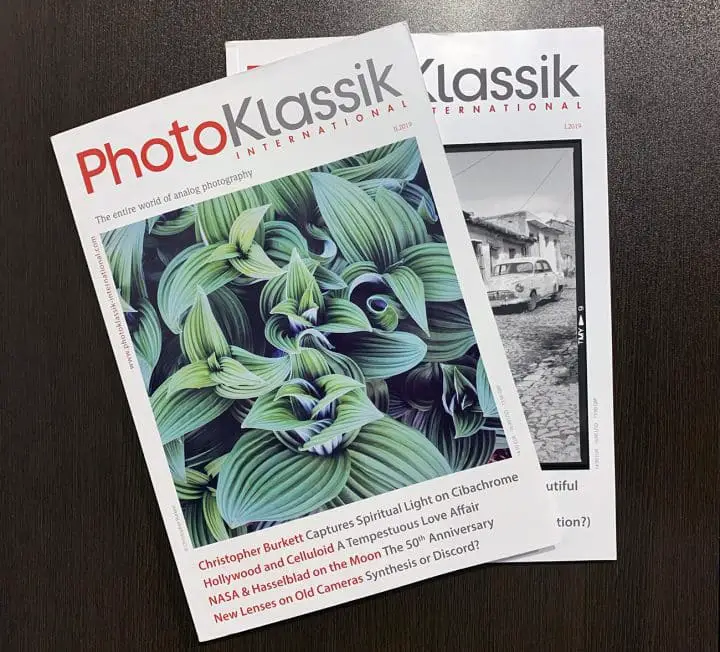 In case you did miss the Kickstarter though, fear not, as you can order yourself a copy of this wonderful magazine now.
A little bit about the magazine:
PhotoKlassik International: An independent print magazine about analog photography, with lots of fantastic reproductions of photos, plus a mix of technical how-to articles and news and personal stories from photographers around the world.
The special first issue will include:
A report about an actual test shoot with a beta version of the new Kodak Ektachrome Super-8 film!
Featured Artist Bruce Barnbaum, large format photographer, author, and pedagogue
Columns from social media personalities and bloggers like Japan Camera Hunter
Artists from 5 different continents, including photos and personal stories
Articles about gear and techniques
All this, 130 pages, printed in book-quality, with very few ads, can be delivered to your door anywhere in the world.
Subscribers will get exclusive access to selected magazine content online.
The editor-in-chief explains
I'm Marwan El-Mozayen, a passionate film photographer and editor-in-chief of PhotoKlassik International magazine. As an editor of the German PhotoKlassik for 5 years, I've seen the resurgence of film gain incredible momentum, and I've noticed that it connects people from all different walks of life, of all different ages, from all around the world. Some have stubbornly stuck to film through the digital revolution, some have rediscovered it after exploring the possibilities of photoshop, and some are just discovering film for the first time with used equipment or a new instant camera.
But for all the differences, there are even more things that analog photographers have in common.
We love the tactile experience of film, seeing our work come alive in the real world. We love the mindfulness that a limited amount of exposures forces us to develop. We love the sound of a shutter releasing. We love the honesty of film, but also the possibility to alter reality in a hands-on, artistic way. We love the inexplicable "real" feeling of images captured on film.
Although the internet is an important resource for sharing, I believe that a publication about photography should be printed. There is no comparison between seeing a print of a photo and viewing it on a screen, no matter how well-calibrated it is.
JCH Column
I also have a regular article in the magazine, where I will discuss cameras, new film news and more. It is very exciting to be involved with this magazine.
I had the opportunity to meet Marwan and Charys (editor and model on the cover) during my trip to Cologne last month, and I can tell you they are so passionate about film photography it is positively infectious. They put so much hard work into this magazine and it shows. I was bowled over by their enthusiasm commitment. They are the perfect people to have at the helm of this great new magazine.
You can grab yourself a copy or a subscription by following this link
Hope you enjoy it.
JCH