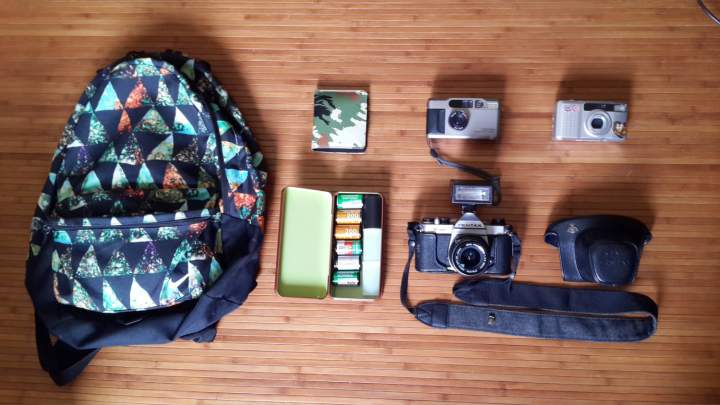 In your bag No: 1393, Carlos Dias
Today we have a young lad from Brazil. Carlos has some lovely cameras in his bag, and a very cool tin full of film. Young photographers like Carlos are the future of film photography. Check it out.
Hey Bellamy, my name is Carlos Dias, I'm a 17 year old aspiring film photographer from São Paulo, Brazil. I really like your blog.
Film photography for me is a lot like music; it captures moments and feelings in a way words never could. It's poetry written by light. In my life it has been much more than a way of making my thoughts tangible, it's been the medium through which I met new people and got to know more about myself. For me, a camera is like a time freezing machine – a box that has the power to pull a scene inside it and make it live on forever. Our photographs will outlive ourselves, you ever think about that?
Most of the time you'll find me shooting portraits of my friends and scenes of the south-brazilian youth lifestyle, and for that I use mainly my trusty Pentax K1000. It was my first SLR and I've had 2 of those so far. The flash on it is an extremely cheap and practical one; I got it fully functional for about $5, which is pretty rare around here. My lens of choice is a SMC Pentax-M 28mm. I like to make my photographs as unpredictable as possible so I'm always excited about getting a roll back from the lab. I do that by experimenting with double exposures and film soups – something I encourage everyone to try at least once. My camera gear set also includes a Contax T2, which is an amazing compact camera with super sharp lens, great for all occasions. That little guy with the stickers is a point-and-shoot film camera from a company called "Tron", I got it on the internet one day (thanks to  boredom) for about $8 brand new. It's a great little camera to throw in my bag and not worry about it being damaged during shows and whatnot. As for the bag, nothing fancy – it's a Nike one that I thought looked funky. It does the job though. It also carries my wallet, which is a camouflaged one so the thieves can't see it.
I shoot mainly color, with an occasional roll of b&w here and there. Even though I tend to repeatedly use the same 2 or 3 types of film over and over again I never get the same results; trust me, when you soak your film on lemonade before putting it in your camera things get really groovy. Brazil has beautiful scenarios to document and I'm still not done with all I want to do around here but sometime in the next 2 years I'll definitely visit Tokyo so I can hopefully meet you and other photographers and be in contact with the "elite" of film photography!
Here's one of my favorite shots from a film soup roll taken with the K1000: https://www.flickr.com/photos/cats-pajamas/23919643853
I post most of my photographs in my flickr gallery: http://flickr.com/cats-pajamas
I also have an instagram account: http://instagram.com/evryscanvas
Thanks a lot, and greetings from Brazil!
– Carlos
Thanks for sharing your bag with us, Carlos. I really enjoyed your eloquent and passionate explanation of why you shoot film.
Check out the links and please come and comment.
Keep them coming folks, we need more submissions, so get your bag on Japancamerahunter.com
Send me a high resolution image of the bag. Optimum size is 1500px across. Please ensure there is a bag in the shot, unless you don't use one. The more you can write about yourself the better, make it appealing and tell us a story. Snapshots of your gear with a camera phone and no words will not be featured.
Oh and don't forget your contact details (twitter, flickr, tumbler et al). Send the bag shots here. Please understand that there is a long wait now as there is a backlog of submissions. Not all make the cut, so make sure yours is funny/interesting/quirky. And please make sure the shot is of good quality, as the ones that are not do not go up.
Cheers
Japancamerahunter