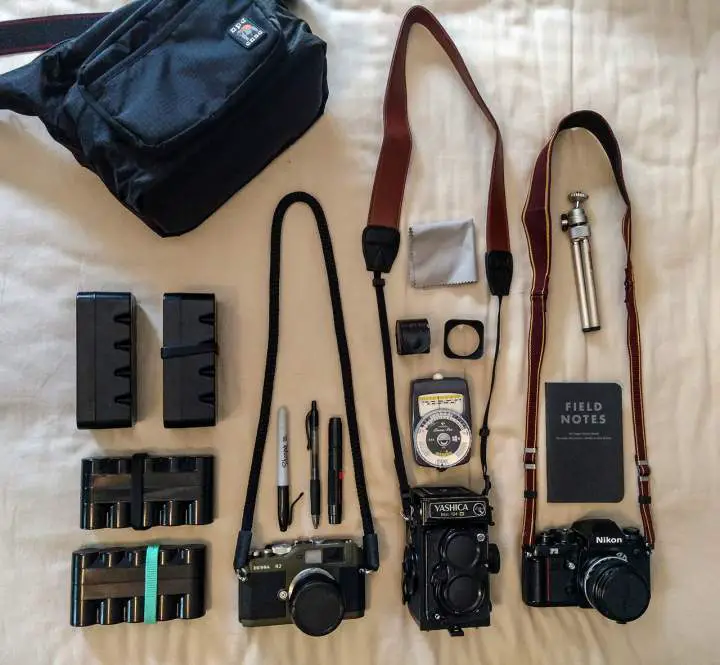 In your bag No: 1392, Alec Tucker
Alec has a film stuffed bag for us today. 4 film cases! That is a lot of shooting. This is what Alec describes as a 'semi-budget kit', with some great classic cameras. Check it out.
Hi, my name is Alec Tucker from Auburn, California. I'm currently a student at community college about to transfer to a state university in Los Angeles to study Filmmaking, specifically Cinematography.
I shoot with film ​cameras to practice framing, composition, and lighting to get better at Cinematography, as well as for fun when I have some free time. I've been trying out different formats and camera types recently, hence why I have different ones here. I haven't found what I mainly enjoy photographing yet, but so far nature photography in black and white has been the most fun!
My kit is semi-low budget at the moment, but I plan to purchase a Hasselblad XPan someday to emulate wider aspect ratios, similar to cinema cameras for films nowadays.
Ape Case Envoy Bag
Voigtlander Bessa R2 w/ Jupiter 8 50mm f/2
Couldn't afford a Leica, this was the closest I could get at the moment. I love it so far!
Yashica Mat 124g
Nikon F3 w/ 50mm f/1.4 (Given to me by my film photography teacher)
Gossen Luna Pro Light Meter
2x 35mm JCH Film Cases (One for Color, One for B&W)
2x 120 JCH Film Cases (One for Color, One for B&W)
Field Notes
Mini Tripod
Flickr:
https://www.flickr.com/gp/138983145@N04/8A72M8
Instagram:
https://www.instagram.com/alecmorgantucker/
Youtube:
https://www.youtube.com/user/fritolaypayday
Thank You!
Alec
Thanks for sharing your bag with us, Alec. I hope you manage to get your X-pan, it is an amazing camera.
Check out the links and please come and comment.
Keep them coming folks, we need more submissions, so get your bag on Japancamerahunter.com
Send me a high resolution image of the bag. Optimum size is 1500px across. Please ensure there is a bag in the shot, unless you don't use one. The more you can write about yourself the better, make it appealing and tell us a story. Snapshots of your gear with a camera phone and no words will not be featured.
Oh and don't forget your contact details (twitter, flickr, tumbler et al). Send the bag shots here. Please understand that there is a long wait now as there is a backlog of submissions. Not all make the cut, so make sure yours is funny/interesting/quirky. And please make sure the shot is of good quality, as the ones that are not do not go up.
Cheers
Japancamerahunter