IN YOUR BAG: 1727 – Jens Astrup
We have not had a new bag for a while, but Jens Astrup steps up to the plate with an absolute backbreaker of a bag. Check it out.
Introduction
I'm a Copenhagen based Danish photographer. My cameras are my tools. I've grew up with film photography and learned my trade from shooting a humongous amount of films for a local daily newspaper. I was lucky that somebody paid my film supply back then.
The world turned digital and the first years with cameras like the 2.7 megapixel Nikon 1D made you appear a lousy photographer – again.
Today Canon digital cameras are my bread-and-butter-maker. The digital cameras are great – for work. They are fast and efficient, but do they spark any joy? No!
The Bag
When I want to enjoy photography (and burn money) I take this ThinkTank bag with my Fujis out for a spin. I was late to the medium format, but now I take revenge for lost times.
Shooting with these cameras is good for your mental health and it makes me happy.
I love this bag with content and I think it will be the first thing I would rescue in case of a fire – after some harddrives and negatives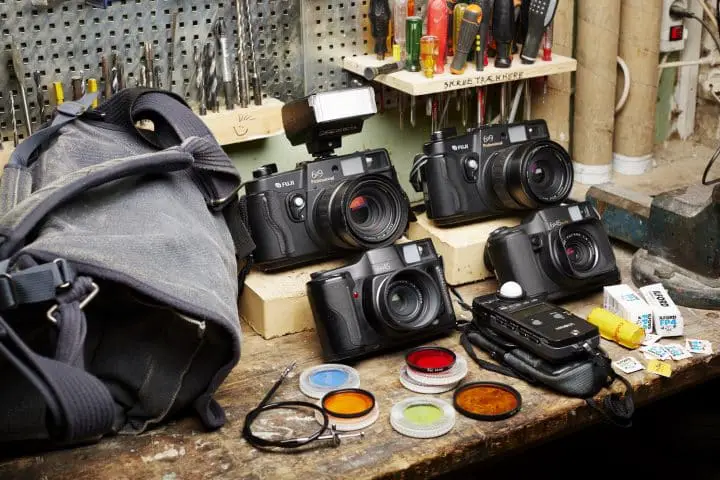 The Fuji cameras in these formats have a huge resolution without being crazy sharp. To get the full potential of this resolution, it is a good idea to use a monopod (Not in the picture).
I know it does not help my reach, but generally I do not post my analogue pictures on the web. It does simply not give meaning to post a 1500 pixel picture when the original is a 1.5 meter C-print from a 6 by 9 negative.
You can find some of my other work here:
I do not care too much about gear in the sense, that It is not what is interesting. Gear is tools for a job. I cry a little inside whenever I se great cameras on the shelfs at collectors.
What is interesting is what you can do with the gear, not someone sitting on it. Great cameras obligate, they are made for shooting great pictures. Go out and have fun shooting. Even cheap cameras can be great cameras. You can do great work with point and shoot cameras, if that is the look you wan't to express.
For me, it is important that your gear does not get between you and your talent and these Fuji cameras are so simple to use that you forget them.
I carry a flashmeter in the bag as well. This one is perfect for mixing strobes with ambient light, but often I don't use the light meter at all. Experience tells me the exposure, or because I do light-paint with studio strobes and there is no way to know, what the result will be anyway.
The strobe in this bag is a Metz 30 BCT 4. It is great because it sits just above the lens witch result in a shadowless point'n'shoot look, but in the high resolution these cameras provides.
The Gear
This bag is a ThinkTank Retrospective 30 and I had it for ten years now. Amazingly it holds all four cameras:
Fujifilm GSW690 III – 65mm 
Fujifilm GW690 III – 90mm
Jens Astrup
Keep them coming folks, we need more submissions, so get your bag on Japancamerahunter.com
Send me a high resolution image of the bag. Optimum size is 1500px across. Please ensure there is a bag in the shot, unless you don't use one. The more you can write about yourself the better, make it appealing and tell us a story. Snapshots of your gear with a camera phone and no words will not be featured.
Oh and don't forget your contact details (twitter, flickr, tumbler et al). Send the bag shots here. Not all make the cut, so make sure yours is funny/interesting/quirky. And please make sure the shot is of good quality, you are a photographer after all. 
Cheers
JCH