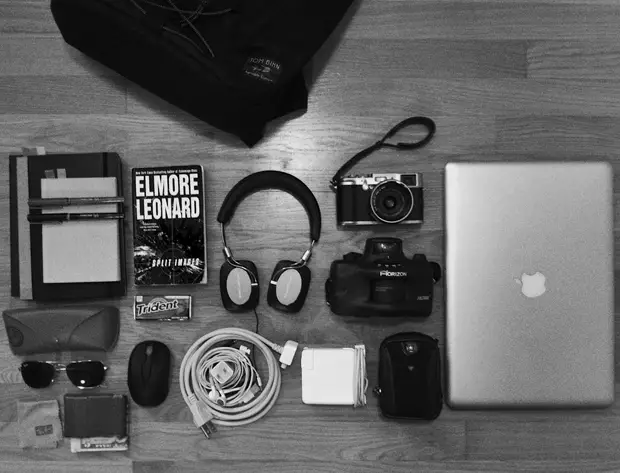 In your bag number 174, Joseph Campanella
Today we have a great monochrome bag for you, and it has a fantastic horizon camera inside too. You don't see all that many of those in peoples bags. Come and see what Joe is carrying.

My name is Joseph Campanella and I'm from the Chicagoland area in Illinois. Most people call me Joe.
I work in television operations, I'm working towards a career in filmmaking, but my hobby/love is photography.
Here's a quick rundown of my day bag. As with most people, the contents change from day to day.
BAG
Tom Bihn's "Smart Alec". I used to carry a messenger style bag, but the one I had wasn't big enough to fit everything. With this guy I never have that problem.
NOTEBOOKS
The past few years I've used a Moleskine for all my writing, but have recently switched over to Muji's unbranded notebooks. They're significantly cheaper and almost as good.
PENS
I always have a Pilot V5 Precise on me. It's the best pen in the world.
SUNGLASSES
Classic Ray Ban Caravan's. Always use UV protected sunglasses. Those cheap drugstore ones don't protect your peepers.
CLOTH
Just the one that came with my glasses. It works great on the glasses but also on camera filters and lenses.
WALLET
The original "Minimum Wallet". Don't know if that's true, but that's how it's described. Got it off of an Etsy store called The Office of Minor Details. Crafted from soft New Zealand leather, it's the absolute perfect size. Best wallet I've ever owned.
MOUSE
For photo work on the go. It's Razor brand. Forgot the model. A good little bluetooth mouse.
GUM
4 out of 5 dentists recommend it.
BOOK
I'm always reading a book. Sometimes it takes me a week. Sometimes 4 months. Elmore Leonard's tend to go faster than most.
LAPTOP
15″ Macbook Pro from 3 years ago. Still kicking.
FUJIFILM X100
Currently my only digital camera (besides my iPhone). I used to have a Canon T2i which I loved, but I found myself never taking it with because of its size (with a 20mm lens on it, it was pretty gigantic). This camera produces sharp, beautiful, colorful images. Despite its quirks, I love it and hope to upgrade to the X-PRO 1 at some point. That, or one of the thousand other cameras I read about and lust for day after day.
HORIZON PERFEKT
A russian panoramic camera with a swinging lens. The first one I bought at the Lomography shop in LA was busted, but the company promptly sent me a replacement. I love framing shots with this camera. It makes everything look like LAWRENCE OF ARABIA.
VARIOUS
iPhone charging cord, iPhone wall charger and headphones (Apple and B&W P5's). Also, my laptop charger and extender cord. Swiss Army camera case where I keep extra batteries, a battery charger, SD cards and an old fashioned cable release.
I love taking pictures for a few reasons.
1. You can do it by yourself.
2. It can be both hectic and/or relaxing.
3. It's the perfect mixture of art and science.
Also, it's lots of fun.
Thanks,
Joe
Joe's links
http://www.josephcampanella.com/
http://www.flickr.com/photos/jcampanella
https://twitter.com/#!/JoeCampanella
Thanks for sharing your bag with us joe, it is very nice to see someone using the Horizon, it is a great camera. And thanks for sharing with us why you take pictures. Check out Joe's links and make sure you come and comment.
Keep them coming folks, we need more submissions, so get your bag on Japancamerahunter.com. Send me a hi resolution image of the bag (please make sure it is horizontal) and its contents, with some details about yourself and what you shoot. Oh and don't forget your contact details (twitter, flickr, tumbler et al). Send the bag shots here.
Cheers
Japancamerahunter