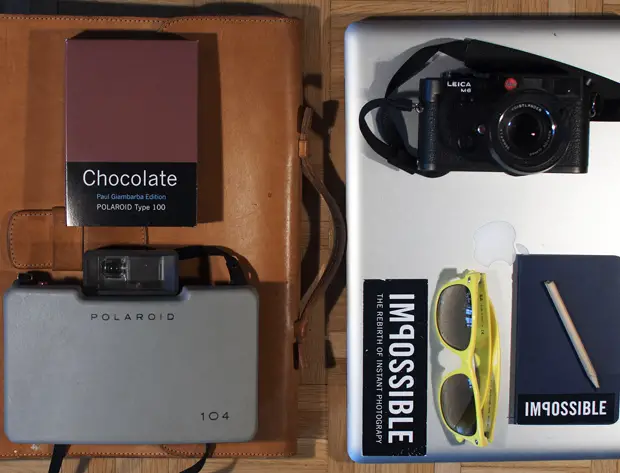 In your bag number 175, Sam Haller
We have a cool bag from a 15 year old today, who despite his youth has some serious gear in his bag. Come and see what this young guy has in his bag…

My Name is Sam Haller, a fifteen year old Street Photographer/Student from Vienna.
The Bag I use is a Bag my Mother bought twenty years ago, when she studied in America.
I love the look, and i get everything into, I want.
Cameras:
The Camera I always carry with me is my Leica M6 with a Voigtländer Nokton 35/1.4 Lens on it.
I love this camera very much because its that type of camera I always wanted. Normally I shot with
the Kodak Tri-x Film, but now im testing a 400 asa black & white film called 'Kentmere'.
The other Camera I often use is my Polaroid Land 104. I got it very cheap at the Impossible Shop in
Vienna. I really often use the 'Chocolate' Polaroid Film because of the vintage flair, I love so much.
But I also use the Fuji FP-100C sometimes. About a year ago I always used my Polaroid 600, but I
like the size of the 100 Packfilm much more than the Size of the 600 Films.
I almost always got my 15′ MacBook Pro with me, because I need it in the School I visit, called
'die Graphische' which offers a education for future photographers.
Two things I never leave home are my yellow sunglasses and my little notebook where I draw pictures, when
im waiting for the bus or something like this.
Here's the Link of my Flickr Account, I hope you enjoy the photos:
http://www.flickr.com/photos/saemhaller/
Thanks for sharing this bag with us Sam, it is great to see someone so young with such a passion for film photography. Check out link and make sure you comment, we love it when you do.
Keep them coming folks, we need more submissions, so get your bag on Japancamerahunter.com. Send me a hi resolution image of the bag (please make sure it is horizontal) and its contents, with some details about yourself and what you shoot. Oh and don't forget your contact details (twitter, flickr, tumbler et al). Send the bag shots here.
Cheers
Japancamerahunter