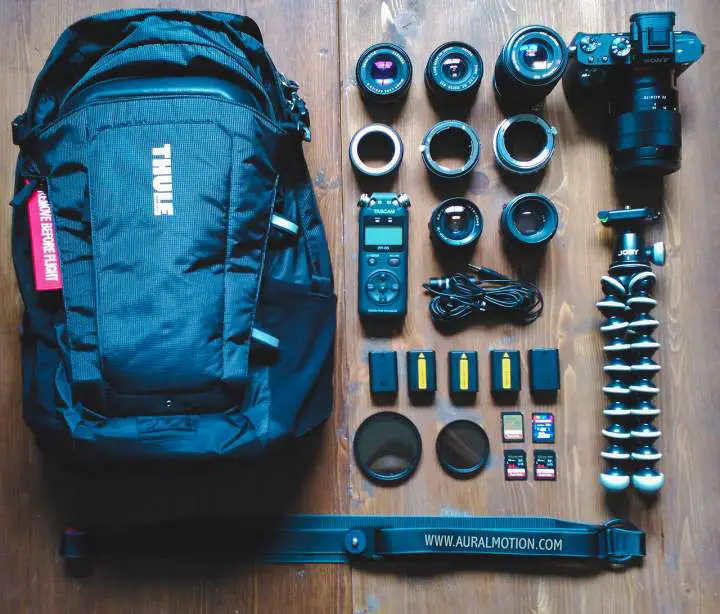 In your bag No: 1365, Alex Moreán
A superb bag to get the weekend off with a bang. Alex shares his lens heavy kit which I don't envy lugging around. But each to their own, come and see how Alex makes use of his gear.
My name is Alex Moreán, I'm 26 years old and currently live in Spain.
I´m a filmmaker, and also a photographer for fun.
Right now I'm working in the upcoming olympic channel but in June I'll be travelling around the world to shoot a documentary film I've working on for some time.
I´m also a classic lenses junkie, so since I went mirrorless I´ve spent lots of time playing around with old glass with beautiful results
My basic gear (not including lighting and misc stuff like moleskines, gaffer tape, etc.) consists basically of:
– Sony A7SII – Though for stills it's just "enough", its low light capabilities made me chose this one over the RII model, since most of my shootings are maded under non controlled situations.
– Sony SEL2470Z 24-70mm f/4 ZA OSS Vario-Tessar T* – I like having at least one native auto focus lens, so I got this one and try not to use it unless I have no choice :)
– Nikon E 50 1.8 – I just love this lens, it's texture, character, built quality… Damn.
– Cosina 24mm f/2.8 MC MACRO – I got this one in a trip I made to Japan. It was new, in its box, and was only around 40€. It's a very rare lens and the image quality it provides is just amazing for the price.
– Tokina SD 70-210mm F4.0-5.6 – A solid, compact and almost lightweight telezoom I just need for long shots. The build and image quality is just perfect, taking in count that I got it for just 16€
– Mir-1B 37mm F2.8 – Oh god I love this lens. The flares, the build construction, the fact that it´s a well made Zeiss copy… The character is lovely so when I have plenty of time I just use this one for fun.
– Helios 44-2 58 2.0 – This is a tricky one. It can be very soft and hard to handle, but the swirly bokeh and instese character made me keep this one for my rond-the-world experience.
– Various adapters – just chunks of metal to keep everything in place.
– Joby Gorillapod Zoom – Convenient, handy, and very very light. This tough little thingy is the travelling filmmaker´s best friend. Period.
– A bunch of batteries and cards just because this Sony camera is a hungry beast.
– Tascam Dr05V2 + Audio Technica ATR3350 – for interviews and wildtracks.
– Joby BWW Pro Sling Strap – Yeah, I´m a huge Joby fan, and when I discovered this sling strap just had to get one. The pulley system is just genious.
– Thule Enroute Triumph 2.0 – This backpack is very low profile, lightweight, water resistant and has lots of pockets for all my toys. Since I got it I've been the happiest man alive  :)
you can watch my stuff on Flickr or my personal website:
https://www.flickr.com/photos/sombrasdeseptiembre/
Cheers
Thanks for sharing your bag with us, Alex. My word, that is a lot of batteries.
Keep them coming folks, we need more submissions, so get your bag on Japancamerahunter.com
Send me a high resolution image of the bag. Optimum size is 1500px across. Please ensure there is a bag in the shot, unless you don't use one. The more you can write about yourself the better, make it appealing and tell us a story. Snapshots of your gear with a camera phone and no words will not be featured.
Oh and don't forget your contact details (twitter, flickr, tumbler et al). Send the bag shots here. Please understand that there is a long wait now as there is a backlog of submissions. Not all make the cut, so make sure yours is funny/interesting/quirky. And please make sure the shot is of good quality, as the ones that are not do not go up.
Cheers
Japancamerahunter