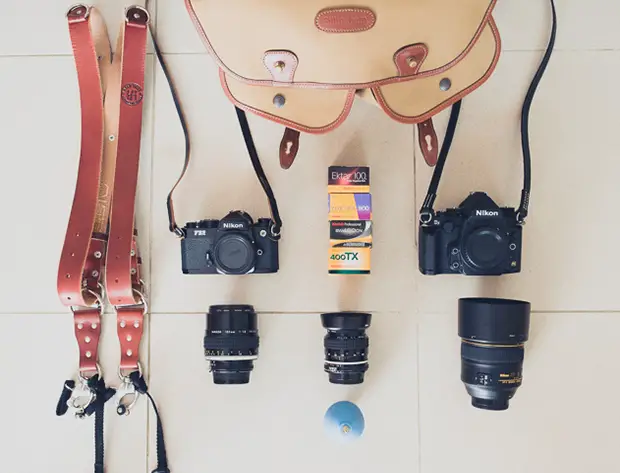 In your bag 1149, James Low
James has a an interesting bag, and an even more interesting strap, that wouldn't look out of place in 50 Shades of Grey. Check it out.

Thanks for maintaining such a lovely site for all camera lovers and photographers. My name is James. I live in Singapore, a tiny overcrowded island country which houses more than 5 million people. I shoot for my own leisure as well as commercial photography assignments at times when I have time during weekends. I work in the finance industry in the day and photography is my way of unwinding from the number crunching madness that takes place in the world of never-ending greed.
I used to be a 100% digital guy in the past. I only started experimenting with analog photography in the last one year when I really felt too tired of spending hours in front of my computer at home playing with Photoshop after spending the entire day in office. Nowadays I shoot both analog for my personal shots and digital for my paid assignments. I wasted a lot of frames initially and boy, I really felt the pinch in my pockets
So this is a brief introduction of my bagshot:
Billingham Hadley Pro
This is hell of a hipster bag which is able to carry both my digital and analog toys
I am able to squeeze two bodies and a couple of primes (I use the 35mm and 85mm most of the time), some rolls of 35mm goodness, and memory cards into this bag.
Kodak love
I swear by Kodak films and I hope they continue to produce them in future, though at my point of writing, Kodak had already ceased production of the BW400 CN film…
Nikon gear
These 2 bodies are somehow related to one another in terms of their appearance. The Df was somehow built to resemble the FE2 as much as possible. Anyway, I think these two bodies are really the best of both eras.
Since I am a bokeh fan, I prefer to shoot with primes unless I have to use a zoom for my assignments. Those in the picture are AiS 105 f/1.8; 35 f/2 and the AFS 85 f/1.4G. I would love see the 58 f/1.4G in my bag someday, by for now, these are sufficient for me.
Holdfast Moneymaker
A cool-looking camera sling which allows me to hold 2 bodies at the same time. Although they are just two individual belts riveted together to make a camera sling, it is absolutely amazing to use!
Some of my non-commercial shots (NSFW):
https://www.flickr.com/photos/57121026@N07/
Enjoy!
Thanks for sharing your bag with us, James. I wouldn't really call a Billingham a hipster bag though, a bit too expensive for that.
Check out the links and make sure you come and comment.
Keep them coming folks, we need more submissions, so get your bag on Japancamerahunter.com. Send me a hi resolution image of the bag. Optimum size is 620×473. Please ensure there is a bag in the shot, unless you don't use one. The more you can write about yourself the better, make it appealing and tell us a story. Oh and don't forget your contact details (twitter, flickr, tumbler et al). Send the bag shots here. Please understand that there is a long wait now as there is a backlog of submissions. Not all make the cut, so make sure yours is funny/interesting/quirky. And please make sure the shot is of good quality, as the ones that are not do not go up.
Cheers
Japancamerahunter