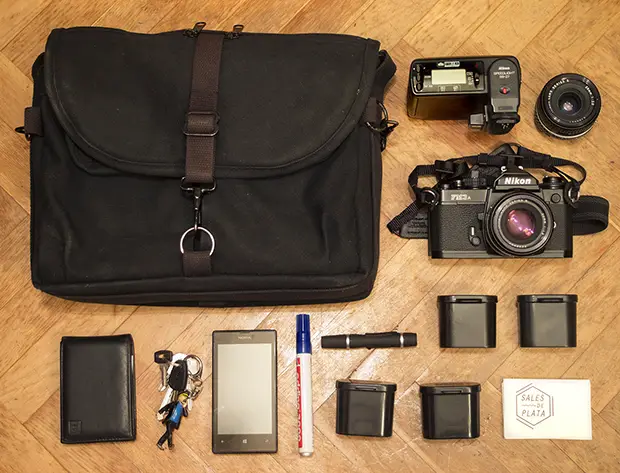 In your bag 960, Christobal Benavente
Lovely stuff. This is how a bag shot should be done. Beautiful layout without the entire collection. Just perfect for a sunday afternoon.

Hi Bellamy, my name's Cristobal Benavente. I'm 25, from Madrid (Spain); for almost three years I've been running a website devoted only to analog photography, called Sales de Plata (Spanish for "Silver halides")
This is the stuff I usually carry around:
Domke F-803 bag: I love this bag, it has the perfect size for me and the build quality is great. The only thing I didn't like was the top handle, so I removed it along with the plastic inside the top so it adapts better to the body.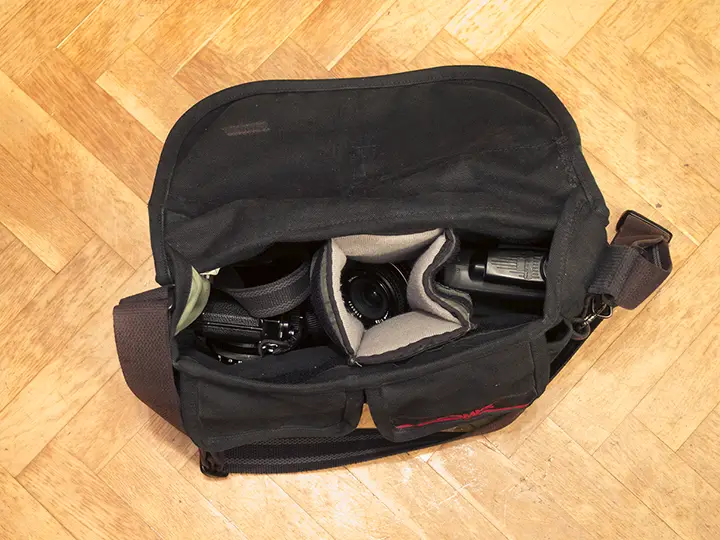 Nikon FM3a camera: Aperture priority with the reliability of a mechanical camera. There's not much to say about it since a lot of information can be found already on the net. For me, it's the perfect camera. I use a Domke strap with it.
Nikon 50mm f1.8 and 28mm f2.8 series E: people usually hate Series E but the optics are quite sharp and the construction, although plastic, is very well done. I prefer the Series E to the AI-S versions due to its lightweight and almost pancake-like ergonomy. I carry a 52 to 49mm step-down ring on each lens for a little protection (something like the Voigtländer SL 40mm f2, although I admit it's more psycological than really useful)
Nikon SB-27 flash: powerful enough and quite compact.
Film: those double film canisters can be found with some Rollei films. I usually carry around 10 films in 5 canisters, normally with a mix of Fujicolor C200 and Superia 1600, depending on what I'm using.
Lenspen and Edding: I find Lenspen a great solution to keep your lenses clean on the run. Since I've learnt how to change films mid-roll I need the edding pen to write down the last frame I shoot. It helps to reduce the cost of film (Superia 1600 is really expensive).
Wallet, visiting cards, phone and keys: all the personal stuff, with Captain Haddock guarding my keys. I had the Lumia 820 and it's great but it's still "point & shoot quality". Anyway, I liked Windows Phone a lot, so I sold it and downgraded to the Nokia Lumia 520
That's it. Thank you very much for this oportunity. You can find me in:
Sales de Plata http://www.salesdeplata.com/ (Blog and analog photography shop)
Tumblr http://cristobalbs.tumblr.com/ (Although I don't update it much)
Quesabesde http://www.quesabesde.com/archivo/autor/cristobal-benavente (If some of you speak Spanish, I've sometimes written some articles for this great website)
Sales de Plata
Thanks for sharing your lovely bag with us, Christobal. I have the same Domke in green.
Check out the links and make sure you come and comment.
Keep them coming folks, we need more submissions, so get your bag on Japancamerahunter.com. Send me a hi resolution image of the bag (please make sure it is horizontal) and its contents, with some details about yourself and what you shoot. Oh and don't forget your contact details (twitter, flickr, tumbler et al). Send the bag shots here. Please understand that there is a long wait now as there is a backlog of submissions. Not all make the cut, so make sure yours is funny/interesting/quirky. And please make sure the shot is of good quality, as the ones that are not do not go up.
Cheers
Japancamerahunter